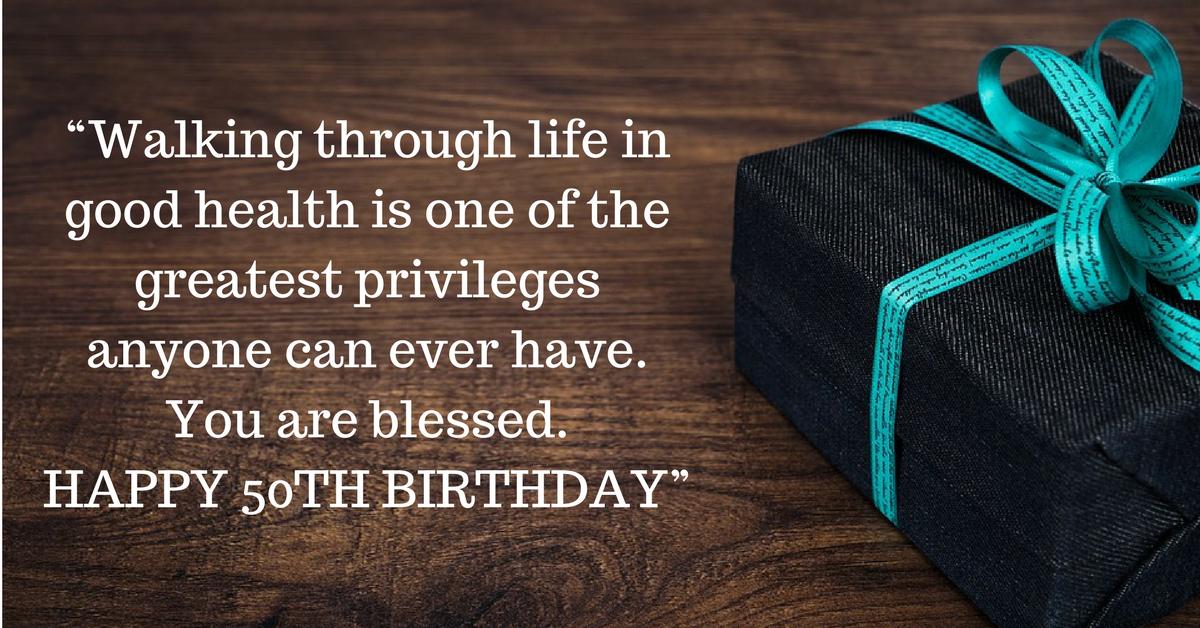 "Walking through life in good health is one of the greatest privileges anyone can ever have. You are blessed. HAPPY 50TH BIRTHDAY"
How to Create the Perfect Card - Examples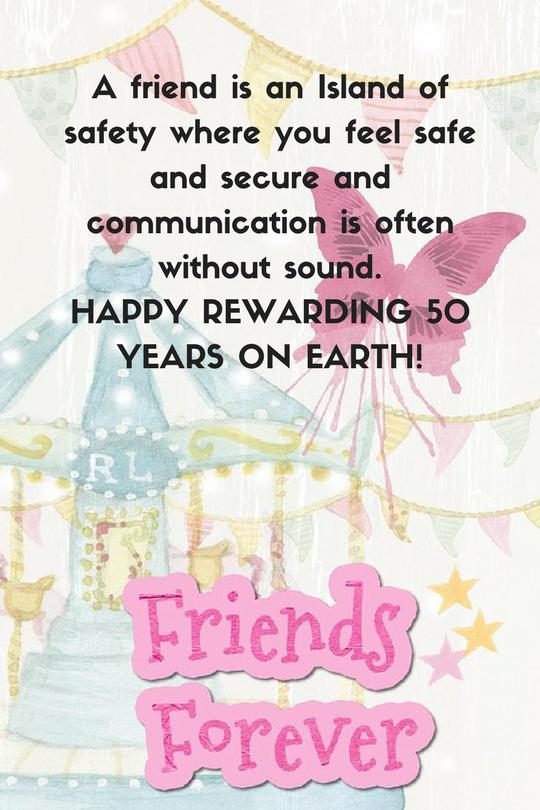 "You are an amazing father, the greatest gift I have. My most precious jewel. I celebrate you today Daddy, and I wish you a rewarding 50th year on earth. HAPPY BIRTHDAY"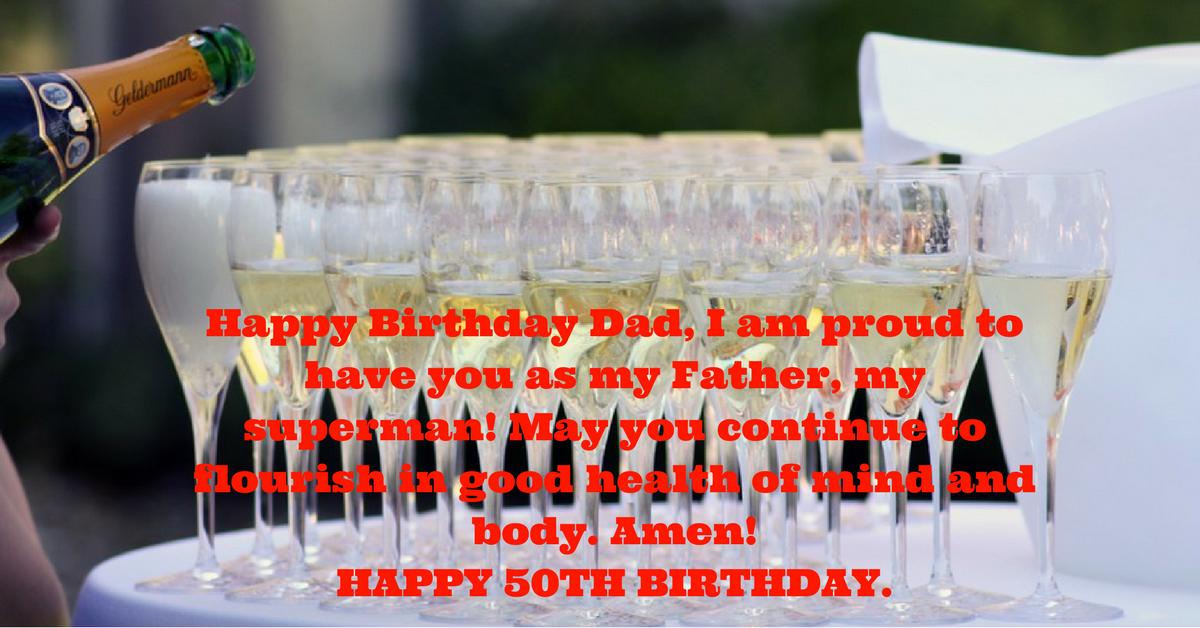 "Today, you have become Gold as you celebrate your Golden Jubilee. May the powers of the universe bow to your bidding, remain Golden for the rest of your new year. HAPPY BIRTHDAY."
"The worth of every man is his DEEDS. You have done many marvelous things that I never wish to part ways with you as a Friend. May your 50th year bring you the accomplishment of every long awaited feat in your life. HAPPY BIRTHDAY GREAT FRIEND"
Just as shown above, you can easily craft some very well-meaning birthday messages to anyone. Sending someone a message with a good wish on one's birthday shows how important their life is to you. It marks a high level of relevance. Birthdays are an important date in everyone's life here on earth. So, yes! Celebrating someone on their birthday is A BIG DEAL!
Unlike most other ages, 50 years is a great milestone – popularly regarded as Golden Jubilee. But why do some people still fail to recognise and acknowledge the significance of one's 50th birthday? Let's say it could be for lack of ideas on how to mark it. In the article about 30th Birthday Wishes, we outlined some of the reasons why most people don't send birthday messages, and we equally provided solutions to them which are also applicable to 50th Birthday Wishes. We'll throw a highlight here:
Factors To Consider In Creating 30th Birthday Wishes That Resonates With The Celebrants
• The status of the celebrant
• Your relationship with the celebrant
• Their personality
• What do you think of them?
• Recent events in their lives (If you know)
• Their future goals (If you know)
• Their present undertakings (If you know)
• The memories of you and the celebrant
• What would you wish them if you knew nothing about them? (Be sincere)
• What would you wish them considering everything you know about them (Be very sincere)
We'll now go practical and show you some examples of 50th Birthday Wishes covering 50th Birthday Wishes for a Friend, Father, Wife, Boss, Mother, Husband.
50TH BIRTHDAY WISHES FOR FRIENDS
(50th Birthday Wish for a Male Friend) –
The worth of every man is his DEEDS. You have done many marvelous things that I never wish to part ways with you as a Friend. May your 50th year bring you the accomplishment of every long awaited feat in your life. HAPPY BIRTHDAY GREAT FRIEND.
(50th Birthday Wish for Best friend) –
A friend is an Island of safety where you feel safe and secure and communication is often without sound. HAPPY REWARDING 50 YEARS ON EARTH!
(50th Birthday Wish for a Close Friend) –
Cheers to the goals not achieved! Cheers to failures encountered! Cheers to the lessons learnt! And Hurray!!! for the brighter years ahead. HAPPY BIRTHDAY, dearie.
(50th Birthday Wishes for a Female Friend) –
May the grace of God catch up with you, may the anointing hands of God be upon, and may the merciful heart of our Lord remember you in a special way. May your 50th birthday bring you awesome things life is yet to deliver. HAPPY 50TH BIRTHDAY DEAR.
50TH BIRTHDAY WISHES FOR FAMILY
(50th Birthday Wish for Father) –
Happy Birthday Dad, I am proud to have you as my Father, my superman! May you continue to flourish in good health of mind and body. Amen! HAPPY 50TH BIRTHDAY.
(50th Birthday Wish for Wife) –
You know your beauty blossoms at 50, just like I met you decades ago. You are forever golden, my wife. HAPPY 50TH BIRTHDAY.
(50th Birthday Wish for Elder Brother) –
Happy Birthday dear brother, you have been a conqueror, and I am proud to associate myself with you. I wish Long Life and Prosperity, in Jesus name. Amen
(50th Birthday Wish for Husband) –
I woke up this morning and I remembered that today is your birthday. I felt a chill down my spine, and I decided to pick up one of our pictures over 2 decades ago. All my life, you have held your family together. That's what a Wonderful Husband you are. I celebrate you today. HAPPY BIRTHDAY!
50TH BIRTHDAY WISHES FOR COLLEAGUES
(50th Birthday Wish for my Boss) –
Good health, Success, Fulfilment, Satisfaction, Happiness, and all the good things of life are what I wish you today and continually for the rest of your life. HAPPY 50TH BIRTHDAY, Boss.
(50th Birthday Wish for My Employer) –
Working with you has been such an amazing experience, if the world had some tens of you, the feeling of job dissatisfaction would disappear. Today is your birthday and I just want to use this opportunity to wish you immeasurable blessings in life as you have been a blessing to me. HAPPY BIRTHDAY SIR!
(50th Birthday Wish for an Office Mate) –
If I had no one to whisper to me or chip in some laughter during those boring moments I am working on files, maybe I would have resigned out of boredom. No, darling, you mean more than an office mate, you are a partner, and I cherish every moment of working together with you. HAPPY BIRTHDAY.
(50th Birthday Wish for Staff) –
Today is your birthday, makes me remember the first day you arrived for an interview several years ago. You were such an adorable smart looking young lady. Working with you over the years, you have proved to be an epitome of excellence. I just think it's best to tell you on your birthday that the whole company is proud of you for the successes you have achieved, thus far. HAPPY 50TH BIRTHDAY.
In this article, we have demonstrated how you can create a stunning 50th birthday wishes for Friends; be it your girlfriend, your boyfriend, best friend, close friend, or any kind of friend you wish to send a birthday message to. Also we demonstrated creating 50th birthday wishes for family members, such as Father, Wife, Husband, Elder and what have you, as well birthday wishes for colleagues as work. Using the method we have described, you can go ahead and create some well-meaning birthday messages for those you wish well.