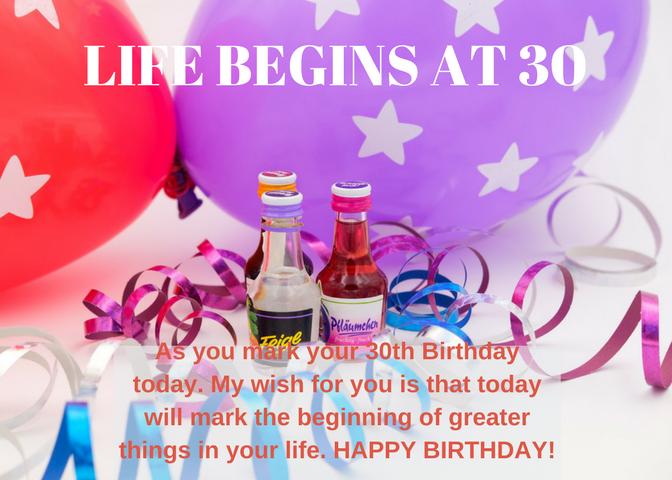 "Life Begins at 30! You have lived 3 decades on earth. You have passed through dark nights and bright days. You have accomplished a lot already, and you still hope to achieve more. But, your life has just begun. As you mark your 30th Birthday today. My wish for you is that today will mark the beginning of greater things in your life. HAPPY BIRTHDAY!"
How to Create the Perfect Card - Examples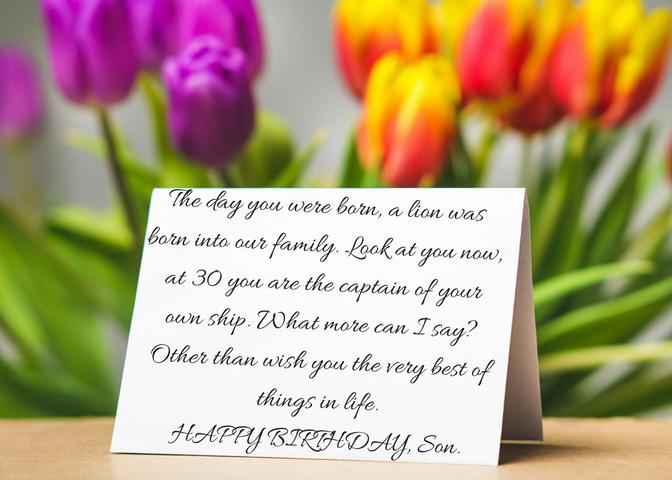 How To Create Perfect 30th Birthday Wishes
Some people don't send birthday messages to their loved ones, not because they have no wishes for them on their birthday, but because they don't just know how to create such a message. True! Wishes are made from our hearts but they are expressed in words.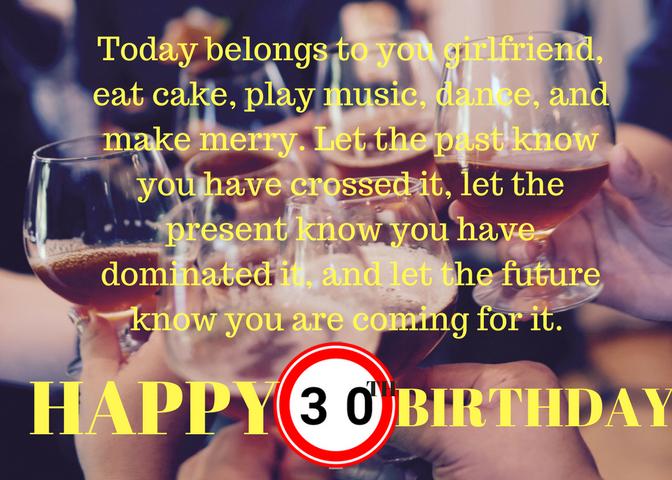 When your friend, family or colleague turns 30, what do you wish them on their birthday? This question comes up for several reasons when you try to create a 30th Birthday message for someone special, it could be for a daughter, a son, or sister, husband, or anyone special to you. One of the reasons may be for the expectation you or others may have for the person at 30, some of which may have come to fruition, others may have not. So, you don't know what will bring back a feeling of frustration or excite the person.
Almost everyone actually takes birthday wishes to heart and think about them. Most people don't take new year resolutions seriously as much as they do to a new age resolution. For someone celebrating 30 years on earth, there are usually mixed feelings – 30 years is middle age, so, most people clocking 30 are usually at the center of their lives. Consider the following factors in creating the perfect 30th birthday wishes.
Factors To Consider In Creating 30th Birthday Wishes That Resonates With The Celebrants
The status of the celebrant
Your relationship with the celebrant
Their personality
What do you think of them?
Recent events in their lives (If you know)
Their future goals (If you know)
Their present undertakings (If you know)
The memories of you and the celebrant
What would you wish them if you knew nothing about them? (Be sincere)
What would you wish them considering everything you know about them (Be very sincere)
Examples Of 30th Birthday Wishes For Different People
30th Birthday Wishes For Family Members
(30th Birthday Wish for a Daughter) –
Happy Birthday my darling daughter, you have grown into a woman, and I am proud of the woman you have become. May you blossom like a tree by the riverside. Happy 30th Birthday Daughter.
(30th Birthday Wish for a Son) –
The day you were born, a lion was born into our family. Look at you now, at 30 you are the captain of your own ship. What more can I say other than wish you the very best of things in life. HAPPY BIRTHDAY, Son.
(30th Birthday Wish for Sister) –
Growing up with you was amazing, staying with you is one of my most cherished experiences in life. Today is your birthday, sister, makes me remember your awesomeness. As you celebrate your 30th birthday today, may the grace of God be with you and remain with you forever. HAPPY BIRTHDAY, sweet sister.
(30th Birthday Wishes for Husband) –
I wonder how other women survive without experiencing your awesomeness. I am super blessed to have you as my husband, and on this day as you celebrate your 30th birthday, I make a single wish – THAT YOUR HAPPINESS WILL NEVER BE CUT SHORT. HAPPY BIRTHDAY, MY HUSBAND.
(30th Birthday Wish for Son in Law) –
A Birthday is just like any other day, but it comes with a special feeling. The feeling of newness on earth, with a revamped energy to conquer, and a settlement in the mind to assume more responsibility. Your new world begins today and I wish you greater heights. HAPPY 30th BIRTHDAY TO YOU.
(30th Birthday Wish for Niece) –
HAPPY BIRTHDAY, NIECE! Even though you are now 30, it still feels like it was just yesterday that you came into my life and made me a happy Uncle – The joy of your birth is evergreen. I WISH YOU MANY MORE FRUITFUL YEARS AHEAD.
(30th Birthday Wish for Wife) –
With you my life has been made whole. Every birthday of yours reminds me how lucky I am to have you – A gratitude I will forever owe you. As you turn 30 years today, Sweetheart, I wish you triple blessings in everything that you do. HAPPY BIRTHDAY.
(30th Birthday Wish for Sister in Law) –
I wish to use this opportunity of your birthday to say to you, most sincerely, that you have been such a blessing to us. May the peace you brought into our family replenish in your life more than 30 folds. HAPPY 30TH BIRTHDAY.
30 Birthday Wishes For Friends
(30th Birthday Wish to a Friend) –
You are indeed, A Friend. I celebrate you today, and I wish that your new age may bring you new opportunities, and you will break new grounds and become a better person in all areas of your life. HAPPY BIRTHDAY TO YOU GREAT FRIEND!
(30th Birthday Wish for Boyfriend) –
Heaven smiled at me the very day I accepted you as my boyfriend. You have been such an amazing partner in my life. For the happiness you brought into my life, I wish you Joy everlasting. Greater you I pray. HAPPY 30th BIRTHDAY.
(30th Birthday Wishes for Girlfriend) –
Today belongs to you girlfriend, eat cake, play music, dance, and make merry. Let the past know you have crossed it, let the present know you have dominated it, and let the future know you are coming for it. HAPPY 30th BIRTHDAY!
(30th Birthday Wishes for Best Friend) –
You are 30 years old today. Life hasn't been rossy for you, but that's because you don't live in the garden. Then, was for yesterday, here, is today, and there, is the future – go grab it! I wish you the strength to conquer your fears and achieve your dreams. HAPPY BIRTHDAY MY BEST FRIEND.
In this piece, we have been able to walk you through the best practices of creating a 30th birthday wish and also show you some examples of 30th birthday messages. So, you can go ahead, take a cue from us, or create a brand new birthday wishes for your loved ones. A birthday message makes people know you are thinking about them.