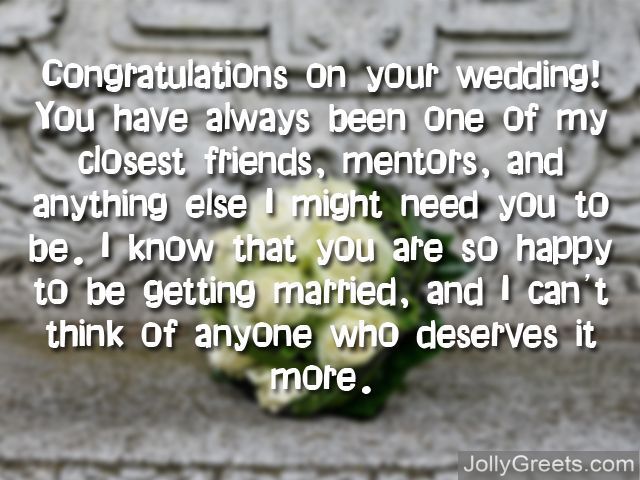 Creating Greeting Card Messages for a Wedding
There's no day quite like a wedding. Many people spend their whole lives looking forward to it, and even more spend the months and weeks before planning and perfecting details in anticipation.
How to Create the Perfect Card - Examples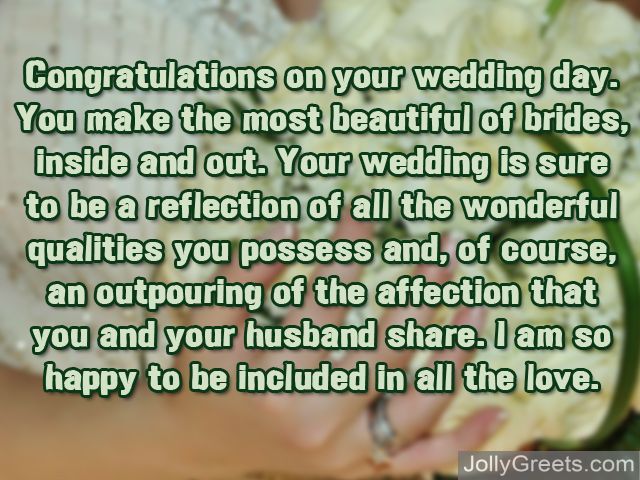 So while many a newlywed couple are perfectly happy to receive a toaster or set of silverware as a gift, just as many are primarily looking to take away memories and loving thoughts from their special day. That means that the thought that goes into writing a thoughtful, caring card can go a long way.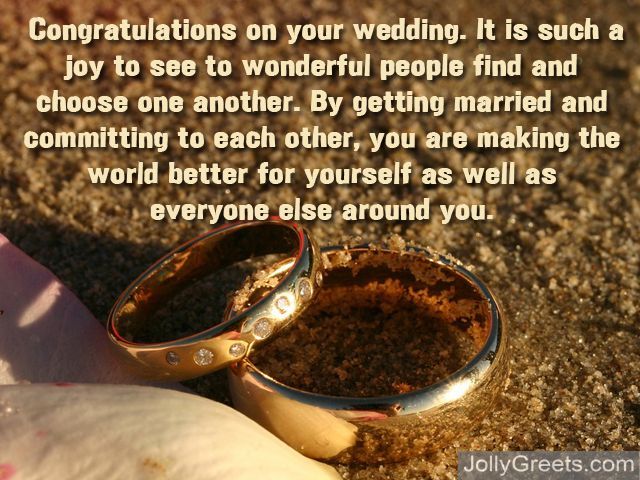 Here are some examples of messages and inspiration for your own comments-for family, loved ones, and more.
For Family
It can be hard to have someone new join your family. Whatever the case, your relationship with your family member is going to change as they enter a new stage of their life. Notes to them that reflect on the enjoyment of past relationships while staying excited for the future strike a nice balance of nostalgia and forward-thinking.
(for children) To our daughter/son on her wedding day. We are so happy to have been a part in raising you to become the striking and life-loving woman that you have become. We are even happier that you have found someone worth sharing all of your best qualities with. We look forward to sharing in your joy on the big day and in the many life memories you will share as you grow with your new family.
Best wishes for your wedding. After watching you grow up, it is so hard to believe that you have reached this point in your life. We are inexpressibly proud of you and the choices you have made. We know that you will devote nothing less than the utmost love, dedication, and affection to your new spouse, and we hope that you receive endless joy in return.
(for an older brother or sister) Congratulations on your wedding! You have always been one of my closest friends, mentors, and anything else I might need you to be. I know that you are so happy to be getting married, and I can't think of anyone who deserves it more.
(for a younger brother or sister) Congratulations on getting married! You are in for the most rewarding, exciting journey of your life, and you have chosen a wonderful partner for the ride. I have always enjoyed watching you grow and change, bringing your unique perspective to everything you do. This is no different, and I know you will have a wonderful time.
From one side to the other
You may not know the bride or groom particularly well. But that's all the more reason to reach out and share a kind word!
(for a bride) Congratulations on your wedding day. You make the most beautiful of brides, inside and out. Your wedding is sure to be a reflection of all the wonderful qualities you possess and, of course, an outpouring of the affection that you and your husband share. I am so happy to be included in all the love.
Here's to a happy wedding day and a wonderful marriage! In your husband you have chosen a partner that could not care more deeply for you. May the bond that you two share only deepen and grow with time and reward the devotion and love that you share for one another.
(for a groom) Best wishes on your wedding day. Although your job as a husband is just beginning, I'm sure you already feel the bountiful rewards that come along with loving so much. May you and your wife continually surprise one another in life and in love.
Congratulations on your marriage! You will make an excellent husband, and together with your wife you will make a firm and unshakeable family. The love and happiness that you feel for one another is contagious, and I am ecstatic to witness the bond you are creating.
(for a couple) Congratulations on your wedding. It is such a joy to see to wonderful people find and choose one another. By getting married and committing to each other, you are making the world better for yourself as well as everyone else around you.
I hope you have a happy wedding and a wonderful life together! Thank you for including me in the special moment. I hope you find one another a comfort in hardship, a partner in its adventures, and a constant at every one of life's turns.
Religious/Biblical
A wedding can be a very traditional and (frequently) Christian oriented ceremony. When a couple chooses to focus on these aspects in their service, they may also appreciate having that acknowledged in your note to them.
Together you are a picture of something that cannot be achieved by either one of you. I wish you peace and joy in your marriage and that you may remain steadfast in the conviction upon which it was founded.
Love is faithful; love is kind. It does not envy; it does not boast; it is not proud. I see each and every one of these attributes in you, and I am so happy that it should be returned back to you. Congratulations!
Congratulations on your wedding! I'm so happy that you two have joined and chosen one another. In doing so you will continue to serve as a wonderful example of the love, compassion, and respect that join two people together in a union like no other!
(light-hearted) Congratulations on your wedding! You two were made for each other. Literally.
Humorous/Funny
Don't forget to lighten the mood! Weddings are a celebration, of course!
Congratulations on getting married! They say that a man should marry a woman smarter than him, and a woman should marry…well, pretty much any way you look at it the woman has to settle. I think you two did a good job!
Best wishes on your wedding! Good luck paying for the ceremony with all of the tax breaks you now receive.
To my dear friends on your wedding. Congratulations, and let me be the first to ask you: when are you having a child?
Congratulations! Now that you're married you have to stop running around and remain faithful! Not that you were having any luck before this relationship, but still.