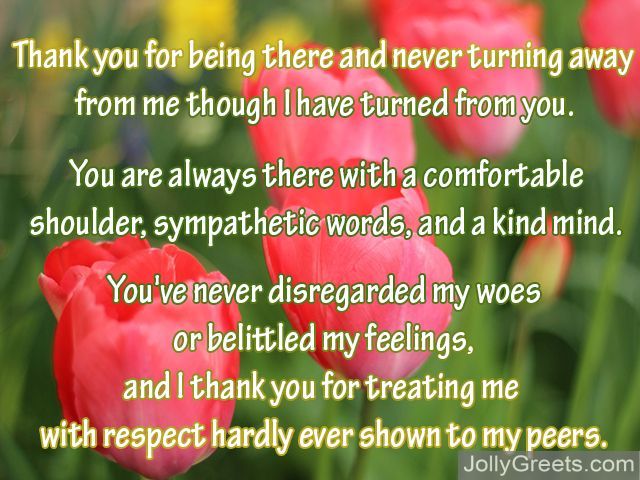 Thank you Poems for Mom: A mother's love is something irreplaceable. A mother will do almost anything for her child or children. This often involves so much sacrifice. Giving up her autonomy to love and care for her children is something that is taken for granted time after time. It is just assumed that, this is what a mother does, she sacrifices it all for her children –which is right it does happen that way. However, it shouldn't go without recognition and not just on Mother's Day. So remind your mother that you love her and are so thankful for all the sacrifices she made for you.

How to Create the Perfect Card - Examples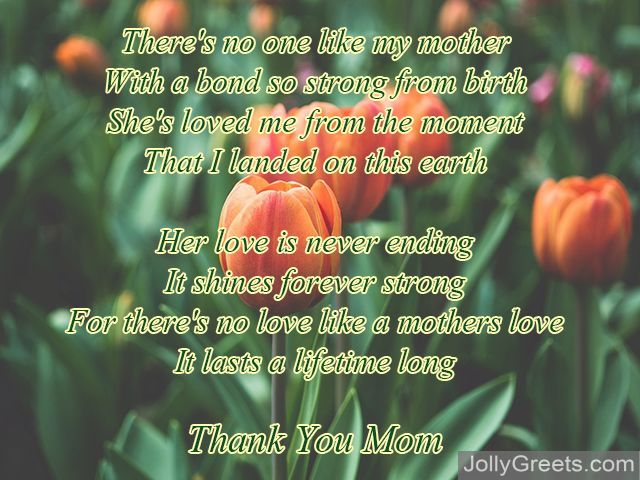 1
Thank you Mom, for being so sweet,
Being your child has been such a treat.
When I'm alone, or get quite a scare,
I'll know you'll be there for me, because you always care.
Thank you, Mom!

2

Thank you Mother; you do so much
You know just what to do, you have that special touch.
When I'm in a trouble, or a hard place,
I know you'll be there to be my ace.

3
Sisters are nice, brothers are too,
Daddies are nice, and help me pull through
But mothers are the real heroes to me,
They help me and love me,
My mother's my friend and cheerleader, don't you see?

4
There are two little words I could say,
That would help you see that I care about you and help you see that I appreciate you.
They are so simple, pure and sweet
Kind to all that you meet.
Thank you.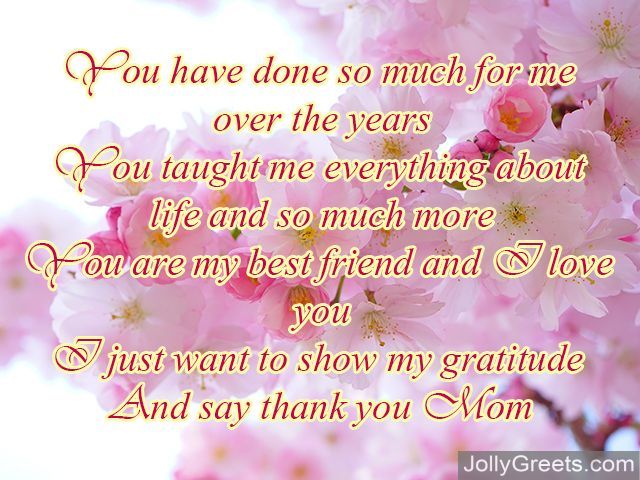 5
You showed me some kindness, I appreciate you;
I love so much I'm glad you are near.
You've taken the time to see that I'm accustomed to what I need to do.
I love you mom, thank you so much.

6
You sacrificed so much to get me right here,
I am grateful for you so as my mom. I love you dear mom,
I love you so and I'm thankful for you and your dedication to me. Thank you mom.

7
Who else but you
Could love angry fits in the mall, the supermarket, grandma's house, the bank, anywhere I may fall
Who else but you
Could teach a stubborn kid like me to tie their shoes
Who else but you
Could have patience to spare, when I was late for class, when I made a mess, when I seemed not to care
Who else but you
Could love me like you do
Nobody Mom, none but you.
8
Sometimes I get frustrated,
I get angry, or sad
Sometimes life makes me truly mad
But you taught me to be slow
In anger and quick to love
And I thank you for that
For showing me how to smile at pain
For showing me that life will sometimes rain
And in those moments
When times are most rough
I think of you and thank you
For making me tough
I love you
9
I know I didn't tell you when I was a kid
But thank you for putting up with me
With some much love,
like you did
That time in the store, when I kicked and I screamed and laid on the floor
Or when I was sick and you held back my hair
And especially when I wanted to run everywhere
And I had just started to walk
Oh yea, and thank you for teaching me to talk
To love, to play, and to laugh
Thank you Mom
You have been there through everything
I can't say it enough, I love you and thank you. It must have been tough.
10
To my mother,
My favorite person in the world
Who has spent my life teaching me
things
Even when I did not notice or cared
I just want to take the time and say
Thank you mom
For all that you have done
11
You have done so much for me
over the years
You taught me everything about
life and so much more
You are my best friend and I love
you
I just want to show my gratitude
And say thank you Mom
12
I would like to thank you for
teaching me everything
From the most basic things like
tying my shoes
To the more complex like dealing
with a broken heart
I hope to be a great teacher like you
So thank you Mom
13
For all the love that you gave to me,
for all the care I did not deserve
even when I did something wrong.
For standing by me through all
odds. I say a very big thank you mum.
14
My loving mother, I thank for the
things I can remember and the
things I can not when I was young.
You are the perfect example of
a selfless person. I love you mom
15
My mother, how can I thank you
enough for everything you have
done for me. The things you've
done are so numerous and can
not be numbered. I am very
grateful for everything mum.
16
The love of my mom
I just can't explain
She's there in the good times
And there through the pain
She's loving and gentle
Unselfish and fair
She knows how to be patient
And is always right there
Thank You Mom
17
The love of a mother knows no bounds
She picks you up when you fall to the ground
She keeps your secrets and holds your hand
In a way only a mother can understand
She's a rare and precious beauty
Who believes it is her duty
To be the one to care in every way
For her children, every day.
Thank You Mom
18
There's no one like my mother
With a bond so strong from birth
She's loved me from the moment
That I landed on this earth
Her love is never ending
It shines forever strong
For there's no love like a mothers love
It lasts a lifetime long
Thank You Mom
19
Thank you for your constant
love and faith and praise
for which, I know, I must acclaim
has made me who I am today.
You've burned for me a pathway
toward the shooting stars
reminding me all the while,
"Remember who you are".
Thank you Mom!

20
You have shown me what it means
to fight for what it right.
You've helped fight the shadows
that hide themselves at night.
You are the radiant sunlight
that illuminates my worth,
and gives me all the confidence
to make it on this Earth.
Thank you Mother!
21
A mother has the virtue
to help her children grow
to demonstrate the beauty
the world can often show.
She is the secret holder
to quenching all their fears.
She shares with them the wisdom
she gained in all her years.
Her manner is a delicate
expression of the grace
that life endowed upon her
that time cannot erase.
Thank you Mother!
22
Thank you for the car rides
to every single game
and thank you for your open ears
when I want to discuss a flame.
Thank you for the endless ways
you let me know you care;
I love you more than anything –
Moms like you are pretty rare.
23
Moms like you, I must assume
are few and far between
because not all moms are capable
of all the things you do.
I think it would be silly to think
that moms are a dime a dozen
but sillier to think
they all could live up to you and all you do.
24
Thank you for being there
and never turning away from me
though I have turned from you.
You are always there
with a comfortable shoulder,
sympathetic words,
and a kind mind.
You've never disregarded my woes
or belittled my feelings,
and I thank you for treating me
with respect hardly ever shown to my peers.
25
Thank you Mom
You've done so much for me
More than I could ever know
You've taught me everything that I do know
And I don't know how to repay you
But I can start with this card
And say thank you!

26
Thank you Mom
For all you've done for me
For raising me, for helping me
For all the things I can't remember
And for the things I can.
There's no way I can repay you
But I want to say
Thank you anyway!

27

How to say thank you
To the most amazing mom
For everything she's done?
There are no words to describe my gratitude
But I know you know
Because who could know me better than my mom?
But I'll say thank you anyway!

28
Thank you for teaching me
How to tell right from wrong
Thank you for showing me
How to be confident and strong
I am who I am
Because of all that you said
When you led with advice
From your heart and your head

29
It's the little things in life
That often go unappreciated
The bowls of chicken soup
The bedtime stories
The boo-boos kissed
But these little things add up
To make big memories of love
And remind me of all the ways
That you loved me and I love you
In a way that's far from little

30
My mom is the best
There's truly no denying
And if you told me otherwise
I'd tell you that you're lying
She's smart and she's sweet
She's strong and she's stern
She's the first of my friends
And the first place where I turn
Whenever there's trouble
Or I'm put to the test
There's truly no denying
My mom is the best

31
Thank you mom, my dearest friend
The first person that I ever knew
And my closest ally in life
You've given me all and guided me right
Thank you for being my diamond shining bright
Thank you for everything Mom

32
You've had my back since the day I was born
You're my hero, your crown you've adorned
You've been someone that I can always look up to
Someone to trust and tell me what to do
Thank you for everything, especially for being you

33
You've given me love and you've given me life
You're my idol, shining bright
I've always known that I can count on you
To show me the way and what to do
Thanks for the love and laughter too