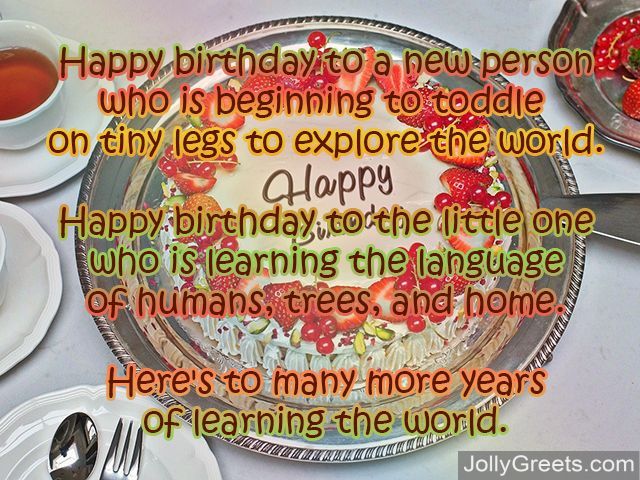 Happy 2nd Birthday Poems: Sure, a toddler won't be able to remember their second birthday party, or really be able to read the poem that you will give to him or her; but that's all the more reason to give the gift of words for that child. For one day, many birthdays from now –he or she will be able to look back on this poem and know that you love them and will always be there to celebrate their birthdays and be a part of their life. So choose one of these poems, or write one of your own, expressing best well wishes and telling the toddler how grateful you are to have them in your life.
How to Create the Perfect Card - Examples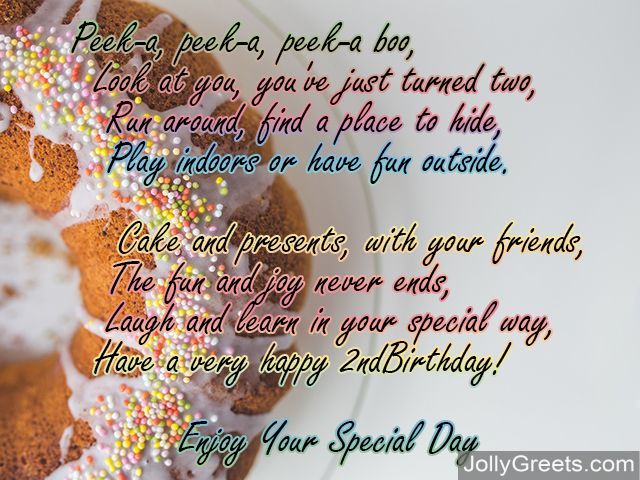 1
Well, you've done it; you made it out alive
I want to congratulate you, give you a high-five
You're big and bad, being 2's quite good,
You'll start to do things like a big boy should.
Happy 2nd Birthday!

2
My dear, oh my, where has the time gone by?
When have you've grown so much, big guy?
There's a big bright world for to you to see,
Full of things for you and me.

3
Sometimes you burp, and sometimes you poop,
Sometimes you don't eat your soup
But even though, you can be a handful,
I love you to death, you little rascal.
Happy 2nd birthday, from me to you
We'll grow together, through and through

4
Today is your birthday let us all cheer.
Today you're a big boy who is finally two.
It's finally here, a magical day for us all to see you who you are.
You're a little boy now, my how time flies.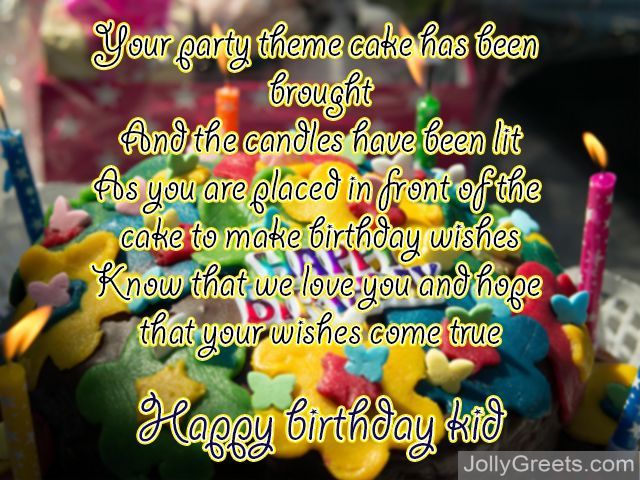 5
Look who is two, it is little boy blue with his toy car and kitty balloon.
Happy birthday to the big boy who has grown so fast.
We hope you enjoy your first day as two.
Enjoy your cake and open your presents, happiness is here, and it's here to stay.

6
The day is here, it is here at last.
Today is the day I finally turn two.
My parents are happy, as happy as could be.
They love me more than gold and I love them.
Today is the day I have been waiting for.
My guests are now here and the party celebration can begin. Happy 2nd birthday

7
You have yet to see what this world holds
You do not yet know what all could unfold
When you learn how this big beautiful life
Can be a crazy roller coaster ride
I wish for you optimism
I wish you joyful bliss
I wish you find passions that drive you
I hope you find people filled with love to surround you
You deserve the best this life has to offer, happy birthday little one, here's to many more filled with fun!
8
2 down, hopefully dozens to go
I wish for you a lifetime of laughter
I wish you plentiful love
Hugs and kisses to spare
I hope this life is kind to you
I hope it gives you fewer trials and all the wonderful opportunities you deserve
I hope this life surrounds you with people who will love you and care for you
9
One day you will pull this from a pile of memories
And I hope you look back and can think of only happiness, joy, and laughter
You're just starting out now
There will be so many more of these birthdays to come
I wish them all to be happy to be joyful and full of love
Happy birthday, and here's to many more!
10
On this joyous day
We celebrate your birth
During these past two years
You brought us joy and laughter
While this day will be fun for you
I hope you have a vague
recollection of this when you're
older
Happy birthday
11
Your party theme cake has been
brought
And the candles have been lit
As you are placed in front of the
cake to make birthday wishes
Know that we love you and hope
that your wishes come true
Happy birthday kid
12
Here is a card that I am giving you
Despite the fact you most likely
cannot read
But along with my present
I cannot convey how much you
taught me even though you only
just turned two
But happy birthday kiddo
13
The second birthday is not less
important than the second. This
second birthday is still very much
special. Happy second birthday dear,
14
My little baby, it feels like yesterday
when I heard you cry when you
entered this world. You have grown
so big. Happy second birthday
baby boy.
15
Your wish is my command baaby boy
on your special day. Have all the
toys you can have, all the fun you
want because today is your day.
16
Two is a special number,
That's extra extra nice,
Because it means today,
You'll have everything twice.
Twice as many candles,
Twice as many sweets,
Twice as many presents,
Twice as many treats.
Happy 2nd Birthday
17
Two is a special birthday
Things happen when you grow
New adventures to explore
New places you can go
New things to learn and things to see
I'm sure you'll have such fun
And now the world's much bigger now
That you're no longer one
Have a Happy 2nd Birthday
18
Peek-a, peek-a, peek-a boo,
Look at you, you've just turned two,
Run around, find a place to hide,
Play indoors or have fun outside.
Cake and presents, with your friends,
The fun and joy never ends,
Laugh and learn in your special way,
Have a very happy 2nd Birthday!
Enjoy Your Special Day
19
Look at you!
You've just turned two!
With all your family around you!
To your surprise and startled eyes
we have brought something for you!
A tasty treat for you to eat;
a cake with layered frosting!
With candles bright and all your might,
make wishes everlasting!
Happy 2nd Birthday!
20
Such a lucky little boy,
gets to play with brand new toys
and laugh with chocolate fingers.
His family is here
to sing and cheer
and take a lot of pictures!
The boy in blue has just turned two
and made his birthday wishes
he smiles and giggles
when we give him a tickle
and cover him with kisses.
Happy 2nd Birthday!

21
Such a charming little girl
dressed in pink with tiny curls
and ice cream in her bowl.
It's birthday songs to hum along
and give her gentle kisses.
She's older now so take a bow
and give your guests a twirl!
They clap and hooray
for the second birthday of such
a beautiful girl!
Happy 2nd Birthday!
22
Isn't it exciting
to know
that a two year old
can grow
to be someone
magnificent
caring
brilliant
and we just
don't get
who they'll be
just yet?
23
So what do you think of the world?
Of blue birds and green grass
of pink skies and laughing eyes?
Small hands try to catch the world
and the world responds happily.
Sweet child,
the world loves you
24
Happy birthday to a new person
who is beginning to toddle
on tiny legs
to explore the world.
Happy birthday to the little one
who is learning the language
of humans, trees, and home.
Here's to many more years
of learning the world.
25
My dreams and hopes for you are big
Even though you are so small
Each dream you have though,
Well I can't wait to see them all
Your second birthday is here
And I really can't believe it
How fast you're growing
But I have to admit
I love you
And Happy Birthday!

26
Well look at you, how much you've grown
We can't believe how big you are!
Two years for us may seem so short
But for you it's forever, and we want you to know
You melt our hearts every day
Happy Birthday

27
Two years has gone by so fast
I hope, my little boy, that you know how much we love you
For you two years is forever
And I hope you know for you, we'd do
Just about anything, because you are precious
And perfect
And Happy Birthday!

28
The first act is usually
A tough act to follow
But act two starts today
And won't be hard to swallow
Because with each day that passes
You'll learn something new
As you explore and you grow
Once today you turn two

29
You've spent this whole year
Discovering the world
As new sights and new sounds
Surprised and unfurled
Yet you've still got a lot
More exploring to do
So let the journey continue
As today you turn two

30
Happy 2nd Birthday
Happy Birthday to you
It's not every day that
A person turns two
May you have a great day
May you have a great night
As you grow and continue
To see things that excite

31
Happy birthday, the big number TWO!
There's so many things special about you
All of your laughter and things that you do
I hope you enjoy your birthday, the big number two
So eat your cake and let's have fun
It's okay if you spill some

32
Happy birthday, you're finally two!
The golden age, the age of you
You probably can't read this card
But hey, at least it is blue
So enjoy your day in all that you do
Have some cake, and ice cream too

33
So this is it, your second time around
This time not crying, not making a sound
But laughing and smiling and wearing your crown
Today is yours so let's enjoy it
And eat some cake until we're on the toilet!