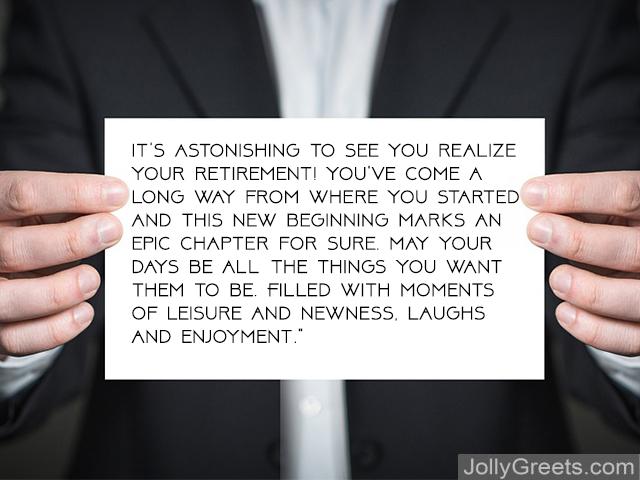 Ah retirement, the great vacation. The very word conjures a nice deep breath followed by a relaxing sigh. It would seem everyone aspires to achieve this goal as soon as they can. For with this achievement comes much reward. Not just the assumed freedom from having to work all the time but also an advantageous sense of accomplishment.
How to Create the Perfect Card - Examples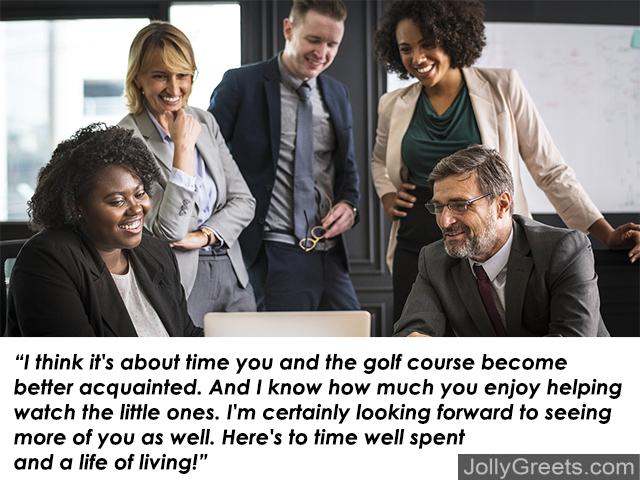 We may very well have friends, colleagues, associates or the like who are already transitioning into retirement for themselves. It goes without saying that their accomplishment is definitely important to us. So of course we would want to express our congratulations and best wishes in the most fondest manner possible. We are here to help and guide you with as many ideas as possible to extend these wishes.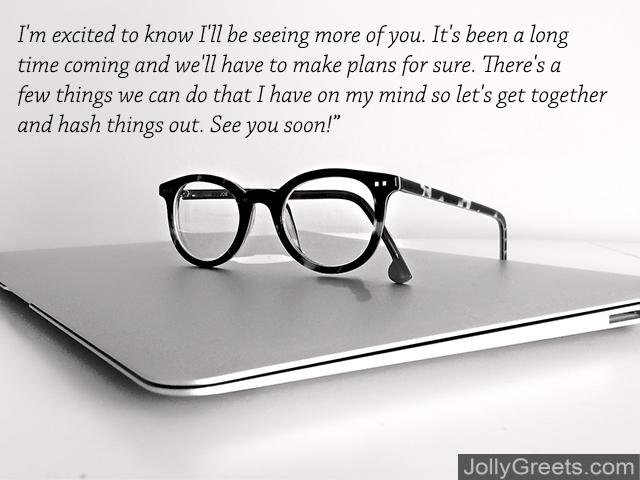 Whether reaching out with a communication or a gift, there are many opportunities to consider. While sometimes we may find ourselves in a bit of a confusion so as to make sure we get it right. It's important to remember there's no wrong vehicle to commensurate someones retirement. First let's cover various means of correspondence.
Social Media
You likely already have said person as a stored connection on your favorite social media platform such as Facebook. Here you can take advantage of this vehicle and it's built in functions.
Send them a reminder ahead of time to mark the day so people can notice the event by liking their post.
Per the above, you can like their post yourself.
By commenting on their post this gives you a chance to link to uplifting memes that either utilize humor or reverence. Just go to a search engine and look for memes by using keywords that you already know they'll relate to. Perhaps you know of their retirement plans and you can use keywords that reflect how they wish to spend their time. Sports, travel, family, it's all up for grabs online.
You can also use commenting to link to Youtube videos they might enjoy.
Ecards
There are such things as ecards. Even some of the major greeting companies provide this service. Ecards are virtual cards that can be sent to a device such as a phone, a social media account, or an email. Do a quick search for "ecards" to find out more for yourself.
Physical Paper Card
Nothing beats a nice good old fashion actual card. Though many of us spend a considerable amount of time trying to find the perfect card with the perfect words already printed therein, it can sometimes mean much more to the recipient if we keep the pre-printed potion to a minimum and spend just a little more effort on our own composition. To aid this process here's some tips.
Try to place yourself in their shoes for a moment. Entertain their personalty and their likes.
It never hurts to frame your writing around an event where the two of you may have once had a previous discussion of what it would be like to retire.
Don't forget to include warmth for their family in the context of your message as well.
Use a search engine to look for synonyms if you run dry on wording.
Examples…
"I Still remember all the times we've spent talking about this moment and to say i'm happy for you would be an understatement. I'm thrilled for you, your wife, children and grandchildren because I just know they are going to love the extra time with you."
"I think it's about time you and the golf course become better acquainted. And I know how much you enjoy helping watch the little ones. I'm certainly looking forward to seeing more of you as well. Here's to time well spent and a life of living!"
"It's astonishing to see you realize your retirement! You've come a long way from where you started and this new beginning marks an epic chapter for sure. May your days be all the things you want them to be. Filled with moments of leisure and newness, laughs and enjoyment."
"I'm excited to know I'll be seeing more of you. It's been a long time coming and we'll have to make plans for sure. There's a few things we can do that I have on my mind so let's get together and hash things out. See you soon!"
As we can see here, it's the personal touch that really makes the writing stand out from what may simply be in the card already. Not that taking a moment to pick the right card isn't important, but to make sure to really put yourself in the penmanship is really paramount.
Gift Ideas
Now here is where some people get a little caught up with a loss of ideas. When considering gift options we may not feel entirely certain we are getting it right. However, the most meaningful fact is that we are doing something for our retiree. And that's the point.
Sports equipment is an easy go to. You know, golf clubs and the like. Yet a membership trial if they aren't already a member somewhere would likely be more beneficiary.
In parlay with the above, a gym membership referral is a near perfect way of saying "hey you, stick around a while". As we know health is of superb importance.
A giftcard to a restaurant is a seemingly small thing that really turns out to be quite significant once we've landed on their favorite place to go.
Do they have a pool that they'll be spending more time in? Buy them a new inflatable lounger with cup holders. I mean, after all, the sun has likely worn their existing pool trinkets out by now right?
Some people are more into hobbies than others. Does our retiree have a passion that for which a new tool, implement, or piece of equipment would do the trick? This can really hit home if so.
Is there a magazine, either online or digital, that they don't know of yet but fits their interests? An issue a month can keep boredom at bay.
So the insinuation here is to stick with things you know they'll really use. By now they've had years and years to receive gifts so really but your brain into it and ask yourself "will they get use and enjoyment from this?".
Bouncing back to our written greetings, let's take a moment to pay homage to the nuance of poetry. Why a poem? Because it's a golden opportunity to convey one and or two modalities of communication. Humor and consideration. A poem in a card or with a gift can add a special touch. Here are some ideas. While we may not all be poetically minded, it's not a tough venture.
"There once was a man from,
just kidding, we know where you've been,
but it's the future that counts"
(Special note: not all poems have to rhyme.)

"All work and no play makes jack and coke sound even better"
(Eh hem, I digress)

" A work well loved,
a journey of venture,
can flourish at once,
it's worth has been measured,
by miles and acres,
through thick and through thin,
you've climbed and you've labored,
and never given in,
so now that you've time,
to sit and reflect,
may your days be divine,
and your thoughts be delect"
As we can see there's always room for a little something extra. Go through a few drafts until you have something that works. We know our newly retired friend will appreciate it.