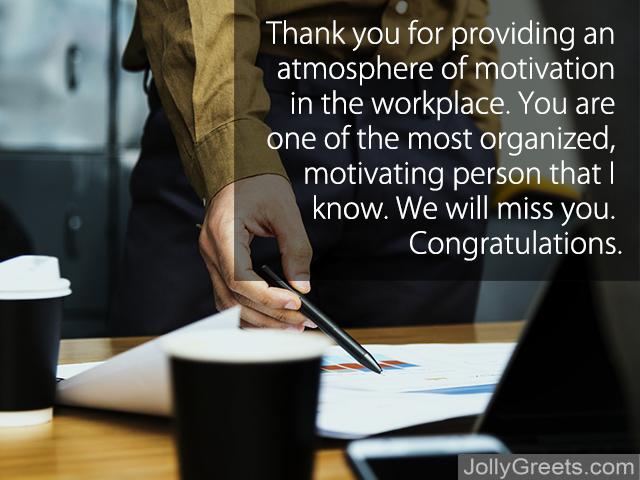 When it is time for your boss to retire, whether voluntary or involuntary, it may be your intention to wish them all the best in this new chapter of his/her life.
How to Create the Perfect Card - Examples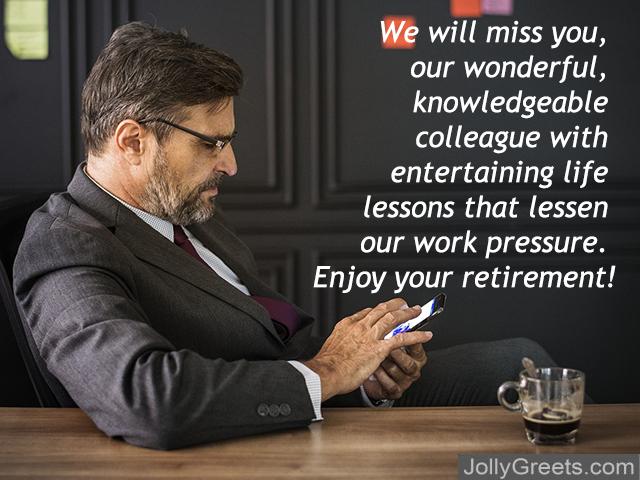 It is based on the relationship that you have with him/her that will assist you in determining which type of retirement message you would like to send to him/her. Since this transition is an important aspect in the transition of your boss moving from one chapter to the next, you will want to send a perfect message as you only get one chance.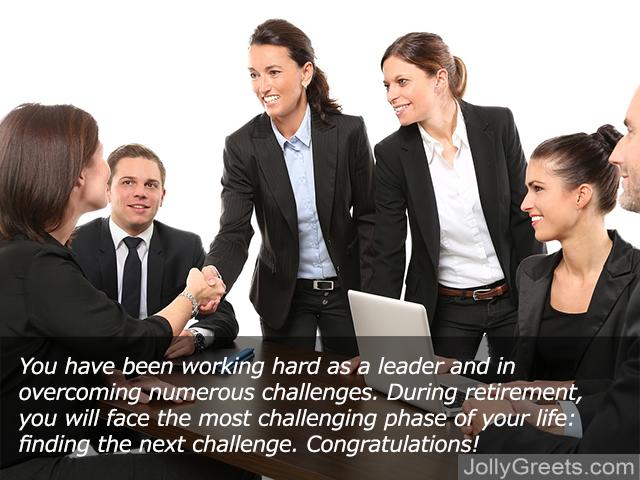 You would like to convey your good wishes especially if you believe that your boss was an inspirational mentor to you. It may certainly be difficult to express yourself eloquently because it is coincidentally at this point in time when our words usually fail us, and we need them the most.
On the other hand, you may simply want to express a concise informal message directly from the subordinate to the boss.
We have quite a few Retirement Wishes For Bosses that you may choose from to send to your boss. Regardless of the sort of message that you select, we know that your boss will appreciate the gesture, sincerity, and message itself.
Retirement Wishes for Your Boss
It may be time to retire as you are growing older. It is disappointing, though, that the organization does not recognize that it is releasing an asset more precious than a gem. Congratulations on your retirement!
Let us celebrate the end of an outstanding career that has achieved insurmountable goals. We are also here to mourn the parting of our highly esteemed leader.
Thank you for providing an atmosphere of motivation in the workplace. You are one of the most organized, motivating person that I know. We will miss you. Congratulations.
We will miss you, our wonderful, knowledgeable colleague with entertaining life lessons that lessen our work pressure. Enjoy your retirement!
Your energy and spirit are wonderful, and I will use these as my guide to always be as successful as you. Congratulations.
You have been working hard as a leader and in overcoming numerous challenges. During retirement, you will face the most challenging phase of your life: finding the next challenge. Congratulations!
Many people plan their retirement their entire lives; but when retirement is here, they are at a loss. We don't want this to be you. Happy retirement!
Retirement Wishes for Your Boss (Funny)
Retirement is the time when your body becomes older, the heart becomes more affectionate, and the mind becomes younger. I wish you good luck with your young body, affectionate heart, and young mind.
All of your life you diligently earned college degrees, professional accreditations, and pursued skill development courses. You will also be earning another qualification: Master of Arts in the Art of Learning and Doing Nothing. Happy retirement.
Since you have already been burned out at work, don't think that it is time for rest and relaxation just yet. This is the time that you will devote to depleting yourself with household chores, gardening, and grandchildren. Happy retirement!
Retirement is like standing at the edge of a precipice. You are at the peak of your career, and you know that one more step will have you plunging into old age. Congratulations on your retirement.
Retirement is the organization's approach to informing you that they have more skilled staff who are motivated, talented, enthusiastic, gifted, and younger than you. Have a wonderful retirement.
Retirement is the start of being laidback and advising others, although you have never used your own advice. Happy retirement.
During your entire career, you sacrificed your health to earn promotions and more money. Now, you will spend that same money on your health. Have a wonderful retirement!
Retirement life is so adventurous on a daily basis! Each day, you climb out of bed, hike atop the sofa, and dive into fast food. Enjoy your retirement!
Retirement is Human Resources telling you that you are too weak and old, so they don't want you working with the organization anymore. Happy retirement.
You shouldn't plan on doing all of the fun ventures that you longed to do but never had the time to do at work because you will be too broke to cover the expenses and too old.
Retirement is like a lifetime of fun, but you will not be physically fit to revel in fun activities. Happy retirement!
Retirement is believed to be tedious and excruciating leading to the sunset of your life. Congratulations.
If you are looking forward to retirement, know that at this stage, you can rejoice in medical check-ups, old bones, old age, doctor visits, and weak colon. Happy retirement.
The best part of retirement is realizing that medical insurance is the most important part of your life. Congratulations.
After being someone else's boss your entire career, retirement is your opportunity to be your own boss. Enjoy your retirement!
Retirement Wishes for Your (Great) Boss
You are our genuine team leader with remarkable charisma and excellent ingenuity. It is difficult to find another like you. We appreciate all that you have done for us. Congratulations on your retirement.
Retire with pride because you have enjoyed a fruitful career. Your employees emulate your work ethics and they would like to have had a successful career when they retire as you did. We wish you a happy retirement, Boss!
It has been truly a blessing learning and working with you over the years. We will miss you and your teaching. Do enjoy every second of your retirement.
The perfect pie requires perfect ingredients; the perfect boss is incomplete without perfect employees.
Congratulations on your retirement to The Perfect Boss from His/Her Perfect Employees.
We were not happy that you were an angry boss every day. What we did know was that you always wanted us to be our best, and you had the company's best interests at heart. Thank you for being tough on us. Have a wonderful retirement!
I empathize with you going up in age, and you are also an inspiration to us when we think about your successful career and life. Have a great retirement.