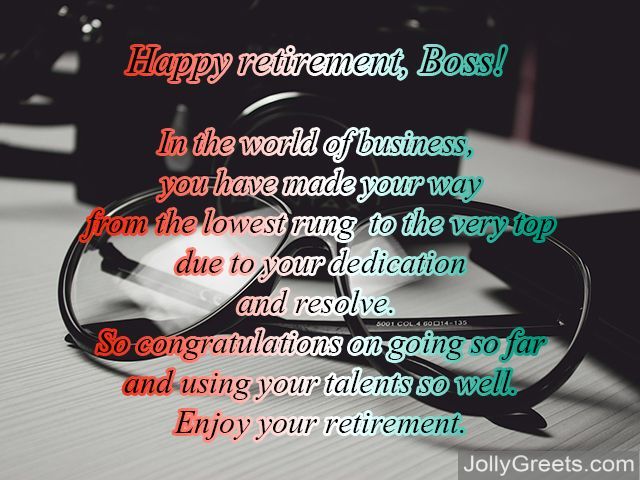 Happy Retirement for Bosses: It's no secret that at times, the relationship between a boss and her or his employee can be strained. A workplace can be stressful and hectic, but then too, your bosses are constantly working to make sure that your workplace isn't stressful, or hectic. They want your best interests, and work countless hours to make that a reality. So when your boss decides to start a new chapter in their life, tell them congratulations with one of these poems and show them that you are appreciative of their hard work and dedication.
How to Create the Perfect Card - Examples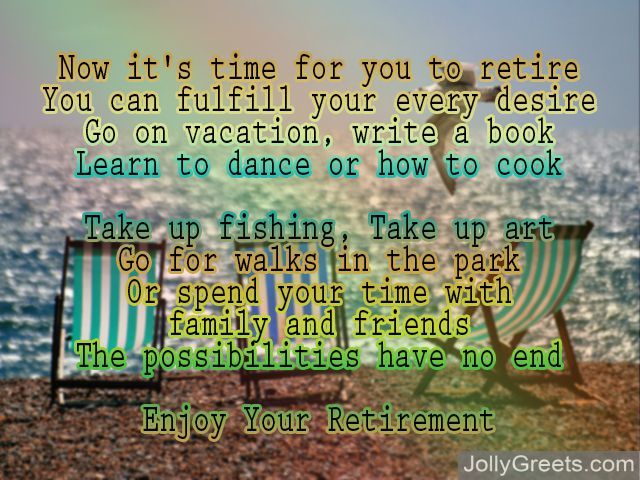 1
Oh, dear boss, it's time for you to go,
We wish it weren't true but it really is so
We hope good fortune follows you wherever you go,
We hope you have a good life and never feel low.

2
You've worked us real hard,
Made us work yard for yard
But now that you're goin'
And we know that you won't be stayin'
We hate to see you go,
But we know it really is so
Good luck!

3
We hate to see you go,
But we know it really is so
Even though you're leaving us,
We can't help but make a fuss
Have a nice retirement,
And remember all those back in your old environment

4
You've waited your whole life, to retire now.
The time has now come the day is finally here.
I want you to know that I will miss you so, you were the best boss I could have.
Ambition is key, to chasing your dreams, and now your dreams can come true.
Happy retirement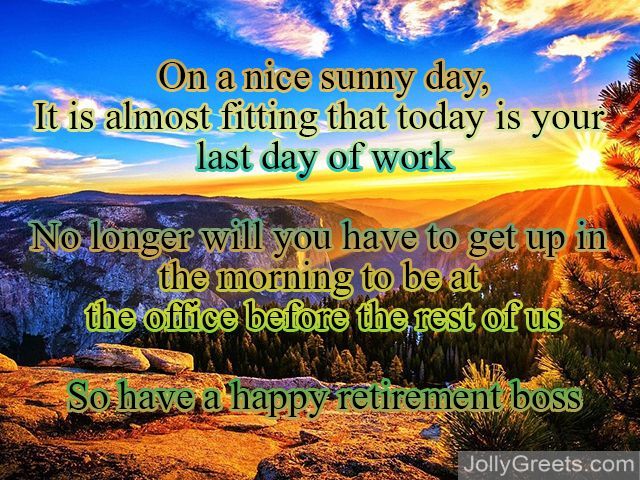 5
Your leadership has carried us far,
Now it's time for you to bow down and retire just like you've dreamed;
I want you o know, it was a privilge call you my boss.
Please never give up and never forget, your employee the one at the desk.

6
You are a jolly good fellow, whose favorite color is yellow.
You've worked so hard and led us this far.
I want you to know I will miss you so, and I hope you to remember me.
Enjoy your retirement. Congratulations boss,

7
You have been more than our boss
You are our fearless leader
Our friend
Our mentor
Our confidant
Sometimes our drill sergeant
Other times our savior of weekends
Your kind words of encouragement
We're always just what we needed
You are smart and thoughtful
Warm and compassionate
And now greatly missed
Best of luck in this new chapter in your life!
8
It's not everyday, someone can call their boss a real friend
Thank you for giving me that opportunity
And thank you for allowing me to work in a workplace that was always filled with your hard working spirit and kindness
I can't tell you how much I appreciate all you have done for myself and for all of us here.
Your grit and you warmth are a combination rare and unmatched.
I hope you know how much you will be missed here.
Best of luck in your new journey!
9
Even when I didn't want to be there, you made work worth coming to.
You made this work important to us all
You always made us all feel needed, important, indispensable.
Thank you for that
Thank you for finding a way to be firm handed and understanding at the same time
Thank you for leading by example and making every second count
We will miss your leadership and shining personality, but I wish you all the best in your next adventure!
10
There is a cake with your name on it
in the break room
Everyone is happy that it is your
last day
Now you can spend time playing
golf or finish reading that book
We wish you the best now that you
are retired
11
On a nice sunny day,
It is almost fitting that today is your
last day of work
No longer will you have to get up in
the morning to be at
the office before the rest of us
So have a happy retirement boss
12
Your days of working is over
Now you can spend your day doing
whatever you want
you can finally see the world or
learn how to play those card games
you never knew how to play
The world is your playground now
Enjoy your retirement
13
Happy retirement my sweet boss.
Your contribution to this society
is well appreciated and your
contribution does not need to end
due to this retirement. God bless
you.
14
You have made wonderful impact
that everyone appreciates. The
contribution can never been
forgotten. You are a rare gem.
15
The retirement party is not enough
to appreciate all your effort. Your
effort is so immense and cannot
go unappreciated because you
have made fellows who are just
like you.
16
You have worked for many years,
And now a change is due,
It's time to have a change of pace,
And try out something new.
And now you'll have time to enjoy,
New hobbies and have fun,
And we wish you all the best,
Now your working life is done.
Enjoy your Retirement
17
The years that we have worked together
Have been fun and such a pleasure
Memories made, moments shared
You were devoted and showed you cared
We want to wish you all the best
Have some fun and get some rest
And know that life here will carry on
Under your legacy, now you've gone
Happy Retirement!
18
Now it's time for you to retire
You can fulfill your every desire
Go on vacation, write a book
Learn to dance or how to cook
Take up fishing, Take up art
Go for walks in the park
Or spend your time with family and friends
The possibilities have no end
Enjoy Your Retirement
19
I can see the boats are sailing
upon the tranquil sea
and you are standing – smiling
now that you are free
to do what really stirs you
to finally break waves
and enjoy the days of sunshine
that will come your way!
Happy Retirement!!!
20
You have waiting for so long now
counting all the days
till you could empty out your office
and finally start to play
at all your greatest hobbies
and the trips you've panned.
The payoff for all your effort
is finally at hand!
Happy Retirement!!
21
I wish you all the sunny days
and all the chilly beers
that you have always dreamed of
all these working years.
May all your trips be adventures
and all your beaches white.
May all your dreams be realty
and all your chores be light!!•
Happy Retirement!!

22
Pushing yourself further than the rest
all in an effort to become the best –
I do say you've done a very fine job
of standing out from the mob
and making your mark in our little world
even when it seemed to come unfurled.
So as you retire, congratulations!
You surpassed all expectations.
23
The time has come
to put your sanity first
your family second
and your stressors last.
Time to tuck away your badge
and don comfortable pants instead,
and spending your early mornings
wherever you'd like.
Enjoy the time you now have
to dote upon your family
and enjoy every minute of your day.
Happy retirement!
24
Happy retirement, Boss!
In the world of business,
you have made your way
from the lowest rung
to the very top
due to your dedication
and resolve.
So congratulations on going so far
and using your talents so well.
Enjoy your retirement.
25
We here at work
Hope you retire full of pride
Because of your fantastic career
And because of the legacy you've left behind
On us, your employees
And on all of the people you'll be leaving behind
Good luck and congratulations!

26
I hope that as you retire
You remember us still here
We appreciate how much you've done
For us and for everyone
We hope you take the time to relax
To rest and to just be you
And congratulations on retiring!

27
Time really does go by so fast
It's almost hard to believe
That it's time for you to retire
But just remember that you're free!
You can start a hobby, take up dancing
Maybe just watch tv
But it's all up to you
And congrats from me!

28
Goodbyes are never easy
For anyone to say
But if we had to part
I couldn't think of a better way
Thank you for a great boss
Thank you for being kind
I hope retirement brings you happiness
And genuine peace of mind

29
It pains me to see
That you're going away
But it would be selfish
To ask you to stay
After all of the leadership
You've shown through the years
I toast you as the best boss
And I offer you cheers

30
I wish you the best
As you go on your way
You've put in the hard work
Now it's time to go play
Even when you're gone
We'll think of you still
Because you leave a great legacy
With big shoes to fill

31
So here you've arrived
At a long journey's end
You've made a great difference
And plenty of friends
You've inspired so many
And provided wisdom plenty
So I hope that this next chapter is greater than the last
Keep doing you, and having a blast

32
A long day's work can sit in your bones
Even once you've clocked out, and made it home
But now you're done, you've made it to the end
And now your adventure may truly begin
Enjoy this time, it is yours to cherish
Capture the years, don't let them perish

33
Clocking in and clocking out can become a vicious cycle
But you've made it enjoyable and very worthwhile
Thanks for teaching me so many things
And now enjoy the time that's yours until the tide rings
I hope that happiness is all your retirement brings