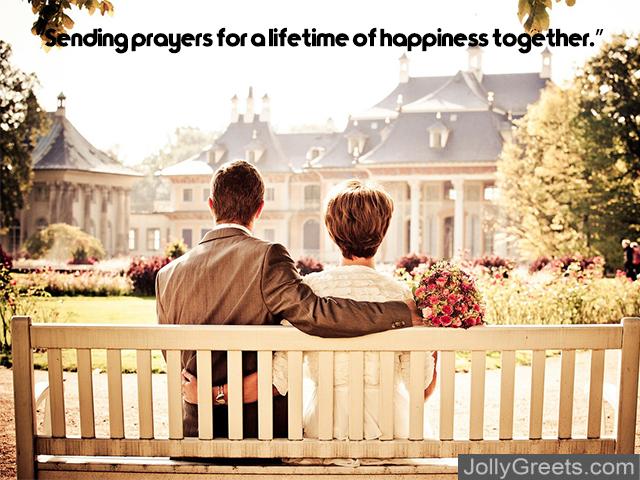 Weddings are a wonderful, joyous occasion for all those lucky enough to be involved. For many people, they are also a time of religious significance; if the happy couple are spiritual, you may find yourself wanting to send them well wishes that appeal to both their romantic and religious sides. Luckily, you can create the perfect celebratory card that not only congratulates them on their nuptials but also ties in their faith.
How to Create the Perfect Card - Examples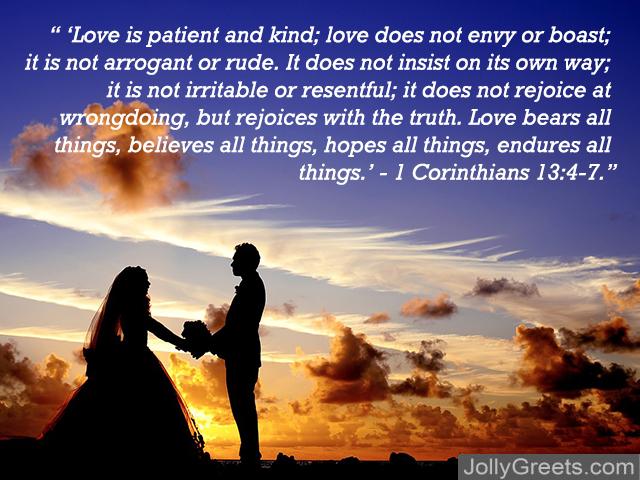 We've gathered ideas to help you when writing a message to that happy couple in your life. Although they are written to follow three religions, many of these well wishes can be adjusted for a general religious wedding wish. Remember: while these ideas are great on their own, it will be even more meaningful if you add a personal flair!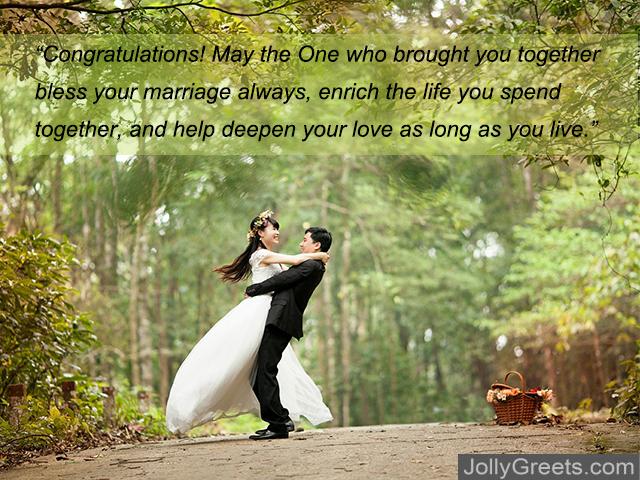 Christianity-themed Wedding Wishes
Short & Sweet:
"May God bless you and your union."

"Sending prayers for a lifetime of happiness together."

"Praying for a blessed union."

" 'Do everything in love.' – 1 Corinthians 16:14."

"Blessings to you both on this joyous day."

"May God grant you a lifetime of love."

" 'Through love serve one another.' – Galations 5:13."

"May God bless the two of you on your journey."

"Rejoice in your love for each other and for the Lord."

"Walk in love as you walk with God."
Lengthy & Loving:
" 'Love is patient and kind; love does not envy or boast; it is not arrogant or rude. It does not insist on its own way; it is not irritable or resentful; it does not rejoice at wrongdoing, but rejoices with the truth. Love bears all things, believes all things, hopes all things, endures all things.' – 1 Corinthians 13:4-7."

"God smiled upon the two of you when he brought you together. He smiles upon you now on such a joyous day, starting the rest of your lives together. May you be blessed always and have a long and happy marriage."

"Blessings to both of you on this joyous day. I wish the best for you on this journey together. Remember to walk with God together and it will help your love grow and stay strong for all of your days."

"Congratulations! May the One who brought you together bless your marriage always, enrich the life you spend together, and help deepen your love as long as you live."

"Praying for both of you to enjoy a long and happy life together and with the Lord. If times ever get tough, remember the rejoice in one another and rejoice in the Glory of God."
Jewish-themed Wedding Wishes
Short & Sweet:
"Mazel Tov to your marriage."

"May you both be forever blessed."

" 'I am my beloved's and my beloved is mine.' – Shir Ha'Shirim/Song of Songs 6:3."

"Good health to you both and blessings aplenty."

"Barukh ha-nimza."

"Mazel Tov! May today's blessings follow you through life."

"May you share love and happiness today and always."

"Mazel Tov! Blessed art thou, Lord, who gladdens groom and bride."

 "Seven wishes of trust, love, communication, honesty, respect, happiness, and compassion to you both."

"May you be blessed on this glorious union."
Lengthy & Loving:
" 'Entreat me not to leave thee, Or to return from following after thee: For whither thou goest, I will go, And where thou lodgest, I will lodge. Thy people shall be my people, And thy God my God. Where thou diest, will I die, And there will I be buried. The Lord do so to me, and more also, If ought but death part thee and me.' – Ruth 1:16-17."

"Blessed is the joy of lovers. Today we celebrate with this couple as they freely unite in marriage. May you live in a world where this freedom is extended to all couples, allowing anyone to marry without judgment, impediment, or persecution. Mazel Tov."

" 'Two are better than one, because they have a good return for their labor: if either of them falls down, one can help the other up. But pity anyone who falls and has no one to help them up. Also, if two lie down together, they will keep warm. But how can one keep warm alone? Though one may be overpowered, two can defend themselves. A cord of three strands is not quickly broken.' – Ecclesiastes 4:9-12."

"Barukh ha-nimza, many blessings and a long life to you both together. May you walk with the Lord as you walk through this life together."

"Mazel Tov and barukkh ha-nimza to the happy couple! Congratulations on your union. May your marriage be filled with love and blessings, may you always be joyful in one another and in the Lord."
Islamic-themed Wedding Wishes
Short & Sweet:
"Mas Allah! Many blessings to the happy couple."

"Congratulations! May Allah bless you."

"As you unite in marriage, may you unite in faith. May Allah bless you."

"May Allah bless you a lifetime of happiness together."

"Alhumdulillah and congratulations on your union."

"Assalamualaikum! Happy wedding and a blessed marriage."

"Congrulations my wonderful groom and bride! May Allah bless your life together."

"Follow the holy Quran and walk with Allah as you walk with one another."

"Oh Allah is so loving, as you are so loving. Blessings to your union."

"May Allah give you many years of happiness, love, and security."
Lengthy & Loving:
" 'Our Lord, and admit them into the gardens of Eden that You promised for them and for the righteous among their parents, spouses, and children. You are the Almighty, Most Wise.' – Quran 40:8."

"There can be no love without trust, so keep trusting one another and living a life of happiness together. Follow the Holy Quran and our prayer is always with you. Nikah Mubarak, friends!"

"Mubarak on your special day! May Allah bless you and bless your union. Always remember to protect each other's hearts and support each other's dreams. Never let go of this love, the love of your life."

"After much waiting, you have finally come together on this: your wedding day. Alhumdulilah! Congratulations! Mubarak to you, friends, and a blessed life together."

"Two souls become one today. Mash Allah! May your bond be unbreakable and you always remember this special day. May your life be filled with light. May Allah bless you always."