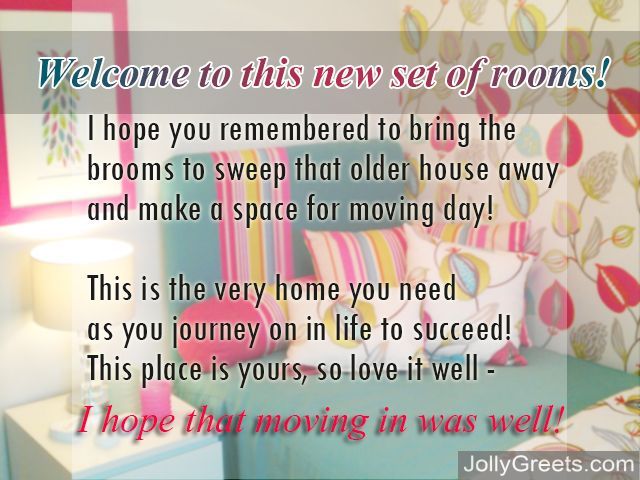 Getting a new home is one of the most excting monumental milestones in every persons life, take a moment to commemorate this profound step in life. Choosde a poem from this post to let your friends just how excited you are for this next phase in their life. Poems from this batch include messages that are sentimental, funny, exciting, and friendly. Nothing will show your new home owner friends just how excited you are for them like one of these original, touching poems.
How to Create the Perfect Card - Examples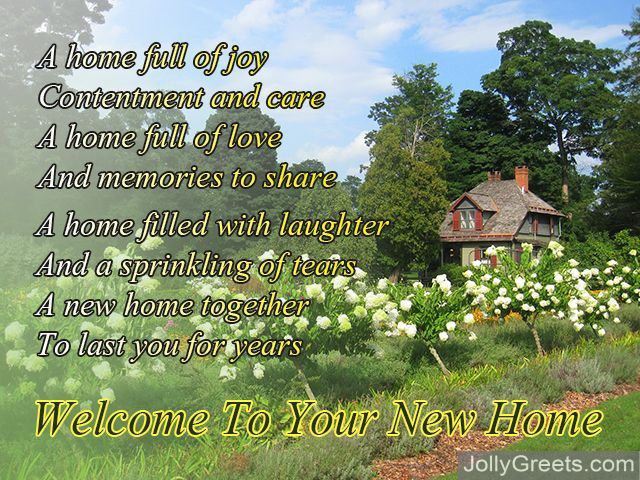 1
A house is a place of thing to do,
Bedrooms, libraries, and a kitchen, too
But a home is much more than mortar and brick,
More than just where the walls are thick
A home is where love is.

2
Welcome to your new lovely place,
We think you'll find it quite as your ace
We love that you're here; we can't wait to meet you,
We hope to see you, in just a few.

3
Home is much more than a place to sleep,
It much more than a place to go hide-and-seek
What a home really is, between you and me,
Are the people in it, who love us, you see.

4
You've waited your whole life for a home to call your own, and now the moment is finally here. I know how excited you must be, with starting this new chapter in your life. I hope that your new home is everything that you could have ever imagined Congratulations on your new home.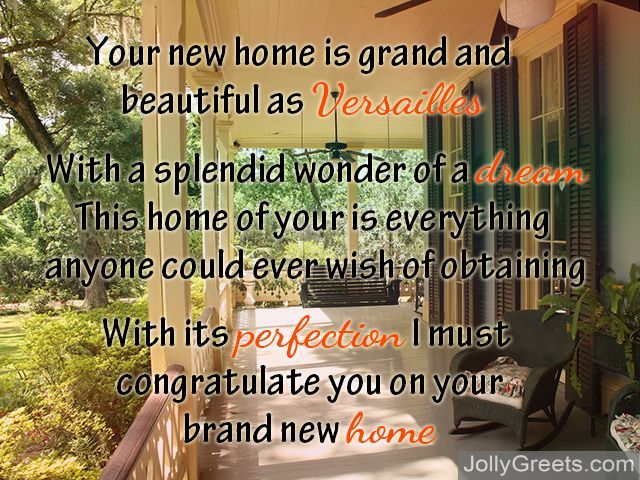 5
Kitchens are wonderful, bedrooms are neat. You have bought a new home, and that is great, you have brought new life to the place where you live, and we want you to know how happy we are that you've finally made all your dreams come true, and your dream home now belongs to you. Congratulations on your new home.

6
You have been a blessing to our lives, and we know you will be just fine. Congratulations on just starting out, we know your new home will suit you just fine. It's very exciting, this new chapter and all, you have been friends that make us feel ten feet tall. But life will start over out there in the new home. Just know we will miss you and your little family. Congratulations on your new home.

7
The cups are here, or there…they're somewhere around
Oh here sit down,
just let me find a chair…
The forks really might have run away with the spoons…we can't seem to find them
And the broom…well I'm not sure if we brought it
I know it seems crazy now but
In all the commotion and mountains of boxes
Be sure to always remember,
home is where the heart is…even if you can't quite remember in which box you packed it.
8
It won't be the same as the old house,
That much is true
But now is the time for new memories
New sunrise coffees in the kitchen,
New late nights in the study,
New bedtime stories,
New cookouts in the yard,
And new dinners to enjoy in this beautiful house.
It's time to make it a home, best wishes settling in and don't forget to enjoy the memories!
9
The keys are in your hands and the place is yours!
Now you can decide what to do with the floors,
what color for the walls,
which chairs will go where
what will hang in your halls
This is your home, it's new and exciting!
So thank you in advance, for always inviting.
10
Congratulation on your new home
my friend
I hope you turn it into the home of
your dreams
May it be filled with the warmth and
coziness that a home should have
I hope you make great memories in
it
11
Your new home is grand and
beautiful as Versailles
With a splendid wonder of a dream
This home of your is everything
anyone could ever wish of obtaining
With its perfection I must
congratulate you on your brand new
home
12
It is a wonderful and spacious place,
your new home
With your beautiful creative vision
decorating the interior of the new
home
I am happy that you have the home
of your dreams
And I congratulate you for achieving
this
13
A new home signifies a new
beginning, a new life and a new hope.
Forget all your differences and see
the newness. Forget all the past
failed relationships and appreciate
this wonderful one you have because
you both are fortunate to have each
other.

14
I can remember vividly when we both
met her. I saw the glow in your face,
you had never been that awed. Your
relationship confirmed it as it was the
happiest moment of your life. That is
why I know this union is bound to
last as you both need each other.
Enjoy everyday of your new home.
15
As you start a new home, may your
joy increase, your smile broaden,
your coast enlarge and your
business expand. Two heads they
say is better than one, so expect
all things to be better for you.
Congratulations once again.
16
Painted ceilings, windows and doors
Solid walls and sanded floors,
Bricks and mortar, rock and stone,
It takes more than this, to make a home.
Love and laughter, joy and tears,
Memories made, throughout the years,
Sunny days and stormy weather
Family, friends, a life together
Enjoy Your New Home
17
When living alone it was easy and free,
Then one became two and two became three,
And now that it's time to meet number four,
You found a nice place with a new front door.
You start a new life and have a new home,
New adventures await, now your family has grown,
With laughter and joy, and troubles and strife
All interweave in the tapestry of life.
Congratulations On Your New Home
18
A home full of joy
Contentment and care
A home full of love
And memories to share
A home filled with laughter
And a sprinkling of tears
A new home together
To last you for years
Welcome To Your New Home
19
Welcome home! You found it!
The place that will be
A home for brand new chapters
and the memories.
May your home bring you tables of bounty, and of music and of joy!
A place where you can hang your hat, and that love employs!

20
You found your self a new nest,
a place where you can build,
a life of love and memories;
some even sweeter still.
I wish you many years of fruitfulness and plenty,
a home where you can find,
a love to share your moments with
and spend your precious time
21
It is with so much excitement
that I wish for you
All the wonderful memories
your new home will make for you.
A home to bring you comfort,
and a home that will hold
all the brand new chapters
that are yet untold.

22
Turn the key and step inside
while waking from the long, dull drive.
Turn on the light and kick off your shoes –
There's still so much to do!
Unload the car, fill the closet space,
hope that nothing has been misplaced,
and as you shelve that final tome,
sit and smile and say,
"Welcome home! "
23
Let the memories begin!
The mud splattered in the doorway,
the mist stuck to the window pane,
smoke billowing from failed cooking experiments,
vacuums dancing across the floor,
laughter in the living room,
and love in the bedroom,
and arias in the shower.
The house has been chosen –
it is time to make it a home.
24
Welcome to this new set of rooms!
I hope you remembered to bring the brooms
to sweep that older house away
and make a space for moving day!
This is the very home you need
as you journey on in life to succeed!
This place is yours, so love it well –
I hope that moving in was swell!
25
A heart makes a home
And you'll bring yours with you
Leave the bad behind and
Take the good times with you
Your new home has so much potential
To make new memories
We wish you the best and good luck
In your new home

26
You're moving in
It's time to start again
It's time to make new memories
I wish you luck till the end
You'll settle in and
Bring some old things with you
As your friend I can't wait
To see what you do
With your new house

27
Ingredients for a new home
A dash of old and a little of new
More than sprinkle of laughter
And some memories of me and you
A blessing on your new home
And on your new life
Good luck and God bless you wherever you roam

28
What does it take to make a house a home?
Is it the walls you paint?
The renovations you make?
The meals you cook in the kitchen?
Is it the late nights awake?
Or the mornings slept in?
Or the conversations held in between?
It is all of things and yet so much more
For while houses are built
From wood and stone
Homes are built
From love and life

29
As you unpack into your new home
Always remember this
That boxes hold more
Than knick-knacks
But memories of the past
Stories of heartbreak, hardships, and hope
And also of family, friendships, and fun
And as you unpack into your new home
Always remember this
That this home holds more than boxes
But the promise of the future
That will fill this house with
Far more than boxes

30
Home is far more
Than a roof and four walls
But a place where you grow
Through triumphs and falls
Where you lay down at night
And you go rest your head
Where family and friends
Share the breaking of bread
So turn these four walls
Into a place of your own
And may you always feel happy
To find yourself home

31
A milestone on this journey of life
A cornerstone for your family line
This monumental feat deserves a toast
So here's to you
And your new abode
Congratulations on your new home
May it be a place for you to grow

32
A home
Wall, floor, roof, window, door
Not just that but so much more
A home is a space where stories take place
Where children are grown
And friends are well known
So here's to the bricks and layers of stone
The sturdy foundation of your brand new home

33
The smell of breakfast on Sunday morning
Late nights out on the back porch
Children laughing
Loving pets
Movie nights and pillow fights
Mattress down a stair of flights
This home is yours
It is what you make it
Beyond the walls, paint, and doors
You're the one that walks the floors