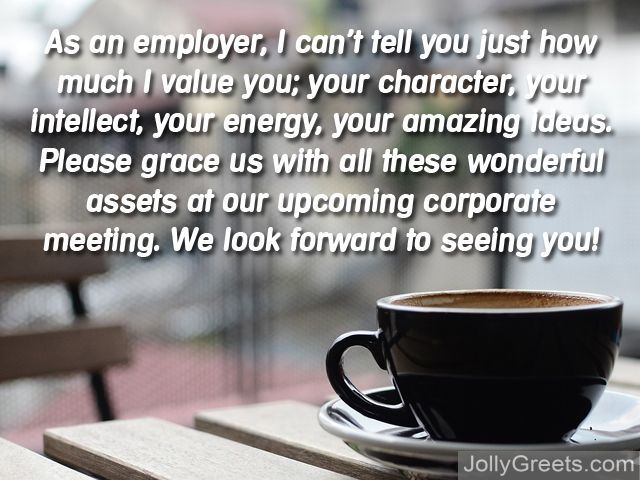 Creating a Message for a Meeting Invitation
A meeting is a very important gathering of like-minded people, there to exchange ideas, information and opinions that concern everyone at the meeting. Businesses, clubs and corporations host meetings all the time, as do familial and social groups.
How to Create the Perfect Card - Examples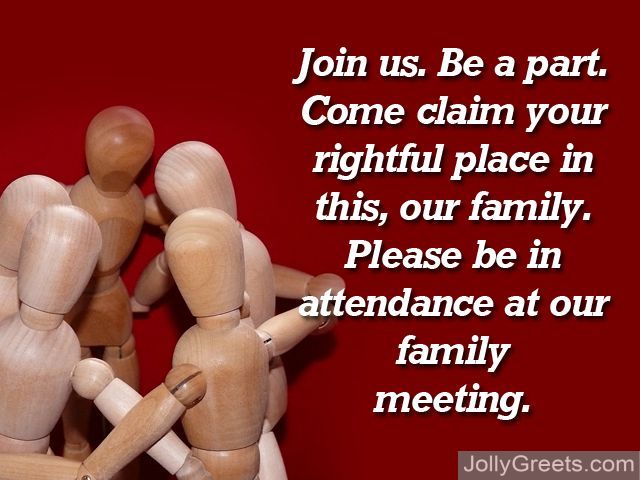 You are sure to increase the attendance of your next meeting, whatever its purpose or subject, with a winning meeting invitation card. Read on for some ideas on how to make your meeting invite more inviting: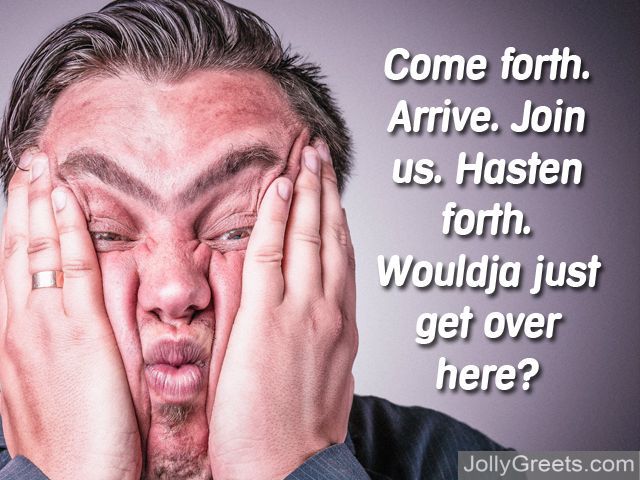 For a Company Meeting
Corporate meetings are perhaps the most commonly conducted, and they just may be the most important components of a business' inner workings. It is at a meeting that company officers and employees make vital decisions about the running of their business. Here is how you can ensure that every administrator and employee will flock to your corporate meeting:
(For a boss or employee) Our company values your mind, your ideas, your input. You bring so much to the table, so bring it to ours; we hope to see you at our corporate meeting.
(For a boss or employee) From time to time just about every company needs to host a meeting; a gathering of its officials, administrators and employees, at which decisions are made and change is affected. We would like to officially invite you to be part of this important gathering. Please be in attendance at our meeting.
(For a boss) As the leader of our own fine corporation, we need your valuable insight and input on some very important issues. Please join us for a meeting.
(For an employee) As an employer, I can't tell you just how much I value you; your character, your intellect, your energy, your amazing ideas. Please grace us with all these wonderful assets at our upcoming corporate meeting. We look forward to seeing you!
For a Loved One
Sometimes families and close knit social groups are called together to resolve an issue or address a concern. Other times they just need to get together, reconnect and strengthen their ranks. Here's how to bring the fold home:
(For any family member) A family is a beautiful and radiant unit comprised of a number of wonderful individuals; each of which brings a special set of skills, talents, personality traits, and character assets. Everything you bring to this family, we now need you to bring to a major family meeting. Please be here.
(For any family member) Join us. Be a part. Come claim your rightful place in this, our family. Please be in attendance at our family meeting.
(For a parent) My dear parent, you stand and reign as the leader of our family. At this time we need your guidance and timeless wisdom; please join us for a family meeting.
(For a child) My dear child, we need you to come home to the fold, to rejoin our family for a very important family meeting. Come home to us.
(For a friend) As you well know, our group of beloved friends is more like a family. Rejoin your friends for a very important meeting; we look forward to seeing you!
(For a friend) Feel the warmth. Feel the love. Hear the laughter. Join us for a meeting of friends.
(For a male friend) Dude, it's just not the same if you're not there. So get over here, plop yourself down, pour a cold one, and just be with us.
(For a female friend) Hey there gal, it's beyond time for a hen night—come grace us with your kindness, your beauty, your laughter, and—well-with your grace! Come and be with your sister friends for a meeting of the gal pals!
General and Humorous—for anyone
Some meetings are casual gatherings with no dire or serious purpose; in this case, it may be appropriate to send a general, humorous greeting that prospective attendants are sure to appreciate.
If you come to our meeting we plan to shower you with warmth, well wishes and some attentive listening ears. Not impressive? OK fine, we'll also bring doughnuts. Lots of them. With sprinkles. See you there!
Come forth. Arrive. Join us. Hasten forth. Wouldja just get over here?
For Clubs and Organizations
(For a community service or social club) Our club values your mind, your ideas, your input. You bring so much to the table, so bring it to ours; we hope to see you at our club meeting.
(For an organization) You are such a vital, important part of this organization; and at this time we need your presence and input at an important meeting. Please join us.