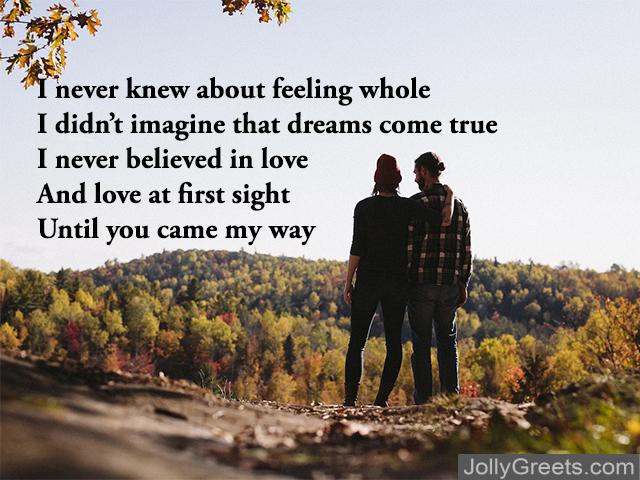 Many people think that relationships fall apart because of the boyfriend giving less attention to his girlfriend. I don't understand why it should only come from one side. Girlfriends too, you should show your attention towards your man in every way you can and "I love you" poems work best. In sweet but sincere words, tell him how your world revolves around him. You might not know the exact words to use but here is the secret, sincerity, plus I have combined you a list of beautiful "I love you poems to your boyfriend." I hope you rekindle the flames of love!
How to Create the Perfect Card - Examples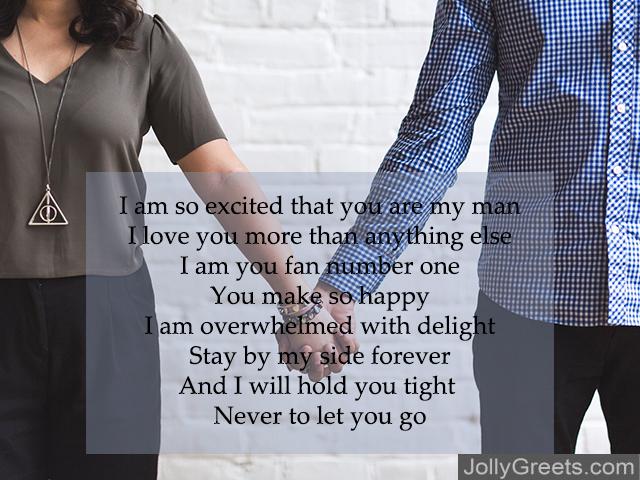 You are the sun that brightens my days
The joy that fills my heart in all ways
You are the moon that shines through my dark night
My star shining so bright
You are my oxygen you keep me alive
Even in storms, you love makes me survive
You are my everything
My one and only
With you I am never lonely
The measure of my love for you I can't really tell
But I know ours is a fairytale
I see a happy ever after love
Because my love…
I love you to the moon and beyond
In my dreams, I could feel the tight hugs
In my dreams, I could feel the warm kiss
In my dreams, I could feel the warmth of a kind kiss
Now, I want to stay awake all day
Because I met you, though I don't know what to do
But I'll let love lead me through
I don't wanna lose you
Not even for a single second
It's amazing this feeling I have towards you
I love you more and more every passing day
I thank my guardian angels for bringing you my way
I just can't wait to be called your wife!
I am hoping for the day that we will tell each other 'I do'
Making love to you all night long
Letting love flow through our souls
The sweetness of your tender lips
I never want to miss
I feel so safe in your arms
Everything seems all right
I am so lucky you came my way
You make me smile amidst tears
You make me laugh even without a sound
Every day that passes you teach me something new
How you make it to be so perfect, I don't know
Thank you honey
I love you to the moon and beyond.
You will always be a part of me
I can't bear the emptiness when we part
No one is as special as you are in my world
I hope you can now see
How much I care
Although I can't find the right words to express
How much I love you from deep down
When you need me I'll always be there
To cry with you if I can't help out
But I will always strive to make you happy
For you I can do anything to see you happy
And always remember, you are always on my mind
I never knew about feeling whole
I didn't imagine that dreams come true
I never believed in love
And love at first sight
Until you came my way
Cute Love Poems for Your Boyfriend
You haven't found the best one yet, don't worry I have much much more in store for you that will be sure to melt his heart. Read on…
I am so excited that you are my man
I love you more than anything else
I am you fan number one
You make so happy
I am overwhelmed with delight
Stay by my side forever
And I will hold you tight
Never to let you go
Your eyes are so sunny and warm
Your hands are as soft as wool
Your heart is full of care
Your shoulders are mine to cry on
Your torso, it's the very best
The one thing I can't put in words is your cute face
It draws me to a calming daze
Wondering why all the compliments
Because I want you to know I'm crazy for you
You become hotter each day
You are the magnet that pulls me so close
Im not just attracted, but its true love
What a bond I have towards you
Let's drown in it
Let's get lost, in each other
In the love we share, my valentine.
I couldn't help get through my bitter memories
Those made my heart ache
And tears flowing
But I had to forget the bitter memories
And give love another chance
So here I am
I have fallen in love with you
And I don't ever want to lose you
You made me pick up my pieces with hope and courage
Because I feel no regerets when I gaze in your eyes
They assure me of a love so true
Your arms
They assure me of a care so secure
Just know
That I will always love you
And this love is true
I Will Always Love You Poems for Ex-Boyfriend
Whatever mystery is usually behind the break ups and heartache that follows a very beautiful love, no one knows. But we know that a break up hurts as hell. Parting with the guy you really loved is the worst feeling ever. But sometimes, even with so much pain, your heart still wants to go back, tell him, send him a nice poem as a private text message or DM on Facebook or Whatsaap. Maybe his heart still wants you back too.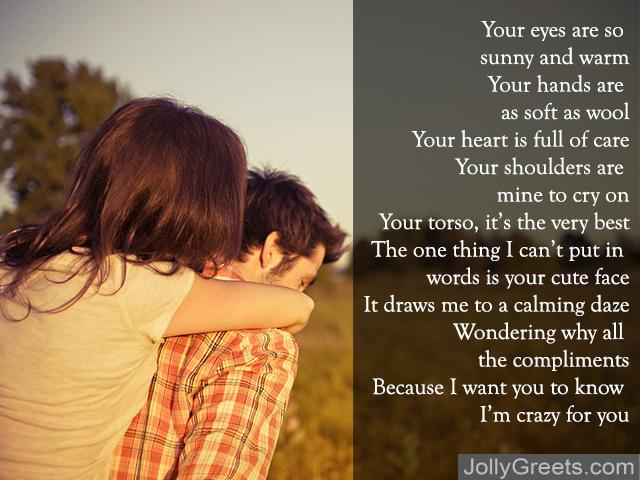 I am not angered
Neither am I upset
Because to me we are not over
I ain't wild at all
Neither am I stressed
Its just that the breakup
Has put me in a total mess
I am in a strane place
My heart is seeing nothing else
But you
I still love you
My attempts to forget you
Never seem to bear any fruits
With this pain
I am going insane
I try to stop thinking about you
But you still cross my mind
Maybe I am already insane
Because I still believe I belong to you
And you to me
Or maybe it's true
I don't know
I love you
I believe we weren't made to be
Let's enjoy our memories together
And hope for a better partners
Let's take our misunderstanding
To be the key to more beautiful love
Although
I miss being your girlfriend
I hate myself, for loving you
I am devastated, for expecting a new love
I am frustrated, for thinking it's my fault
I am still hurting
From the horrors of our break up
I love you, I still do