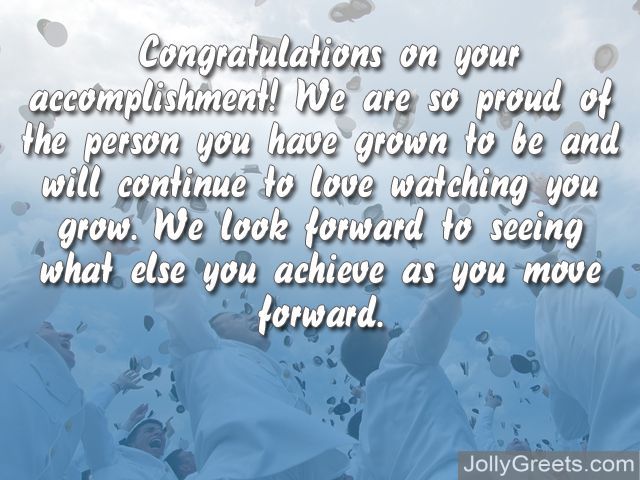 Creating a Greeting Card Message for Graduation
There are few occasions like a graduation in a person's life. It is a time set aside to celebrate years of effort mixed with hopeful anticipation of what's to come. And just as a graduation provides a chance for that person to acknowledge all of the people who helped them achieve their goals, so too is a graduation a chance for you to reflect on what kind of person they have become.
How to Create the Perfect Card - Examples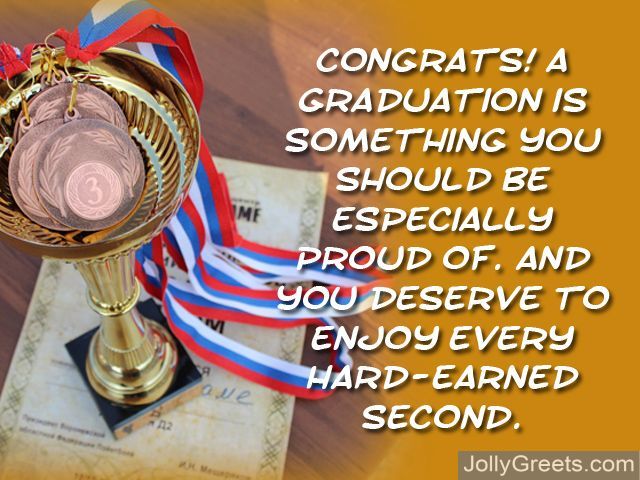 This guide will help you do just that by offering some unique and thoughtful messages suited for graduation days and all kinds of people.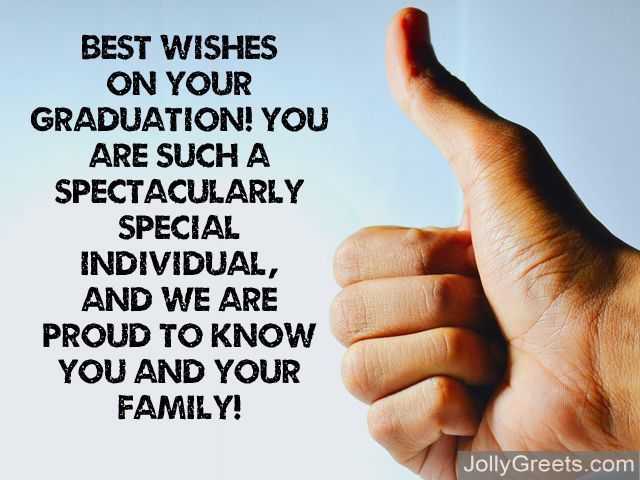 Messages from All Kinds of Family
One of the great things about graduations is that they can bring together family from all over to celebrate. While it can be hard to know the best way to congratulate someone for a journey that you weren't necessarily a part of, rest assured that warm wishes are welcome no matter who they come from.
(From parents) Congratulations on your accomplishment! We are so proud of the person you have grown to be and will continue to love watching you grow. We look forward to seeing what else you achieve as you move forward.
You did it! Countless hours of hard work and dedication have brought you here. We could not be happier to be a part of this moment with you.
(From a younger sibling) I am so thankful to have someone like you to look up to. I'm glad to see that it pays off when you focus and work hard. Good luck as you move forward into the next stage of your life.
(From an older sibling) It has been such a privilege watching you grow up and sharing so much with you. I am not at all surprised to see how successful you have been. I hope you are excited for whatever is next and are enjoying the happiness of this moment!
(From a aunt/uncle, for a niece/nephew) I hope you know how proud your parents are of you. We are so happy to be included in your celebration and even happier to see how much you have accomplished. Happy graduation!
(From family friends) Best wishes on your graduation! You are such a spectacularly special individual, and we are proud to know you and your family!
Congrats! A graduation is something you should be especially proud of. And you deserve to enjoy every hard-earned second.
Messages for All Kinds of Graduations
More and more it seems that there are graduations for everything. Even if it seems like a small matter to you, you can be certain that a graduation of any kind is a matter of significance and pride for the grad. A smile and a warm wish goes a long way.
(For college) The past four years have been a chance for you to grow, learn, and truly become yourself. It has been a long road coming to this point, and you have managed it with grace and skill. Well done on receiving your college diploma and being more than deserving of every good thing that it signifies. Best of luck as you enter the 'real world'! Something tells me you'll be fine.
(For high school) Some people say that high school accounts for the best years of your life. And while I'm sure that you have memories, friendships, and lessons enough to last you a lifetime, I know that you only have more good things to look forward to. Congratulations on graduating; you've already accomplished so much!
(For middle school) Congratulations on graduating! As you move on to high school, I hope you feel confident in the skills and education you have gained so far. Keep up the hard work!
(For elementary/grade school) Remember when you were just starting school? It was a while ago! By now you're an old pro, and you have done so much to be proud of. Good job!
(For law school) I am so happy to see your dream of graduating law school come true! It is such a unique and admirable path, and I am not surprised that someone as caring and dedicated as you has chosen it. Congratulations!
(For medical school) Finally done! It has surely been a long and difficult journey to reach this point, but I know that the good that you will do and the happiness that you feel in accomplishing this goal far outweighs anything else. Happy graduation!
(For continued education) Congratulations on graduating! You continually prove to be the kind of person who cares deeply for their education, and this milestone shows it once again.
Funny and Lighthearted Messages
Graduation may feel like the most important time in someone's life, so a little levity can be a nice way to inject some perspective and fun.
(For high school) Happy graduation! Congrats on leaving behind the world of busy work, authority figures that tell you what to do, and crazy hours…until you get a job.
Congratulations to the smartest person I know! Now you have a certificate that proves you know everything.
(For college) Are you sure you want to graduate? Have you heard about the economy? And you have student loans too, right? Well, OK…if you're sure…congratulations!
Congrats on graduating! Here's to all the caffeine pills, cliffs notes, missed classes, and afternoon naps that got you here!
Best wishes on your graduation! What better way to celebrate than by wearing a dress, a funny hat, and sitting in a crowd of people you no longer want to talk to for several hours?
Inspirational Messages
Sometimes a bit of heartwarming encouragement is just what a grad needs.
You don't need a diploma to change the world. But now that you have one, you really don't have any excuse. Congratulations! I can't wait to see all that you achieve!
Happy graduation! Your teachers, parents, and the community around you have poured so much into your education, and we could not be happier with the results. Thank you for making us proud!
Congratulations! This is just the beginning of the many ways in which you will continue to realize your potential. I hope the world is ready for it!
(Religious) The world could use a little more faith, hope, and love. I'm glad that people like you are a part of it. Congrats on graduating and giving to others all that you do.
Congratulations on graduating! May you continue to be blessed and joyful in achieving this moment and beyond.