The hardest point of friendship is when it is has come a time that you need to part ways. We all wish to stay close to our friends forever but you know change, for a fact, is inevitable so that time will always come. It is so painful to finally say goodbye, we cry we, fuss, but deep down we smile because our friends are going to find new opportunities, meet new friends and explore the world while still remaining our silent angels who with or without communication, they are still our friends. Here are some sweet poems that will help you say goodbye in style to your dear friend(s).
How to Create the Perfect Card - Examples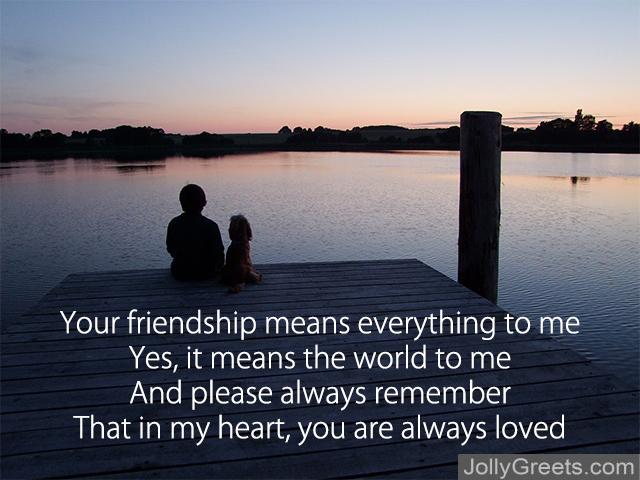 I am so glad I ever met you
Because ever since
You have been such an inspiration in my life
And it is because of you
That I remain strong
Your friendship means everything to me
Yes, it means the world to me
And please always remember
That in my heart, you are always loved
Now we are parting ways
Maybe we will never meet again
But as long as our friendship still stands
Our connections will always hold
We may not have been best friends
But your friendship was always the best.
The love that you always showed me
Is far much beyond titles
I will miss you
I know we have promised to keep in touch
But that is just saying, like everyone else does
Which never comes to be the case
Anything could happen in the future
And I wish you all the best
And please always remember
That you are truly blessed
So long, farewell
My lovely angel
I wish you the best
With this last goodbyes
More than you will ever know
I will always love you
Have fun dear
I wish you well
And please always remember
How hard I fell
Could you not stay
To touch my hand
Hold me once more
Ill try not to cry
I still can't get the strength
To say goodbye
This is a reminder, that I once existed
That I was born on a rainy day
Somewhere during the mid-year
It just started, but it seems to be ending all of a sudden
This is a reminder that I once existed in your life
Just another individual
With whom you may or may not have interacted with
I was there, at some point, then left
This is a reminder that once I was
A part of this vacuum called universe
I was once a part of this non-empty void
Ever growing big
Always have been intriguing, cosmos.
I think that I should let you know
That we will be miles apart
But no matter the miles
You will always be in my mind
I know you will meet new people
I hope ill stay as your 'the one"
And even if you'll forget me
Ill still remember you till my last breath
I will always love you
Through the good and the bad
You will be remembered
Please do not be sad
Emotions filled my head
I wished I could die
All because you were leaving
I knew I would never see you again
You waved goodbye
And left me to cry alone
I felt helpless and solo
How could i smile again
Its been almost a year since you went away
But the pain and desperation is still fresh
I remember everything we were doing together
It may seem a lie, but it's true
You are the best friend I ever had
Now that you left, I am beyond sad
I love, I miss you more than you ever know
You taught me so much, I want to say thank you.
Have an awesome trip
Miss me lots while you're away
Send me tons of pictures
And cool selfies ever day
Forget all your worries
I'm here to take care of it all
Just enjoy each moment
Of your trip and have a ball
Don't come back empty-handed
Bring me an amazing souvenir
I will be waiting eagerly
Just like always, right here
Goodbye
Saying goodbye to you
Is like taking a bitter pill
It is like doing something
Which is against my will
But the show must continue
Life must continue
Even though your departure
Will make me miss you
Goodbye
The city won't be the same
In your absence my friend
How much I will miss you
Of that there is no end
As you move to a new place
And make it your own
You will leave me hanging
Miserable and all alone
At cafes, parks and malls
I'll miss you, each and every instance
I wish you farewell and much
Good luck in abundance
Farewell Poems for a Dead Friend
Some goodbyes are forever because of death of your friend, here are some few poems to say farewell to a departed soul of a friend
For a second you were flying
Like you always wanted to
Now you'll fly forever
In skies of azure blue
We'll see your smile in every ray
Of sunshine after rain
And hear the echo of your laughter
Over all the pain
The worlds a little quieter now
The colors have lost their hue
The birds are singing softly
And your hearts are missing you
Each time we see a little cloud
Or a rainbow soaring high
We'll think of you gently
Wipe a tear from our eye.
I wrote your name in the sand
The waters washed it away
I wrote your name in the skies
But the wind drove it away
So I wrote your name in my heart
And that is where it will stay, forever.
Today is the day you will be laid to rest
But as they say
God only picks the best
Everything happens for a reason
But if we may not agree
Just promise to look after us
And if you can
Save a spot up there for me
The thought of never seeing you again makes me cry
And even more so
Because it came as a surprise
But we should never question God's actions
So we sit here and mourn you
We keep hoping that we will meet you again.