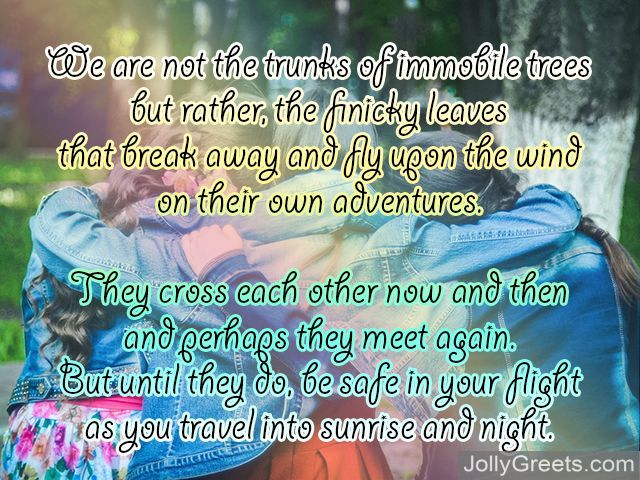 Goodbye Poems for Friends: Friends are some of the most important people in our lives. They are there for us through everything, drop-offs at the airport, birthdays, rough times, break-ups, new jobs, moving, weddings –everything. They do all this for us by choice, they choose to make our lives better, and share so much of themselves with us. Unfortunately, nothing is forever. So when the time does come, when you have to say goodbye to a dear friend give them a poem to let them know you are missing them and thinking of them. Choose one of these poems, or create your own –fill it with memories of your favorite times together and best wishes for the future.
How to Create the Perfect Card - Examples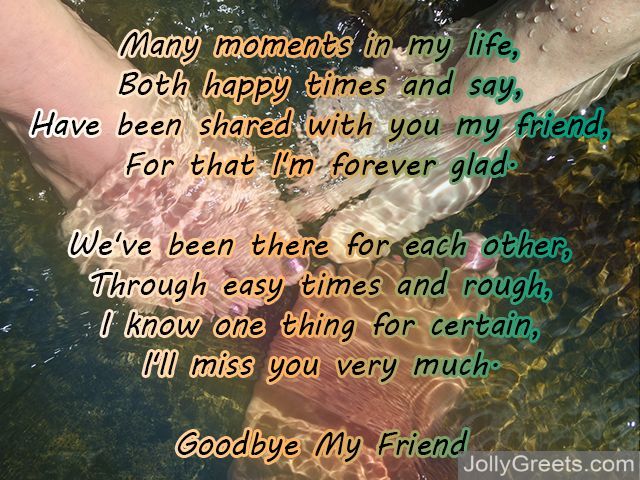 1
I hate to see you go,
But it really is so
I enjoyed our time, I enjoyed being with you
Letting go will be hard, I know it's true.
It's hard to say to you farewell,
I know, wherever you go, I hope you do swell

2
I remember all the time, we spent together
I can't believe that we might spend time, never seeing each other for forever.
We had a good time, we had a good run
We'll each go our own way, but we'll be under the same sun.

3
When times get hard, when times get tough,
I know you're always there to help me up.
And while you might be leaving, you have to go
I'll never forget you, and you know it's so.

4
All good things must come to an end, it breaks my heart to see it end.
I must send you, with a goodbye and a hug, for you are my dearest friend.
I must say good bye, I shall see you again. Goodbye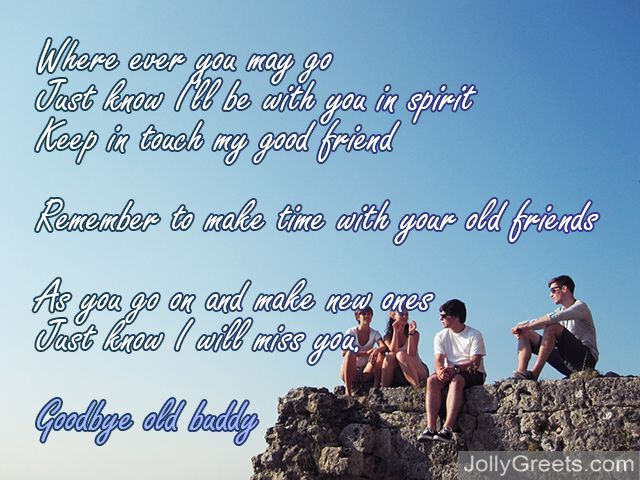 5
Loyal to a fault, faithful to end.
You're a pal as true as could be, but you're gone just now.
You've gone to follow your dreams.
Even still for comfort I will, see you again someday.

6
I wish I couldn't say goodbye, I'd love to laugh and fly once more.
Fly like a bird and sing all the words to the song that we wrote for each other.
Every song must end, but we must not fret for we can go and listen again.
Goodbye

7
I hate to see you go
But I'm so glad you're chasing your dreams
I know you will do great things in this new chapter of your life
Your kindness and quick wit,
You charming demeanor
Your infectious laugh and killer smile
Will get you far
And I'm sure you will make many new friends who will love you so much
But never forget, I will always be here
Missing you dearly
Best of luck friend!
8
Who will I go out for lunch and stay for hours with?
Whose house will I run to when I have a broken heart?
Whose couch will I crash on when I'm too exhausted to move?
Whose shoulder will I lean on when times are tough?
I don't know what I will do without you.
But I'm sure you are onto great things in this new journey in which you are about to embark, I'll survive dear friend, but gosh it will be hard!
9
You have been tough, you've been caring, funny, daring, witty, entertaining
You're a therapist, a trainer, a food and movie critic, partner in crime
You've been everything a person could ask for in a friend and more
I hate to see you go
But I know that you must
You're moving on to a great big unknown
I'm so proud of you
And so glad you have a phone
So I won't say goodbye
I'll just say see you later, thanks for the memories!
10
It's sad to see you leave
But I wish you luck in where ever
you may be
I hope you remember our fond
memories of this town
Don't forget to keep in touch
But I know you will anyway
Here's a goodbye for now friend
11
Where ever you may go
Just know I'll be with you in spirit
Keep in touch my good friend
Remember to make time with your
old friends
As you go on and make new ones
Just know I will miss you.
Goodbye old buddy
12
We were like two little peas in a pod
Always together, always having fun
Now you are going solo
Doing things on your own
Please know that I am very happy
for you
And wish you all the success in the
universe
But this is my goodbye for now,
friend
13
It hurts that you have to go that far
to study. It hurts me and makes me
sad every single thing I remember
but I assure you this friendship will
not end.
14
We may be many miles apart but
you will be so close to my heart
every moment. I will always
cherish all the happy and good
moments we shared together.
15
Happy moments always last, they
never end and the moment last
forever. I will always remember you
no matter how far you go. Goodbye
friend.
16
Now is the time to say our goodbyes,
Your leaving almost brings tears to my eyes,
Instead I will hug you and give you a smile,
I know you are leaving just for a while.
And we will see each other again one day,
And just like old times we'll have plenty to say,
And so I say goodbye, with a heavy heart,
Be safe my friend, while we are apart.
Goodbye and Good Luck
17
I remember the times I spent with you,
Some memories old, some memories new,
And now we are parting, my true friend,
Please believe this isn't the end.
For distance can't change a friendship like ours,
We'll talk on the phone for hours and hours,
And spend time together whenever we may,
I'll see you again, my friend, some day.
Be safe and well till we meet again
18
Many moments in my life,
Both happy times and say,
Have been shared with you my friend,
For that I'm forever glad.
We've been there for each other,
Through easy times and rough,
I know one thing for certain,
I'll miss you very much.
Goodbye My Friend
19
I never would have guessed it
that this day would come
when we would have to separate
and have to end the fun.
But even though it's ending
and we are both in tears
please know that I will think of you
throughout the future years.
Farewell my friend.
20
Goodbye is such an awful word
but it's the only one that fits
the only things that can be said
in this predicament.
Please take care of yourself
and be strong and true,
And take heed when I say
I will remember you.
21
One can never be prepared
to say a sad farewell
to this kind of friendship
It's impossible to tell.
Yet the time has come dear
for us to part our ways
and live our lives without each other
and swallow down the pain.
I will think back fondly
at all the times we had.
We are forever kindred spirits
so please don't feel bad.

22
The time has come, hasn't it?
Too different, after this time,
too varied in our values
and personalities.
Please know I still care –
I will always care.
But the time has come
for us to part ways.
Please be safe in your travels
and best of luck to you.
23
As we journey different ways,
blessed be all your days.
Our time has now drawn to a close
and in spite of this, I know
your life will be full of love and glee
as we part for eternity.
Goodbye, my friend, I bid you farewell
as we venture out and cast our spells.
24
We are not the trunks of immobile trees
but rather, the finicky leaves
that break away and fly upon the wind
on their own adventures.
They cross each other now and then
and perhaps they meet again.
But until they do, be safe in your flight
as you travel into sunrise and night.
25
I can't believe it's time for you to go
I can't wait for to hear of your success
You'll do amazing, I know
So when you get there, give me your new address
I'll help you when I can
I'll always be here
To help and listen
To your every fear

26
I hate to have to say goodbye
But new starts are good, fresh beginnings are the best
Don't ever forget, how much we love you
You're a wonderful person, hey, a cut abover the rest
From your friends at home
We wish you everything!

27
I know you don't know
How much we'll really miss you
But we know you'll flourish
In the new place that welcomes you
We love and hate to say farewell
But we can't wait to hear
All about your new place to dwell

28
Like the salt waves in the ocean
A friendship ebbs and flows
But after all we've been through together
There's nobody that knows
Me way that you've known me
Throughout all of the years
Through my triumphs and my joys
Through my darkness and my tears
And as we part our ways
This I also know for sure
I don't know where we both are going
But soon we'll meet again once more

29
A friendship like ours
Can withstand any weather
And a separation will only
Make our story grow better
Because you've been by my side
Throughout every stage
This goodbye's not the end
Just the turning of a page

30
Our friendship is something
Beyond all compare
It's as essential to me
As to life is to air
So I won't say goodbye
But I will say adieu
Because I know in the future
I'll be reunited with you

31
Good bye and farewell to you my friend
A long road we've travelled,
Though this is not the end
Or adventures continue,
For now they begin
My deepest regards unto you that I send
I wish the best for all that you do
I'm glad to know a person like you

32
The time has come to say good-bye
From our first greeting when we said hi
I knew that you'd be there always
Right by my side
So now is the time for us to depart
I say good-bye, straight from the heart

33
Good-bye to you, my dearest friend
I'll keep you in mind until the end
We've had some great times
On the adventures we've had
So as we depart do not be sad,
But smile instead to have experienced something
that made you so glad