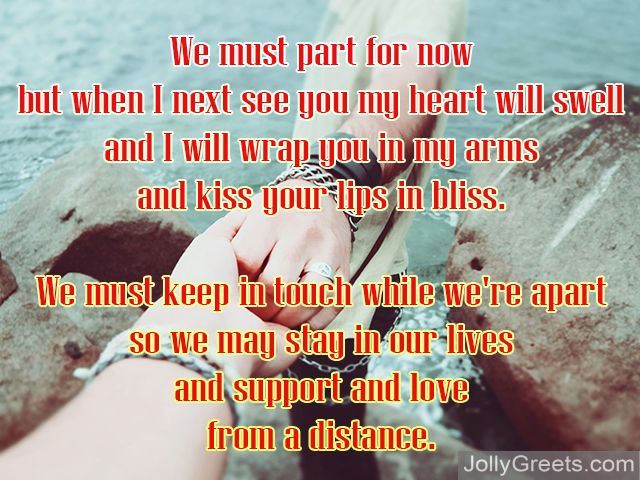 Goodbye poems for Girlfriend: Relationships can be tough, and timing is a tricky thing. Sometimes, good things must end and we must say goodbye to those that we love. Having to say this goodbye to a boyfriend can be especially tough. Remember all the great times you had together; thank him for all that you all went through, and everything that you two shared. Express your feelings of sadness and gratitude both with a poem from the heart. Choose one of these poems, or write one of your own, filled with love and compassion.
How to Create the Perfect Card - Examples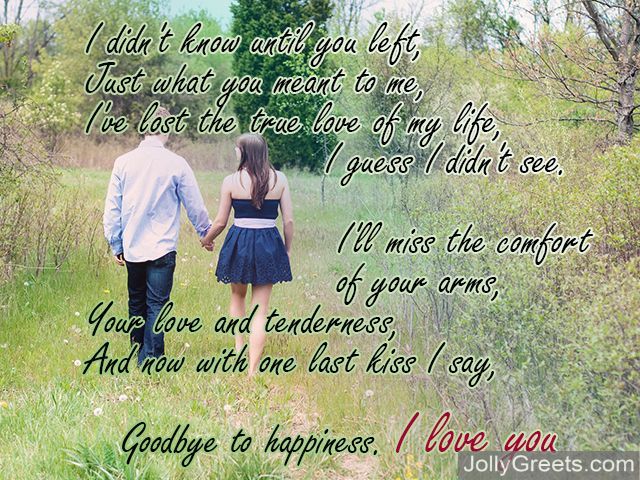 1
I can't believe it's time, to really say good-bye,
There's so much more I want to say and do
To feel your touch in my hair, to feel your skin on my hands
Your lips on mine

2
Don't go, don't leave me, I can't let you go
The world is scary, and I know I need you
I can't do this alone, and I know, if I'm out there, I will always worry—
Who will take care of you?

3
I try to hide my tears as I wave goodbye,
It's so hard to keep my feelings closed, I really try
But I know that nothing will ever be the same,
Without you there, to say my name

4
There comes a time in everyone's life where they leave and go separate ways.
I want you to be where you are supposed to be.
Goodbye my darling boyfriend, your kisses will be missed and cherished as well.
I love you more than the sun lights the day sky, I want you to be happy.
I will be there snappy if you want me to be. Goodbye my dear boyfriend, I love you so much.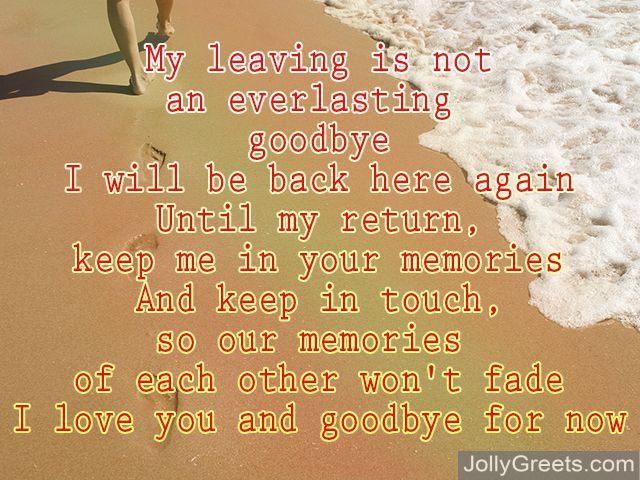 5
It's time to say goodbye to the one I love.
I can't be the one, I don't have it in me.
I wish you must happiness but it's here I say goodbye. It's here indeed.

6
You gave up on me,
I could never make you see how happy we are that we could be together forever.
It's time to say goodbye to my darling boyfriend.
Some things are not meant to be and we are one of them.
It's time to say goodbye, I loved you so much.
But my heart can't bare it anymore. Goodbye

7
I hope you find peace, I wish you happiness and joy
Goodbye isn't easy, especially now
You've given me some of the best memories of my life
And I will always be grateful for that
But now we must part ways, and as heartbroken as I am
I know that this is for the best
You will find new loves, your passion and heart will carry you to amazing places
I hope your generosity and love never change

8
This isn't the storybook ending we both envisioned
But it's enough for me to say that I was lucky enough to have spent the time that We had, with you
Your thoughtful heart and your smile
Your hands, my head on your chest, the way you look at me
I already miss it all so much
But I will never look back on us and be sad, I am just grateful for all that we had
Thank you for the memories, and never forget that you will always hold a special place in my heart no matter where this life takes me
9
The memories that you and I have shared
Bring a smile to my heart
I will never forget your kind eyes
And your warm generous heart
You sweet kisses sustained me when I thought I couldn't go on
And your laugh is contagious, you always could make me smile
I will miss that
I will miss everything about you
I will miss us
But I know you must go on, and I couldn't be more proud of you
I miss you already, I will be seeing you
10
I wish I could follow you to the ends
of the earth
But we both know I had to stay
behind
Just know I will miss you like the
ocean misses the breeze
This is a temporary goodbye until
we met again
11
My leaving is not an everlasting
goodbye
I will be back here again
Until my return, keep me in your
memories
And keep in touch, so our memories
of each other won't fade
I love you and goodbye for now
12
This is my goodbye to you
Just know because I am leaving
It does not mean I never loved you
Because I do love you
But I need to do things on my own
now
This is my temporary goodbye
13
it hurts to see you go away friend. I am sorry for everything that
happened. I wish you a great life
ahead. Goodbye boyfriend.
14
I hate to see you go, I cry every time
I remember this moment. But you
want this and I promised to always
grant your request. Bye boyfriend
15
Bad memories don't last, good
memories do. I know you are
leaving but our good times together
will always be in my mind. Bye
dear friend
16
The time has come to say goodbye,
My love I'll miss you for a while,
I know you have much work to do,
To build a life for us that's new.
But I know we will be together again,
And this will be worth all the pain,
And so I'll fight back many tears,
Knowing I'll be with you for many years.
I love you
17
If tears fell like raindrops,
And I cried all the time,
I'd try to wash away the pain,
That I feel so deep inside.
Knowing that we're over,
Makes me cry and wonder why,
How did we reach this point,
Where we have to say goodbye?
I love you still
18
I didn't know until you left,
Just what you meant to me,
I've lost the true love of my life,
I guess I didn't see.
I'll miss the comfort of your arms,
Your love and tenderness,
And now with one last kiss I say,
Goodbye to happiness.
I love you
19
I can't believe the time has come for
us to say goodbye.
There is no cure for how I feel and
all the tears I've cried.
I know I won't forget you
throughout all my years.
It is your face I can't replace
and that's the thing I fear.
20
Along the stormy winds
and in the shaking gallows
my heart is tossed aside
and shrinking in the shadows.
My lips can't bear to utter
those horrid painful words
that bring the end to all we've been
and leaves it to the birds.

21
Goodbye is not a word
I thought I would ever have to say
least of all to you
least of all today.
And still this is the ending
of our beautiful song
but go forth and remember
I will love you all along.
22
Hurry home to me
I await with anxious heart
as you journey far away
in places where I cannot be.
Safe travels, love, goodbye!
I pray your trip is wonderful
and you see all you need to see
before you return to me.
23
Goodbye for now, lover,
as I venture somewhere new.
And though the miles span between us,
I know we'll both stay true.
Kiss me once more then wish me well
and think fondly of us two
as I gather my heart and hold you close
as I venture somewhere new.
24
We must part for now
but when I next see you
my heart will swell
and I will wrap you in my arms
and kiss your lips in bliss.
We must keep in touch
while we're apart
so we may stay in our lives
and support and love
from a distance.
25
Goodbye for now
You know how I feel
The separation is painful
But I know how to deal
I remember the feeling
Of your arms around me
And wait for you to return
And then I know you'll see
How much I love you
Even with our parting

26
I guess this is goodbye
But only just for now
Remember how much that love you
And remember the sound
Of those three little words
For they mean everything
I hope at least from me
They make your heart sing

27
Here's another goodbye from me my love
Just remember when you leave, you're what I'll be dreaming of
And you'll come back, and you'll always know
You're what's in my heart, even when you go
I love you now and forever
And can't wait until we'll be together

28
Here for a moment
You and I must part
But I hope you take with you
A piece of my heart
And I'll miss the presence
Of my number one man
But we'll be united
As soon as we can

29
Goodbye my dear boyfriend
Goodbye my sweet
As you're leaving it feels like
My heart has two feet
To follow you, love you
Wherever you go
Because I care for you more
Than you'll ever know

30
This is not goodbye
But a moment to yearn
For the number of days until
We both can return
To where we left off
This is not the end
But a prelude to a reunion
Between us, sweet boyfriend

31
Good bye to you, my sweet sweet man
I know that this is all in our plan
At the end of the day
All I can say
Is that I love you and want you to stay
But if you must go
Then you must know
I love you very much, yes it is so

32
Goodbye Farewell, I'll see you soon
For to my winter you are my June
You bring me warmth and boundless joy
I'll miss you so, my sweet sweet boy
So while you are gone just know that I am here
Waiting for the day we embrace to finally near

33
Saying good bye is always so hard
That's why I went and got you this sweet card
I don't know the words or how I could say it
So hopefully this message can somewhat relay it
I'm going to miss you more than you know
Because I love you deeply, I love you so