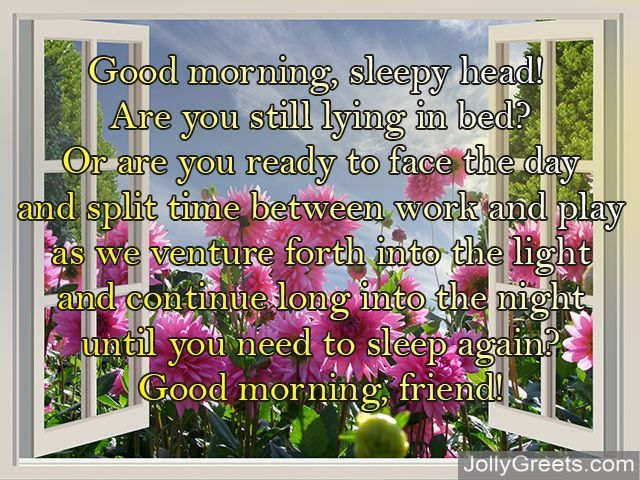 The first thing that every human being does every day is wake up. This is the most important part of the day because it sets the tone for every thing else that is to come. We've all woken up on the wrong side of the bed, and we all know just how much that can throw off your grove for the rest of the day. Take this opportunity to set your friends up for a great day by wishing them well during the morning hours with one of these orignial, inspiring, humorous poems. Nothing will show just how much you care about your friends like wishing them well at the start of the day, so don't miss this opportunity to spread good joy and the excitment of the morning hours.
How to Create the Perfect Card - Examples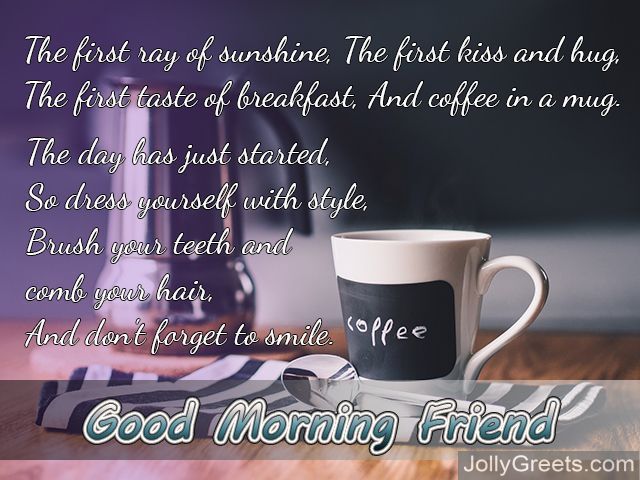 1
It's much too early, to come to your house,
I know that you're sleeping, quite as a mouse.
I thought I'd write something from me to you,
And hope that you have a good morning, too.

2
I know we don't talk much, we're much too busy
Everything is crazy in the big bad city
But I thought it would nice to say,
Have a good morning, from me to you, this day.

3
The sun is shining; the flowers are in bloom
I can't wait to see you, it can never be too soon
So happy good morning, I hope it is true,
Happy good morning, from me to you.

4
Wake up the sun has risen, Wake up the birds are chirping.
You are my friend another day has come, let see what it holds.
Together we can take on the day, you are my friend, let us not waste another moment.
Good morning dear friend.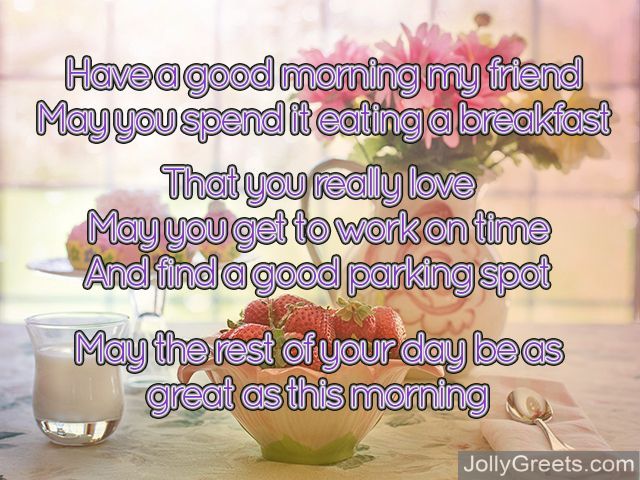 5
Good morning dear friend, the day has come for us to be happy and spend time together.
With you by my side I can be complete for you are sister that God never gave me.
Good morning my friend the time has now come, get up and let us be moving. Good morning.

6
Sunshine, coffee, muffins and cream.
These are the things that make a morning grand, come my dear friend let us awake and arise;
For the morning is here, it has come at long last.
Whatever the day holds we will take it together.
Good morning my friend.

7
Friend I hope your night was quiet and long
I hope it was restful and calm
It's time now to rise and shine
Time for coffee, juice, and commutes
So take a deep breath and stretch high
Today's the day, you'll reach the sky
Good morning dear friend
I hope your day is as amazing as you are!
8
No time to waste
Get up, get up!
There's a brand new day
So much to do, so much to see
There's a whole world out there
Just waiting for you and me
Lace up your shoes
And pack your bag
It's time for the best day you've ever had
There's places to explore, things we've never seen
People to meet, voices unheard
Maybe today, you'll even meet a bird
Anything is possible the day is new
Most exciting though, is that I have a friend like you!
9
I know it's early
And I know the night was unkind
I know you need more time to unwind
But the sun has come
And demanded us to awaken
Our slumber, it seems, has been forsaken
So rise up from the comfort
And your sheets and pillows
It's time to stretch out like an old Willow
Yesterday's tomorrow is beginning friend and I wish it to be filled with wonder until the very end
10
The sun rises through the curtains
The golden light shining through
indicates the morning has started
You awake and start your day
like usual
I hope you have a good
morning today
Because everyone should have
a morning
As bright as the rising sun
11
Have a good morning my friend
May you spend it eating a
breakfast
That you really love
May you get to work on time
And find a good parking spot
May the rest of your day be
as great as this morning
12
The dawn breaks as your alarm
goes off
You are groggy and hope for
the weekend
I hope you have a great day my old
friend
As if the weekend lasts seven days
instead of two
So good morning to you
13
Great friends stay with you through
thin and thick. I have gone through
many phases in my life, but I have
been able to surmount every
challenge because you are always
right there beside me.
14
How would this world have been
without wonderful people like you,
how would my life have been
without you in my life.
15
We have gone through a lot together,
we have had good and bad times,
laughter and tears.
16
Be the warmth of morning sunshine,
After the dark night so long,
The kiss of gentle raindrops,
The morning chorus song.
Be happy there's a new day,
And dreams you can explore,
Make the most of every moment,
And let your spirit soar.
Good Morning Beautiful
17
Good morning my friend,
Stretch and greet the dawn,
The sun is shining,
It's a beautiful morn.
There's a new day ahead,
And work to be done,
So get up out of bed,
And go have some fun.
Have A Beautiful Day
18
The first ray of sunshine,
The first kiss and hug,
The first taste of breakfast,
And coffee in a mug.
The day has just started,
So dress yourself with style,
Brush your teeth and comb your hair,
And don't forget to smile.
Good Morning Friend
19
Good Morning my Friends!
Let the day begin
with beautiful smiles
that make it all worthwhile!
Good Morning my friends!
Let the day that we spend
never come to an end
till the sun does descend.

20
The sun has arisen to wake us
to the glory of day that's before us
and together we will sing in chorus
to celebrate the life that we live!
As the birds fly over head
and jump happily out of bed
waiting eagerly to be fed,
and all the hugs we've yet to give!
Good Morning my Friends!

21
It's a beautiful morning
to spend with you friends
while the sun is peaking in
and shining so brightly!
Let's gather together
to speak of the laughter
that each new day brings
with feathers, so lightly!
Good Morning Friends!

22
If you've finally finished sleeping,
get up and join me!
Wipe drowsiness from your eyes
and exhale exhaustion from your lungs.
The sun is high
and we have adventures to embark on!

23
Wake at the break of day
or at high noon –
whichever suites you.
But when you finally stir from sleep
I wish you well as your day begins
Good morning, my dear friend
24
Good morning, sleepy head!
Are you still lying in bed?
Or are you ready to face the day
and split time between work and play
as we venture forth into the light
and continue long into the night
until you need to sleep again?
Good morning, friend!
25
Good morning, my friend
Do you hear?
The birds are singing without end
The day is just beginning
The wind is whistling
With endless possibilities
Take a deep breath and get up
Start your day with a big smile
Like the one I have just for you

26
There's never enough time
To do all the things, say what you want
Don't waste a minute of your day, my friend
Go on, get started, and live like it's your last morning
To do all the things, say what you want

27
Good morning friend
Mornings are beginnings
A fresh start, a new day
The watery light comes through your window
Reminding you that you got another day
Another chance to do anything that you'd like
And I'll take advantage of mine to tell you
Good morning!

28
Morning arrives
And it brings a new day
Full of potential and promise
For both work and for play
It brings a new day
For adventures together
For our friendship to travel
Through sun and stormy weather

29
Good morning, my friend
Good morning to you
There's so much to see
And so much to do
The sun is out shining
And the sky is so blue
Good morning, my friend
Good morning to you

30
Another day for
Us to cherish
Because our friendship
Will never perish
Though the sun rises in East
And sets in the West
Our bond will withstand
All of life's tests
So as this new morning
Brings another fine day
I'm glad that we're friends
And that's all I have to say

31
Good morning Good morning
A new day is rising
Adventures await
The sun is smiling
So get out of bed
And wake up your head
Let's take advantage of every second until we're dead
Today awaits, let's seize the day

32
Rise and Shine!
It's morning time
The sun is bright
And warm is its light
Let's get outside and enjoy it right
Fun and adventure are what await
But don't keep them waiting,
It's up to us to seize the day

33
Smell the coffee
Taste the bacon
This is your day
A gift you've taken
So let's not let it be mistaken
Get out of bed, it's time to awaken
To enjoy the sunshine
And of course the bacon