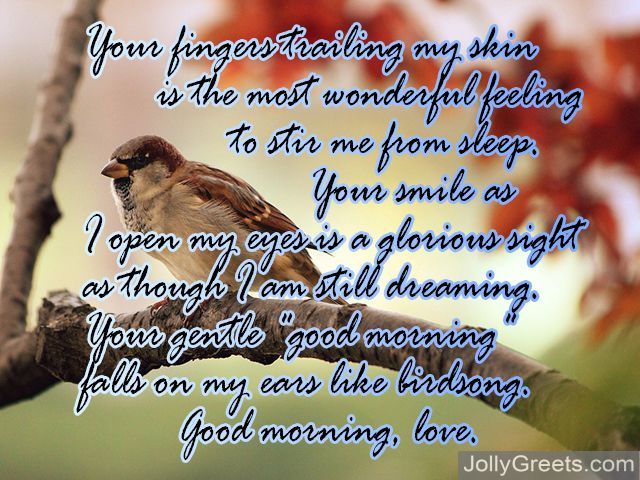 Good Morning Poems for Boyfriend: Some people are content with a good morning text message from their loved one, but for your boyfriend do something really special for the one you love. Send a good morning poem, filled with happy wishes for the day and sentiments of how much you love him. Choose one of these poems to show how much you love him, and let him know you're thinking of him to start your day and you want to wish him a great day.
How to Create the Perfect Card - Examples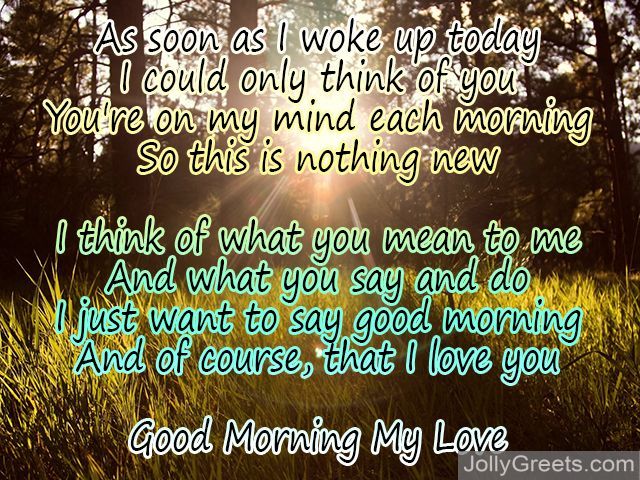 1
Good morning to you, I hope you slept well
I thought I'd send this card, in hope it would make you feel swell.
I can't stop thinking of you,
I love you, it's true
So have a good morning, you're the sun and the moon
I hope to see you soon

2
The sun is shining, the grass is wet,
The air is lovely, like two people who just met.
Lovely morning, lovely day
It seems like a grand is going to happen, wouldn't you say?

3
Good morning, it's wonderful day
The sun is shining, bright things await.
When the moon comes up and the night fills the sky,
I know that the sun will be there again, every day.

4
The sun is shining it's a brand new day,
I see you wake up with your bed head and all.
I will make you some pancakes and give you a coffee.
I see you smile, now that starts the day off right. Good morning honey.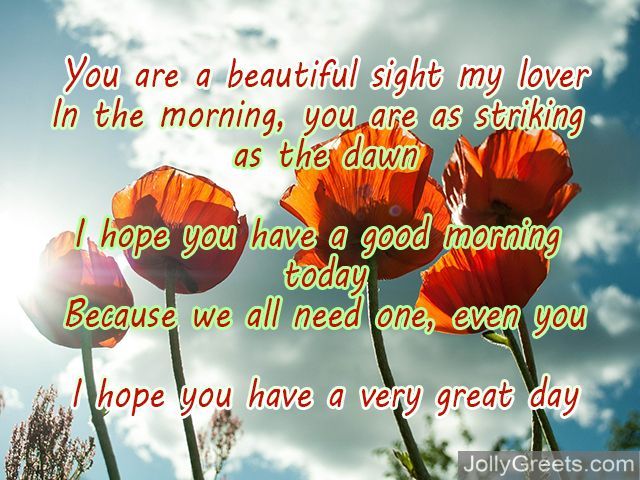 5
I kiss your nose, because you gave me a rose that you pulled from the vase last night.
I tickle your toes and I love how we grow from what we once were till now.
You crawl out of bed, with a chivalrous grin and I know what a day it will be. Good morning my darling.

6
The morning is a sign of another day,
it lets us know that we have another chance to do right in the world that day.
The sunrise paints a picture that reminds me of our love,
it grows brighter with each and every second. Good morning my darling.

7
I know it's early
And I know the night was unkind
I know you need more time to unwind
But the sun has come
And demanded us to awaken
Our slumber, it seems, has been forsaken
So rise up from the comfort
of your sheets and pillows
It's time to stretch out like an old Willow
Yesterday's tomorrow is beginning my love and I wish it to be filled with wonder and joy
8
No time to waste
Get up, get up!
There's a brand new day
So much to do, so much to see
There's a whole world out there
Just waiting for you and me
Lace up your shoes
And pack your bag
It's time for the best day you've ever had
There's places to explore, things we've never seen
People to meet, voices unheard
Maybe today, you'll even meet a bird
Anything is possible the day is new
Most exciting though, is that I have a man like you!
9
I hope your night was calm and long
I hope it was restful
It's time now to rise and shine
Time for coffee, juice, and commutes
So take a deep breath and stretch high
Today's the day, you'll reach the sky
Good morning my only
I hope your day is as amazing as you are!
10
You rise along with the sun
Doing your morning routine
The sun is just as bright as you
When you're drinking your coffee
I send this card to you, so you'll
know
That I miss you a good morning
11
You are a beautiful sight my lover
In the morning, you are as striking
as the dawn
I hope you have a good morning
today
Because we all need one, even you
I hope you have a very great day
12
The illumination of the morning sun
Reminds me of your cheerful
morning attitude
Your cheeriness brightens my day
And this morning should be good for
you my love
May you get a good breakfast and
get to work on time
13
My morning is not complete without
hearing your sweet voice. All
through the night I dreamt of you.
Good morning sunshine.
14
Your voice is so soothing to me. It
calms down my day and gives me
a glorious morning to set the day
right. Good morning love of my
life.
15
Like the sunshine in the morning,
your voice brings light to my soul.
The more I talk to you early in
the morning, the more the brightness.
A wonderful day ahead sunshine.
16
Your love is the sun that brightens my day,
The rock that I need when I lose my way,
The moon that protects me in the dark,
The passion inside, that inner spark.
You are the one my heart beats for
You truly make my spirit soar
Your love is much more than you realize
Good morning my love it's time to rise
I love you
17
When I wake up in the morning,
I keep my eyes closed tight,
Because I felt you with me,
All throughout the night.
And though we are so far apart,
It's like you're here with me,
I feel your arms around me,
It's where I long to be.
Good Morning Love
18
As soon as I woke up today
I could only think of you
You're on my mind each morning
So this is nothing new
I think of what you mean to me
And what you say and do
I just want to say good morning
And of course, that I love you
Good Morning My Love
19
Good morning to you darling
open your sleepy eyes
and greet the sun that's waiting
to brighten up your skies.
Inhale the scent of coffee,
of bacon, eggs and toast.
I've made a yummy breakfast
for the one I love the most.

20
I love to watch you sleeping,
and to watch your chest expanding
as you wake from dreaming
and your eyes are dancing.
I watch you greet the morning
with a gentle yawn
as the birds are singing
to bring back the dawn.
Good Morning!
21
Good morning Handsome!
Your may be frumpled and you may be sleepy,
and you face has pillow creases
but I think it's sexy.
As you stumble in the kitchen
in your boxer shorts
I can't help but smile at you
when your voice is hoarse.

22
When I wake
to find you beside me
I'm filled with warmth and joy.
You are in such peace
as you sleep
and I want you to keep
your tranquility
in your waking hours.
So rise gently
and greet the day
with a tender kiss.
23
I missed you beside me as I woke
and as I stirred, the first word I spoke
was your name.
You were not there to respond
but I knew that somewhere beyond,
you lay awake just the same.
Though you cannot lie with me,
I look forward to the time we'll meet
and be together again.
24
Your fingers trailing my skin
is the most wonderful feeling
to stir me from sleep.
Your smile as I open my eyes
is a glorious sight
as though I am still dreaming.
Your gentle "good morning"
falls on my ears like birdsong.
Good morning, love.
25
Good morning my love
I just want to say
How much I love you
More each and every day
It always feels like
I've known you forever
I wake up with you in my thoughts
I know we'll always be together

26
Good morning to a wonderful boyfriend
There's no big reason for this
Only to tell you that I love you
And to give you a big good morning kiss
My mornings are wonderful with you by my side
My whole life with you is one crazy ride

27
Waking up next to you
Is like part of a dream
I love you and I know
You'll always be on my team
Good morning, my love
I hope you have a wonderful day
And I'll see you tonight
That's all I need to say

28
Good morning my love
Good morning my dear
Having a boyfriend like you
Makes life that much more clear
When I rise in the morning
To wake up with the sun
Because I know you're my man
And I'm your number one

29
Another day's here
Another dream come true
Because every new day
Is one more day with you
While the sun signals the day's start
And it signals the end
Nothing lights up my world
Like my handsome boyfriend

30
To the boyfriend who always
Just wants to sleep in
And without coffee whose day
Will just never begin
Know that it's not for coffee
I wake up in the morning
But your love, which like caffeine
Is quite habit-forming

31
Good morning, I love you, a new day awaits
Adventures and laughter come with your wake
So this one is ours, our story to make
Get of bed, and take me out on a date!
Good morning my dear love

32
Good morning to you, my wonderful man
Let's get out of bed
And start without a plan
Because a new day is here
And adventures await
So let's take advantage of now
Because it is our story to make

33
Good morning Good morning
A new day is here
Laughter awaits and adventure is near
Smell the coffee
Taste the bacon
All of this is for you once you awaken
So get out of bed
Let's get started and let's get ahead!