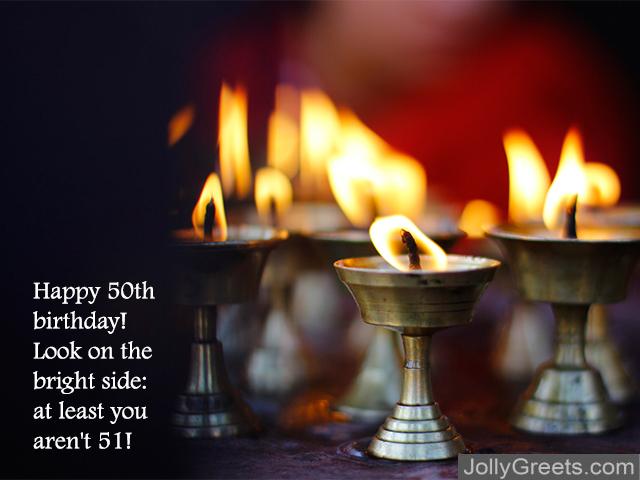 Funny Birthday Wishes for that Special Person's 50th
A 50th birthday is a monumental occasion and if someone in your life is celebrating their 50th, you're sure to want a birthday wish that they will remember. But what if that person has a wicked sense of humor and you're stuck on finding the perfect funny birthday wish? There's no need to worry, because we have you covered. We've compiled a list of funny birthday wishes that are perfect for whoever is celebrating their 50th birthday in your life. In celebration of such a momentous birthday, we've taken the time to find 50 funny wishes for a 50th birthday. Take a look at the list below and pick out one (or two, or a few!) to make your birthday card recipient laugh.
How to Create the Perfect Card - Examples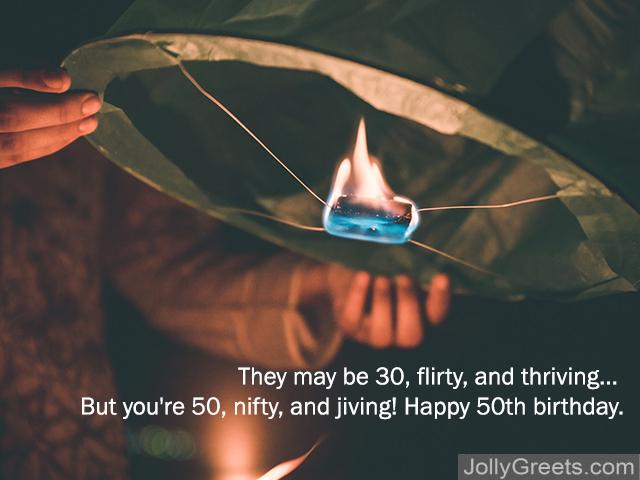 What smells like an old fart in here? Oh, it must be you! Happy 50th birthday.
The first 50 years are always the hardest, so what could go wrong from here? Happy birthday!
Happy birthday to the 50 new wrinkles and grey hairs you've grown this year!
Happy 50th birthday! If someone tells you that you're old, just remind them you are now officially a 'classic.'
You are 5 perfect 10s, for a grand total of 50! Happy birthday.
Happy birthday to the best you the world has seen in 50 years.
As you turn 50, you may no longer be young… But nothing is stopping you from being 50 and thrifty. Happy birthday!
If you thought I'd let you turn 50 without making jokes about your age, you have another thing coming Old Timer!
If 50 is the new 40, that means just yesterday you were still in your 30s. Oh, how time flies! Happy birthday.
If you want people to tell you you like great for your age, start telling them your 60! Happy 50th birthday.
You deserve respect on your 50th birthday, so if anyone gives you sass today… Remind them they are speaking to an elder!
Keep calm: you're only halfway to 100! Happy 50th birthday.
Your 50th birthday brings a whole new set of skills to the table. Now you can laugh, sneeze, cough, and pee… all at the same time! Congrats!
Happy 21st birthday (with 29 years of experience.)
"After a man is 50, you can fool him by saying his is smart, but you can't fool him by saying he's pretty." -EW House. Happy birthday, Smartypants!
Some words of wisdom for your 50th birthday: don't forget to smile while you still have your natural teeth!
Welcome to the 'Middle Ages.' Happy 50th birthday!
Today is your big 5-0. You may be big boned, wrinkling, and going grey… But at least you've got me! Happy birthday.
The best part of turning 50 is knowing all the stupid things you did as a kid happened before the internet existed.
I can't believe it took you 50 years to look this good!
It is never too late to grow up and stop acting stupid… Hopefully 50 is the year you finally take that advice to heart!
Happy 50th birthday! Look on the bright side: at least you aren't 51!
Happy 50th birthday, my friend! Just remember: once you have made it over the hill, you begin to pick up speed.
If you haven't grown up by 50, I'm beginning to lose hope that you ever will!
They may be 30, flirty, and thriving… But you're 50, nifty, and jiving! Happy 50th birthday.
Here's some good news on your 50th birthday: youth is a relative term. Compared to all the 80 year olds in the room, you're downright young and hip!
You know you're getting old when the cake has run out of room for all the birthday candles. Here's hoping there's enough space for all 50!
Happy 50th birthday! Don't let "The Man" tell you what people your age can do!
If you're feeling old on your 50th birthday, look on the bright side! This is the youngest you are ever going to celebrate.
Remember how exciting your 5th birthday was? Well, today should be 10 times that exciting!
50 years: 5 decades: 600 months: 2,609 weeks: 18,262 days: 438,291 hours: 26,297,460 minutes: 1,577,847,600 seconds… Wow, when you look at things that way, you really can see how old you've gotten!
Happy birthday! Don't worry: I hear the 50 is the new 30.
Happy 50th birthday. Whoever calls you old will have to deal with me!
Happy birthday to a guy/gal who can officially say they are "nifty at 50!"
Go with the flow for the big 5-0! Happy birthday, you old geezer.
Don't worry, they're not wrinkles: they're smile lines! Wow, you must have done a whole lot of smiling. Happy 50th birthday!
If things continue to get better with age, you must be approaching amazing by now! Congrats on your 50th birthday.
Happy 40th anniversary to your 20th birthday!
You don't have to tell anyone you're 50 now. Just tell them you're $49.95 plus tax.
Let's pretend you look 22, feel 18, and act 10… That means it's time to celebrate your 50th birthday!
"I don't feel old. I don't feel anything until noon. That's when it's time for my nap." -Bob Hope. Happy 50th birthday and best of wishes for all your future naps!
50 may be the new 40, but let's be honest with ourselves: 40 was pretty old.
Happy 50th birthday! If you're feeling old, just think of yourself as a very young tree.
Today is the day you officially become old! Happy 50th birthday.
You now have half a century of knowledge… if you can remember any of it! Happy birthday.
50 might be prehistoric, but at least you're not extinct. Let's celebrate!
Deepest of sympathies on your 50th birthday. At least you'll always have fond memories of youth!
In math class, we were taught that you can always round a half up to a whole. So since you're turning 50, I guess we can round your age up to 100!
Now you're no longer the oldest 40-something I know: you're the youngest 50-something I know!
In dog years, you would be 213 years old today! Just remember it's all about your perspective.