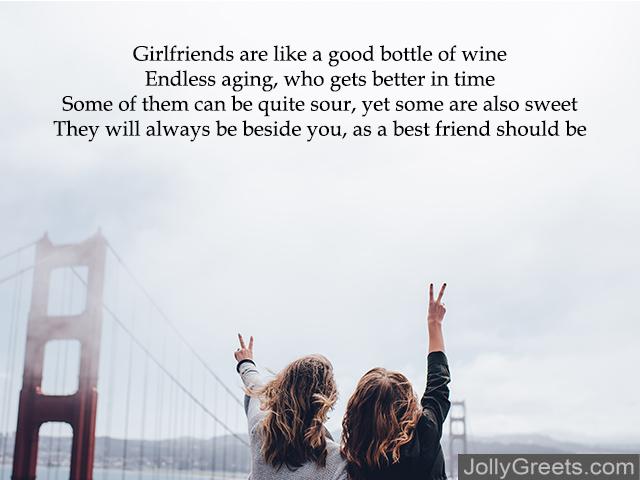 Do you have a female friend in your life that you want to let know just how much she means to you? Does she help you out with tasks that others find to be menial? Do you cherish the time that she takes out of her day to spend with you? If you wish to come up with your own note for her, think about how she helps you out and think about the special qualities that make her such a great friend. After you come up with one great characteristic, it becomes easier to come up with even more. Next, plan for how you are going to deliver the special message to her. Will you write her a short note so that she can read it while she is on the go? Will you leave her a voicemail that she can listen to if perhaps she is feeling down? Whatever the form that you choose, make sure that it is an avenue that speaks loudly to her. It can become easy to give out messages in the way that we would like to recieve them rather than the way that our friend would like to receive them. Let her know that you are appreciative of her friendship. Your message to her may just be the thing she needs to hear to keep on moving throughout the day.
How to Create the Perfect Card - Examples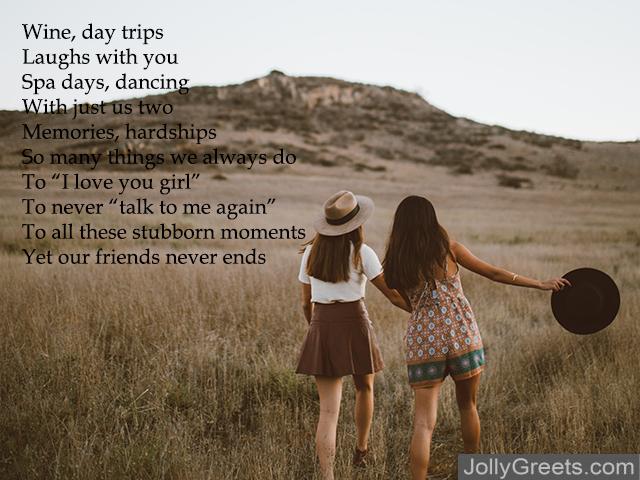 1
Girlfriends are like a good bottle of wine
Endless aging, who gets better in time
Some of them can be quite sour, yet some are also sweet
They will always be beside you, as a best friend should be

2
Wine, day trips
Laughs with you
Spa days, dancing
With just us two
Memories, hardships
So many things we always do
To "I love you girl"
To never "talk to me again"
To all these stubborn moments
Yet our friends never ends

3
I remember the day, as if it were yesterday
You came into my life, Not ever knowing who you were
Yet our bond felt right, our laughs, and our tears
The memories we share
All the little times
You always were there
Love you friend

4
My best friend is worth more than gold
I know this cos she gives all the love that her heart can hold
She is always quick to understand
And ready to lend a hand
My best friend loves to laugh
Even though sometimes she may act tough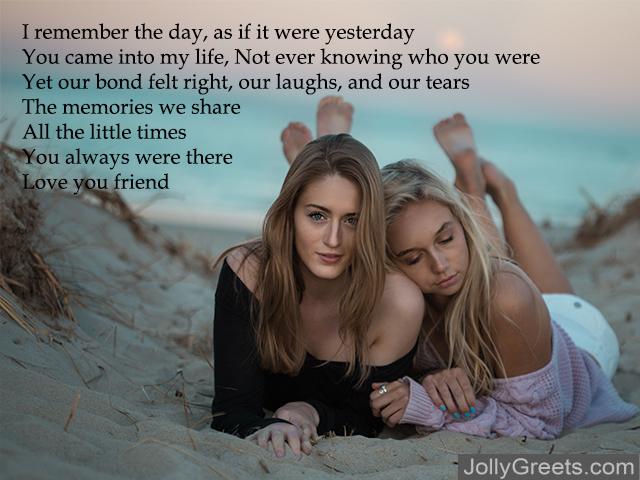 5
My friend is like my sister
Funny and smart I wish you could see her
She likes to sing when we are alone
And dance to the tunes on the radio
I've known her since we were kids
I know we'll forever be like this

6
Friendship is all about being there
Being there for one another
True friends know when something is wrong
And how to lend a helping hand
With you it's always easy
You know what to say to make me happy
You know what to do when I'm angry
You are my best friend and that's why I love you

7
A friendship made to last
Is rare and hard to find
We know each other well
You often read my mind
Us girls, we stick together
In work, in fun and play
No one can come between us
My friendship's here to stay

8
Glitter falls wherever she walks
Pink is her favourite colour
Messy hair and pillow fights
My life couldn't get much fuller
My best friend is my world
She lifts my spirits up high
And when I'm six foot under
She'll be the one to try
To bring me back to life
Because I didn't say goodbye

9
The best friend I could ever have
Lifts me up when I feel sad
Helps me with my beauty mistakes
For my birthday bakes me cupcakes
Gives me advice that always helps
Helps me stock the kitchen shelves
And when it Christmas shopping time
Meets me in town for a glass of wine

10
How could I be so loved
By someone I have not seen
I'm led through the dark
By someone I never held
How could I feel the warmth
Of someone I have never met
I fell for the words
Of someone I never heard.
My strength when I'm at my weakest
You shelter my fears in your wings
My guide in the darkest hours of night
You fetter my sorrows to your skin
Of all the feathers you've lost for me
I picked this special one as a quill
I scripted this with the tears that tore my lids

11
Thank you, friend, for all the things
That mean so much to me–
For concern and understanding
You give abundantly.
Thanks for listening with your heart;
For cheering me when I'm blue;
For bringing out the best in me;
And just for being you.
Thanks for in-depth conversation
That stimulates my brain;
For silly times we laugh out loud;
For things I can't explain.
For looking past my flaws and faults;
For all the time you spend;
For all the kind things that you do,
Thank you; thank you, friend.

12
Friends…
They're the few people who accept silence over conversation.
A relationship like this denies silly promises and persuasion.
You don't feel the need to second guess thoughts or measure words.
Their love comes in wholes, not halves, not thirds.
They're the ones that guide you through when fate takes a turn.
Fights, small and large, end in forgiveness, never a burn.
You forget about first impressions and the feelings they brought.
You're grateful for who they are and you forgive 'em for what they're not.

13
1 year, 5 months, 3 weeks.
That how long it's been.
2,673 miles.
That's how far it is.
17 phone calls.
That's how we keep in contact.
984 text messages.
For when we have things on our minds.
22 FaceTimes.
Because sometimes phone calls don't cut it.
1 plane ride and 1 Uber ride.
That's how long it takes to get to see each other.
1 second in the same room,
And it feels just like yesterday!

14
I remember the day,
You asked me to trade,
My sandwich for your Mac and cheese.
I said yes,
And we became best friends,
Back when life had much ease.
Now life is getting busy,
But I always know your there for me,
Like the smell of salt in the ocean breeze.

15
You're a kindred spirit;
I knew from the night I met you.
I trust you with my life.
You're like a sister I've always needed.
Guiding me along my path.
Always there for me with an extra long, warm hug.

16
You are strong and steady,
Quite a true friend.
You are always supportive,
And there to the end.
Wise and understanding,
With an ear always to lend.
Through the good times and the bad times,
You have been my dearest friend.
17
In the spring when the flowers bloom,
It reminds me of our friendship anew.
Then summer came along,
Through the hot days you were true.
Fall blew in,
Blustery and cool,
And it was your warmth,
The really saw me through.
Now that it's winter,
I can say without a doubt,
She's my friend all year round.
18
I am lucky to have you in my life,
For you have always been there.
I am thankful for everything you have done for me,
And I am glad I can do my share.
You are always calm and steady,
When my world feels to fall apart.
I am glad you turn to me when you need me,
We will always keep each other in our hearts.
19
I have watched our friendship grow
A little more each day
I am proud of what it has been
But there is more I need to say
Our friendship will be endless,
Built on the premise of knowledge
You are a beautiful friend
I am thankful that we met.
20
You are a lovely friend
Fresh and full of wisdom
I am thankful to have you
In my life.
You really are one of
My best confidants.
And so thank you tremendously,
For being such a great friend.
21
You are a wonderful friend,
With such a beautiful soul
You make my life much better,
This I want you to know.
I would like to return the favor,
By letting you know,
I am here for you, whenever you need.
22
Friend,
You have been a constant presence in my life
as time ticks towards the future.
The date we met escapes me,
does it really matter now?
Knowing you has been an unexpected joy.
Your golden friendship a valued gift.
23
Our friendship has blossomed slowly, easily
between the pages of life.
A lush garden sweet with nectar that
attracts bees who busily buzz.
Bringing beauty to all who take time to linger.
Seeing our friendship displayed beautiful as
a bouquet.
24
How does friendship form?
A connection like a spark, slow embers that grow
into warmth.
Spreading like a blanket over the soul.
Soft, feathers of fulfillment.
Friend, who sees me as I am.
Hand outheld in greeting and support.
Always.
25
We sure do love to shop; We go from store to store; Buying dress, shoes, hat and top; There's no such thing as "more"; Now I know what they say; You can never have it all; But give us both a day; And we'll buy out the mall!
26
You're a friend whom I can talk with; Whenever I feel down; You're a friend whom I can walk with; Whenever you're in town; If I searched the whole world over; I know this much is true; Just like a four-leaf clover; I'm lucky to have you!
27
It seems like we've been friends; Forever and a day; I hope it never ends; I'd love for you to stay; We're peas in a pod; Our bond is just that tight; And I pray to God; We never have to fight!
28
Remember when we were kids?
Our countless sleepovers and inside jokes
We made each other laugh until we cried
Now that we are grown
You can still make me laugh like a teenager
But it is your constant love and support that I cherish
Thank you for being a lifelong friend that I can count on

29
Years of laughter and good times
Late nights spent talking
Sipping on red wine
Our friendship has always been so fun
Laughing with you is easy
You also help me out a ton
Always there to lend a hand
The best person to vacation with
To just lay out with in the sand
Still great friends after all of this time
Let's celebrate your birthday
With another glass of wine!
Happy Birthday
30
My dear friend
Funny and loud
Hanging out with you
You always stand out in a crowd
From partying at clubs
To watching sad movies
Hanging out with you
Is always amusing!
Dancing on tables
Closing down the bar
When I'm partying with you
What a joy you are!

31
a friend like you
a treasure for sure
a friend like you
a loyal pal
a comrade
a partner in crime
my secret keeper
and ear to lean on
my friend my friend
your one of a kind
my friend my friend
your truer than true
32
that person i lean on
the one that laughs at
my jokes
the one that eats ice cream
and shares secrets all night long
my ride or die partner
you always have my back
friends till the end
you and i
33
i couldn't have asked
for a friend better
than you
because there isn't
any here nor far
your amazing
and loyal
fantastic to boot
a friend like you
could move mountains
and make rivers go wild
a friend worth all
the time in the world
34
A Friend Like You
A companion so cherishing and minding like you,
Is so elusive, 'coz individuals like you are not many.
You showed me how to pursue everything I could ever hope for,
What's more, that my life is surprisingly wonderful.
I owe whatever I am today to you my dear companion,
I will never at any point let go of you till the very end.

35
Friendship Is A Ship
Companionship resembles a ship loaded up with holy messengers,
They quiet the ocean at whatever point there is a tempest.
They help to cruise over the roughest oceans,
Above all they give you an embrace,
When you imagine that you're suffocating.
Much obliged to you for being such an exquisite companion to me.

36
Sunshine Friend
You are my daylight my dearest companion; daylight you are to me,
You fill my existence with excitement and euphoria, with bliss and joy.
Furthermore, there has never and will never be a dull minute with you in my life,
You fill my heart with so much love and harmony that it feels like I'm flying.