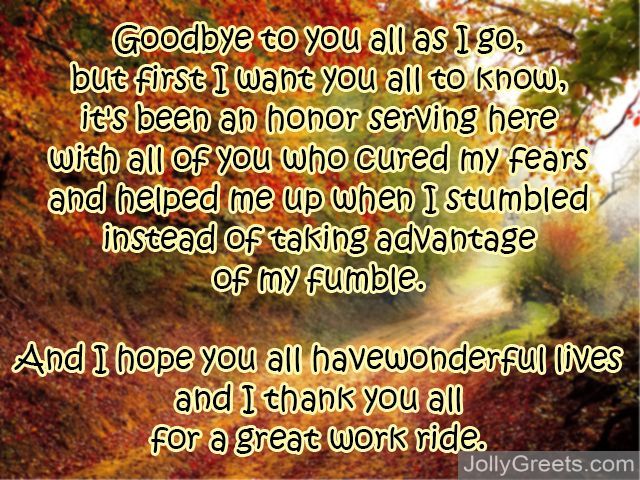 Goodbye For Co-workers: We spend the majority of our time, not with our friends, not with our family, not doing any hobbies, no –we spend a large majority of our time at work. So of course, it is normal to form very strong bonds with the people that we work with. Saying goodbye to these trusted colleagues is never easy, though the gift of words can help. So when you are forced to say adieu to a co-worker, choose one of these poems to send them off with and let them know that their friendship and companionship in the office will be greatly missed.

How to Create the Perfect Card - Examples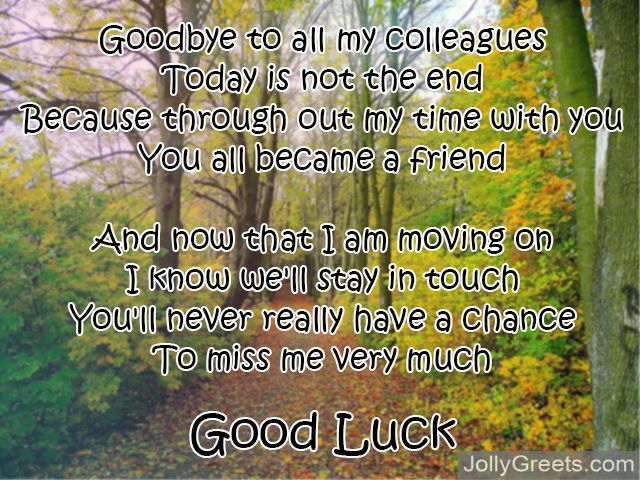 1
Life might be hard, but I'm telling you it's worth it,
You can't just be stationary and sit
Try, try again, you'll make it someday
Nobody did anything great on sick pay
Life might be hard, but I'm telling you it's worth it

2
Some days are good days; some days are bad
Some days you just can't get up; some days are just sad.
But happiness is just across the street,
Soon, your life will be complete

3
Sometimes you don't want to get out of bed,
No matter what you do, you can't get ahead.
But every time you fail, you only get stronger,
Soon you won't be losing for any longer.

4

You were my dear friend, until the end but the end has come for your work here has ended.
You will always be missed. But never dissed if you decide to come back again.
You will always be missed but celebrated with as you go on and pursue your dreams.
We will miss you Co-worker

5
People work hard to follow their dreams, this is the case with you.
You work has paid off you can chase your dreams, but only after you read this from me;
I am so proud of who you've become, it is awesome to see you have completed the goal that you have set.
Go live your dreams and be as happy as can be. For you've worked and it surely paid off.

6
You moved on so fast, it is terribly bad that you are moving on so soon.
But I want you to know how happy I am that your dreams are all coming true.
You were a hard worker this is true, nothing could come between me and you,
and I want you to know how grateful I am, that you were my dear co-worker this time.

7
You're going places
You're moving on
I hope this new venture greets you with open arms
May it be smooth sailing and fun
You deserve the best
If it does prove to be tough, I know you will work harder than the rest
You're passionate and hard working
You will never stay. Down
I really do wish we could keep you around!
Best of luck in this new venture, you will be missed!
8
The time has come for us to say farewell
But I know you'll do great things as your new career unfolds
Your new coworkers are lucky to have such a hard working, genuine, wonderful being coming into their lives
I'm not quite sure how the rest of us will survive this office without you
You've been more than great
Best of luck in your new journey, friend!
9
Your work ethic is unmatched
Your passion the same
You have always stayed ahead of the game
We will miss you so much
I hate to say goodbye
But I know in this next chapter
You will soar high
For your genuine smile
And giving hands bear
An infectious positivity that is hard not to share
You're wonderful and will be missed dearly friend. Best of luck!
10
Every morning you used to ask me
how my day was over the water
cooler
I have gotten used to this routine
Although change is a good thing,
I will miss you
I wish you the best
Goodbye my friend and colleague
11
You drove a long way to get to work
each morning
Spending hours commuting
And waking up at dawn,
Only to get home after sunset when
dusk is about to begin
Now you are leaving for greater
pastures
Goodbye old co-worker
12
The aurora around you seems
brighter
Now that you found a place that
suits you
Your excitement over your new
start is wonderful
We wish you the best in the office
because you are starting to live
your dream
Goodbye old colleague
13
I will miss all your lovely smiles, all
our last nights together working, all
our walking home together and the
help you give me when I need one.
I will really miss you, my friend
14
I have never met such a cheerful
person like you. You are so filled
with life that it gets transferred to
any other in contact with you. I
will miss you so much friend
15
You may be gone physically from
here but you will always be in my
heart. You have taken a part in my
heart that no one can replace. I
will miss you babe
16
Goodbye my colleagues
It pains me so
That it is time
For me to go
But in the sunshine
And in the rain
I know one day
We'll meet again
Good luck in all you do
17
It's really hard to say goodbye
But now it's time for me to fly
I'm off you see to pastures new
And so I bid a fond adieu
But I'll not forget the fun we had
Working together was such a blast
And fond memories I'll take away
A part of me wishes I could stay
I wish you all the best for the future
18
Goodbye to all my colleagues
Today is not the end
Because through out my time with you
You all became a friend
And now that I am moving on
I know we'll stay in touch
You'll never really have a chance
To miss me very much
Good Luck
19
We knew this day would arrive
when you would have to leave the hive,
and all us other worker bees
would miss you while we serve the Queen.
The honey will never taste as delicious,
as the days when you were with us.
We shall miss your sweet and charm
long after you are gone.
20
We could always depend on you
to take a project and pull through.
Your hard work and all the hours
showed your dedication and your honor.
We're sad that you must leave today,
but we are glad to have the chance to say
it was a pleasure to get to work with you
and we hope you feel the same way too!

21
I will miss you when you're gone
'cause all the days we had were fun.
You made the job seem less laborious
with your approach to how you worked with us.
Always upbeat and always fair,
willing to try and willing to share.
You leave us with big shoes to fill
so please come visit! Promise you will!

22
I cannot say I'm happy
that you are leaving here,
but I can say that I am glad
you will not disappear.
Our friendship has evolved
beyond these stressful walls
and I am glad we'll still hang out
and avoid the snarky brawls.

23
The one thing I will miss
about this place
is you.
All of you, who have
stood by my side,
backed me up,
taught me how to do my job
and kept me laughing
through rough days.
You are all my one regret for leaving.
I will miss you all.
24
Goodbye to you all as I go,
but first I want you all to know,
it's been an honor serving here
with all of you who cured my fears
and helped me up when I stumbled
instead of taking advantage of my fumble.
And I hope you all have wonderful lives
and I thank you all for a great work ride.
25
Farewell
To a beloved colleague
You weren't just someone I worked with
You have become my friend
So I'm sad to see you go now
But I also wish you the best
And can't wait to hear of your success

26

Starting over will be strange
And maybe it will be difficult
But you'll do great, and you'll be happy
So take the first step and go out the door
We wish you luck and we wish you the best
Good luck!

27
Things will be so different without you here
But I'll remember that you're happy
And all of us here wish you luck
Wherever you go
You'll always have support and love
From your old colleagues and friends
So go now, with our blessings

28
Working with you
Has never felt
Like work at all
But a journey of growth
Between partners and friends
Navigating deadlines and projects
In pursuit of perfection
And as our paths diverge
I wish you safe travels
On your new journey
But know if you need me
You're never alone

29
Life is a series
Of hello and goodbyes
So you leaving this job
Is not a giant surprise
But how much I'll miss you
Is really the shock
All these years working together
You've been my colleague, my rock
Still, I'm glad you're going onto
Things bigger and better
And I cherish the time and memories
That we built together

30
They say people have
Two types of families
A family at home
And a family at work
Banded together
By mutual respect
Know that you can always
Come back home here
Because our bond is not bound
By the walls of an office building
And our friendship is more
Than just papers on a desk

31
It's been real and it's been fun
But I'm afraid our time in this office is at the end of its run
Though we're no longer desk neighbors
Our friendship is not done
Best of luck with all of your future endeavors
And just remember you can call me whenever

32
The times that we've had I will always cherish
Staring at the clock
Thinking we'll perish
Avoiding the bossman
And playing some PacMan
We've had some great times
And I'll remember them always
Thanks for giving me someone to talk to
When I'm alone in the hallways

33
Good times we've had and good times have gone
You've been on my side all along
You've had my back
And I've had yours
Together we've worked and opened doors
To new opportunities on unseen horizons
Call me sometime because I have Verizon