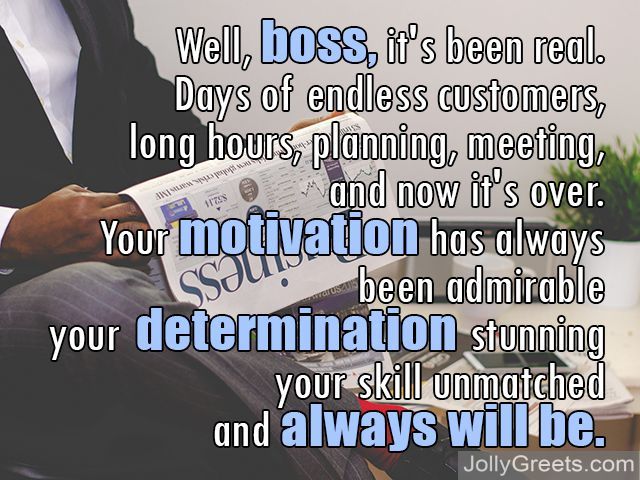 Sometimes working sucks, but all in all the time that you spend at work is a significant portion of your life. The bonds that you build and friendships that you make are what make such endeavors worthwhile. No relationship in the work place is more valueable than that with your boss. A boss is a mentor, a teacher, and in the best cases, a friend. Let your boss know just how much he means to you with one of these heartfelt, original poems. Sending a poem to your boss is the perfect opportunity to express sentiment and gratitude, relaying the message that you've been waiting years to say.
How to Create the Perfect Card - Examples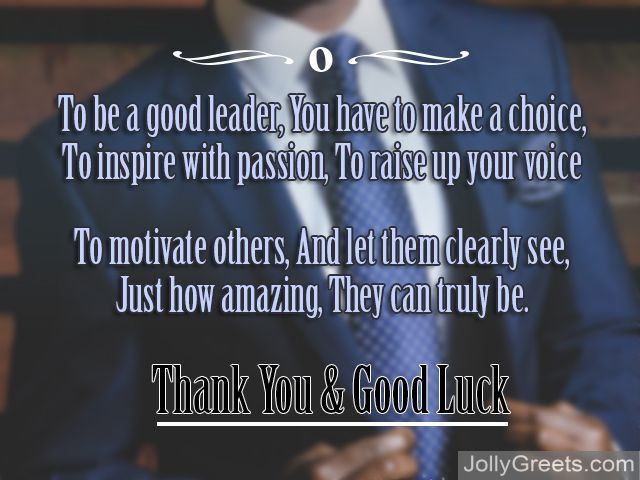 1
Oh, dear boss, it's time for you to go,
We wish it weren't true but it really is so
We hope good fortune follows you wherever you go,
We hope you have a good life and never feel low.

2
You've worked us real hard,
Made us work yard for yard
But now that you're goin'
And we know that you won't be stayin'
We hate to see you go,
But we know it really is so
Good luck!

3

We hate to see you go,
But we know it really is so
Even though you're leaving us,
We can't help but make a fuss
Have a nice retirement,
And remember all those back in your old environment

4
In a world filled with wonders and so many jobs to do, there are so many bosses but none compare to you. They fill each day with tasks to do, and each moment goes by filled with cheer. To you our boss we say goodbye, for none can be as good of leader as you have been. Goodbye our dear boss, you will be missed.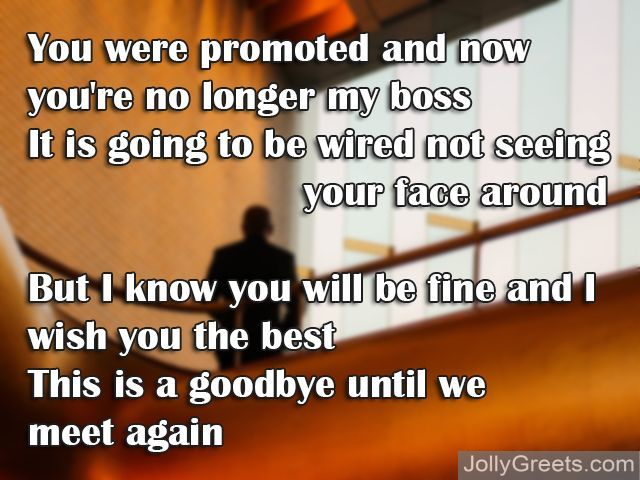 5
Sometimes we need to say goodbye, for many different reasons. But none of define how much we will miss you so. You were our boss, you were our captain, our leader and friend. But it is time to say goodbye and move onto bigger things. Goodbye Boss, it's been a pleasure.

6
On the day I walked in you gave me a chance, you walked by my side yet didn't hold my hand. You were my first boss, and that is so true; I am so glad that it was you, today I say goodbye to you boss, and thank you for the job.

7
Firm but never heavy handed,
You're more than a boss
You're a leader, a teacher, a friend
I hope this new journey
Takes you to new heights
And I hope you meet people
As inspiring as you have been to this team
Best wishes in your new venture.
8
You never made us feel small or unimportant
You empowered us
Challenged us
And pushed us
You led by example
We pushed the envelope and reached higher
Because you made us feel like we could
You made us feel like there was no other choice
Your efforts are greatly appreciated
And you will be sorely missed
9
You have been patient and kind
Never selfish or dismissive
You made us all feel needed
You made us all feel warm
You are a leader in every sense of the word
Never unfair, always a smile
Your vision unmatched
And your execution always delivered with respect
You lead us with passion and heart
For that, we are forever grateful
We will miss your guiding hand,
but wish you the best in your next adventure
10
You have been there since the
beginning
And you taught me everything I
needed to know about this job
Now I'm leaving for another job
And I just want to thank your for
everything
Goodbye my old friend and mentor
11
You were promoted and now you're
no longer my boss
It is going to be wired not seeing
your face around
But I know you will be fine and I
wish you the best
This is a goodbye until we meet
again
12
This is a goodbye my old boss
I got a new job and I won't be
around any longer
I had a great time working for you
And it's a shame that I had to
move on
Goodbye my dear boss
13
I have worked with many but you are
different. You are a great leader
because when you give a task, you
start first, you believe the best in
everyone, you correct in love and
you are a great motivator. For the
records, you are simply the best.
14
A good leader lives by example and
lives what he says. That I exactly
what you do. You never assign a
work without being a part of it,
you are even usually more involved
than everyone else. You are a great
boss, sad to see you leave.
15
A leader in which there is no dulling
moment with him. I cherish every
moment I spend with you because
I leave joyous, happy and with all
my problems solved. You are a boss
who is so interested in the well-being
of others. I will miss you so much
boss.
16
You led and we followed,
You guided the way,
This place is a great place,
To work every day.
And now that you're leaving,
Look what we have achieved,
Your good work will continue,
Because in us you believed.
Good Luck In Your New Job
17
A leader inspires,
And opens the mind,
Brings the team together,
Leaves the past behind.
But a great leader knows,
When it's time to move on,
Trusting the team will continue,
When the leader is gone.
Good Luck For The Future, Boss
18
To be a good leader,
You have to make a choice,
To inspire with passion,
To raise up your voice
To motivate others,
And let them clearly see,
Just how amazing,
They can truly be.
Thank You & Good Luck
19
As you embark on this new life,
know that you will be missed
by all of us have benefitted
from your leadership.
You have helped us learn from our mistakes, and take a new direction,
we send you off with lots of respect,
and with great affection.

20
As we say goodbye to you, dear sir,
we hope you keep in mind,
how much you have shared with us
over all this time.
You were a shining example
of what it means to be
a man of his word and honor,
and that's always your guarantee.

21
As you embark upon the sea, my captain,
I cannot help but feel,
that I have grown into who I am
because of all that you revealed.
A tight ship you ran, to get things done, and worked hard accordingly.
It was your strength and wisdom, sir, that won our victories!
22
You got me where I am today
and though I'm sad to see you go
I take comfort as I know
that you are off on more adventures
to take on new tasks and new endeavors.
And whoever gets to work with you next
is truly blessed.
23
Goodbye, dear boss!
O team leader, O chief,
O manager – I'll stop there
since it doesn't matter what you're called
because all these things are intimidating
and after all this time
there is only one name for you:
"My friend."
24
Well, boss, it's been real.
Days of endless customers,
long hours,
planning, meeting,
and now it's over.
Your motivation has always been
admirable
your determination
stunning
your skill
unmatched
and always will be.
25
We say goodbye today
Not just because you are our boss
But to let you know you will be missed
To let you know that we feel this loss
We wish you good luck for tomorrow
And few times of sorrow

26
Dear Boss
Lots of patience
Sense of humor
Sharing your wisdom
And offering us your support
We'll miss you lots
Now it's time to go
Time for us to say farewell
Thank you for what you've given us
And we wish you all the best

27
We can't believe your leaving
After all you've given us
But we wish you the best in your future
And thank you for all your trust
Can't wait to watch you succeed
And see all that you achieve
Goodbye and farewell
To a wonderful boss

28
A boss makes commands
But a leader commands respect
A boss assigns projects
But a leader projects a vision
A boss is a future reference
But a leader is a reference for the future
And as you go into the future
Know that you were never just our boss
But you were always our leader

29
What do you say to someone
Who turned a staff into a family?
Who turned a job into a joy?
And who is now turning over
A new chapter of their life?
I hope your dreams turn out to be
All you ever wished for
And I hope somebody I'll turn out to be
Half the boss that you ever were

30
Working for you was never work
But a job that had the extra perk
Of a boss who always had results
Free of tears or drama or cheap insults
And as you're leaving and about to go
There's just one thing you need to know
Because friends and family all agree
Your prime example will always influence me

31
Through all of these years there's been a lot I've wanted to say
"You should give me more time off, and give me more pay!"
But all in all
At the end of the day
"Thank you" is truly all I can say

32
It's been a journey,
One hell of a ride
I'm glad I've made it this far,
But now we must leave each other's side
Thank you for this experience
And all of the memories
The fact that I'll miss this
Makes me think I'm delirious

33
Clock-in
Clock-out
Making money is what it's about
Until you realize you love what you're doing
The people you're with and places you're moving
Thank you for creating a positive office
Keep the team going
I know you'll rock this