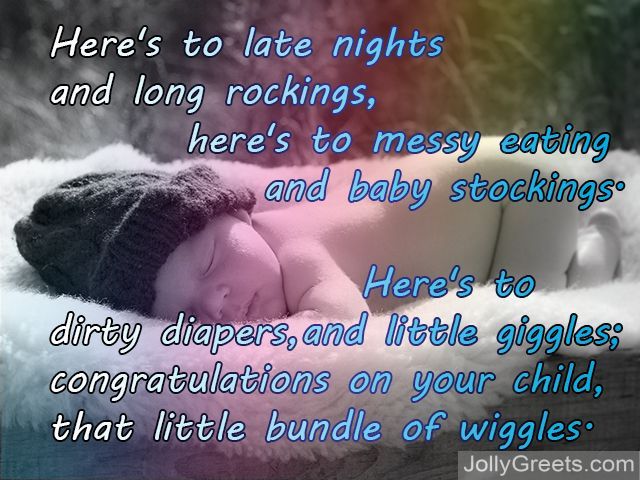 Children are among the greatest joys in life. Nothing is more special than the arrival of a new child to this Earth. Don't let this special occasion pass you by with out taking the chance to properly commemorate the monumental importance of a new baby. Select a poem from this post ranging from humorous to sentimental to show just how happy you are for the proud new parents. The poems from this post are the perfect way to raise your glass to the birth of a beautiful baby boy.
How to Create the Perfect Card - Examples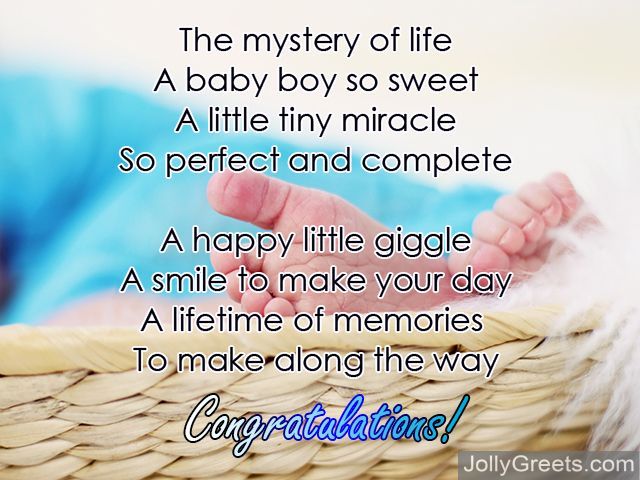 1
Congratulations on your new baby boy!
We know he'll be such a fun ball of joy.
We're so happy for you and your family,
We want you to have the best little boy, see.

2
Here comes trouble, that's what I see
All wrapped up in blankets, a little baby boy, coming right at me
He might be cute, he be small
But just you wait—you'll have a ball!

3
Congrats on your newly born boy,
He'll make a great butcher, or sailor, ahoy!
He might make a fine builder or teacher,
Or perhaps a great fine big, muscle maker!
But for now, a little baby he is,
So cherish him greatly, before he gets too big

4
In your arms rest a tiny little angel, filled with all blessings from above.
He was sent from above, with a purpose for below
To change the world as we know it.
Congratulations on your new born son,
May his life be filled with all joy.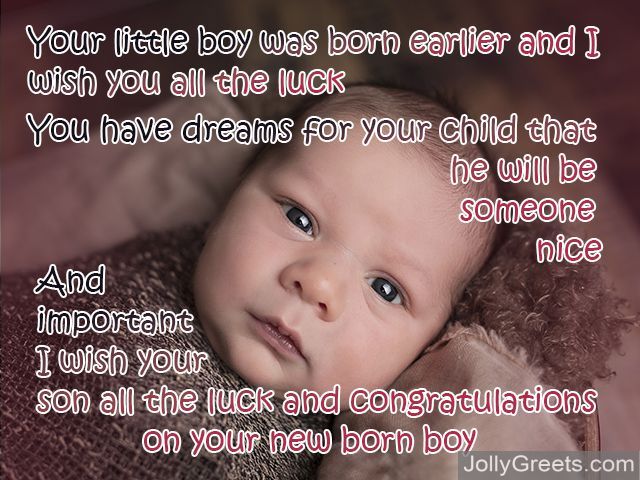 5
Today your son was born, as a blessing to earth.
Today you received a gift as a joy, congratulations on the birth of your boy.
May his life be full of grace and truth, may he walk the paths of life with peace
And may he always be a man of strength. Congratulations

6
The life of a young lad is too exciting, it is a good time to be had by all.
Your young lad was born today a very exciting thing,
To witness the joy and relief today as he came into the world.
A new journey awaits you,
So come see what is along the golden path that they all refer to as life.
Congratulations on the birth or you baby boy

7
You've loved him
Longer than he knows
I can't wait until he grows
You will show him
To walk, to talk, how to say "Hello"
You'll show him more love than he will ever know
You'll teach him a firm handshake
And how to show respect
He is such a lucky boy
To have parents so caring and loving
He is now part of a family
That will be there through thick and thin
Congratulations on your bundle of love
I wish nothing but the best for him!
8
All ten fingers
Ten toes, pink cheeks,
and his button nose
Chunky little legs
And feet so small
Little hands that reach for yours
And eyes that look up in awe
He's the wish you've always had
The boy of your dreams
And I wish you and your new family
Eternal love, laughter, and happiness
Congratulations to you!
9
nnocent and pure
He knows no wrong
He knows not of love
He's not yet seen what the world can keep
Your son is here and ready to learn
So show him what's important
And guide his little feet
Teach his gentle hands
To build and to grow
Show his eyes how much love
People can hold
Teach him words of encouragement
You will love him more than
Anyone can understand
I wish you all the best
In your newborn little man
10
You spent nine months carrying this
gift, awaiting his arrival
You painted the nursery blue and
brought the furniture and toys
Now your baby boy has joined the
world
And I wish you all the joy
Congratulations on the baby boy
11
Your little boy was born earlier and I
wish you all the luck
You have dreams for your child that
he will be someone nice
And important
I wish your son all the luck and
congratulations on your new born
boy
12
I heard your son just entered the
world
I hope you, your family, and the
baby are doing well
I wish your son the best and I hope
when gets older, he will live his
dreams
Congratulations on your new son
13
You waited for so long for an angel
and you got more than an angel. Youare the most handsome baby I have ever seen. Welcome to the world little baby.

14
The world may be filled with so much cruelty but having an angel like this in the universe tells us to hope for the very best. We love you baby boy.
15
Congratulations on the arrival of your
baby boy. This is your great gift
from God,your blessing and this
blessing is here to stay.
16
Ten tiny fingers
Ten tiny toes
A heart full of love
And a little button nose
A precious little bundle
To fill your life with joy
Your little one is here now
An amazing baby boy
Congratulations!
17
Two little starlit eyes,
Soft and tender baby skin,
Two lips so rosy,
A little dimpled chin.
A pure little gift,
More precious than gold,
Wrapped up in love and sunlight,
Your baby boy to hold.
Congratulations!
18
The mystery of life
A baby boy so sweet
A little tiny miracle
So perfect and complete
A happy little giggle
A smile to make your day
A lifetime of memories
To make along the way
Congratulations!
19
You have brought into the world today
another shining light
a baby boy for all to see
and eyes that shine so bright.
This package is a blessing
that will make your family whole,
a delicate little bundle
with a beautiful soul!
Congratulations!

20
With a head so soft
and a smile so sweet
he grabs your pinky finger
and kicks his little feet.
A boy to be your champion,
to be your little man,
to tell you that he loves you
whenever he gets the chance!
Congratulations!
21
It's a baby boy!
And he's a bundle of joy!
All dressed in blue
he sleeps and snuggles with you.
Your family is growing
and the love you feel is showing
and I think he's lucky too
to share his love with you!
Congratulations!
22
I heard a blue bundle of joy
landed on your doorstep
and that you picked him up
and held him close,
kissing him to claim him as your own.
I heard he's bright and lovely
and keeps everybody smiling,
so as you hold that blue bundle close
I hope you know
how happy I am for you.
Congratulations!
23
God gave you the greatest blessing
in the form of your new baby,
and as he grows, I know,
you will love and cherish him
more than anything before.
Congratulations for your new child;
I know you will raise him well.
24
Here's to late nights
and long rockings,
here's to messy eating
and baby stockings.
Here's to dirty diapers,
and little giggles;
congratulations on your child,
that little bundle of wiggles.
25
A new little baby
Is a gift of joy
And I'm sure you're happy
You just got a little boy!
I wish you good luck
On those long sleepless nights
But for now let's celebrate
Because everything is just right!

26
Congratulations my friend
On your new baby boy
He is so precious
Just a bundle of joy
He will make you so happy
I am very sure
I'm sure it's hard to believe
That he is all yours
Congrats again
On your new family member
Take a second and watch
Take a picture and remember

27
A little bundle of joy
Has come into your life
A little baby boy
Has joined you and your wife
It must be a crazy feeling
And an amazing one
Too long at this baby
And feel you're looking at the sun
Congratulations my friend
And good luck to the end!

28
The thudding pitter-patter
Of tiny, little feet
A tiny mouth that coos
And begs for much more food to eat
An addition to the family
That will keep you on the run
Congratulations, newfound parents
On your newborn son

29
We've heard that it's a boy
We've heard that it's a son
We know it's the beginning
Of adventures yet to come
Best wishes to your family
From the bottom of our hearts
And as your son begins to grow
Know that we hope to be a part
Of his fantastic journey
And help you on the way
But for now congratulations
On this most momentous day

30
Life is a beautiful thing
But few things are as beautiful
As the creation of new life
Through love
Congratulations on the son
That you've brought into this world
Turning love into life
So that one day
He may love life as well
And live a life of love

31
Congratulations!
You've brought new life into this world
A brand new story is soon to unfurl
As you lead this child through the journey of life
Through all the joys as well as strife
You'll lead this beautiful baby along the path that's right

32
New life has joined this earth
A beauty of light and infinite worth
A special moment
That begins and endless journey
You're child's life is in your hands
And I know that that is the best place to land
Congratulations

33
So here it is, a brand new baby
After a nine month journey and countless thoughts of maybe
Through sleepless nights and powerful cravings
It's finally here, the gift you've been awaiting
Congratulations on creating this beautiful bundle of joy