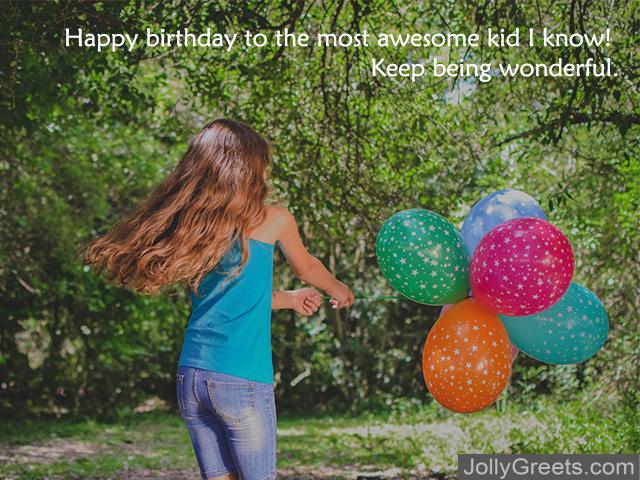 Special Birthday Wishes for the Special Kid in Your Life
Birthdays are a very important time in children's lives. They are a day where kids are surrounded by people who love them and are celebrating as they continue to grow and reach their full potential. If you have a child in your life who will be celebrating their birthday soon, now is the perfect time to think of what to write in their birthday card. To help, we've compiled a list of birthday wishes perfect for kids. Take a look at the list below for some inspiration or feel free to use one of these wishes for that birthday kid in your life.
How to Create the Perfect Card - Examples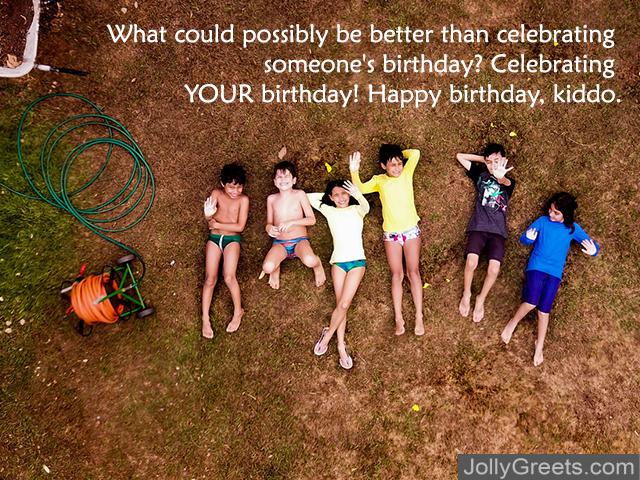 Cheerful Captions
These birthday wishes are perfect for the kid in your life who always brings a smile to your face and will appreciate the favor being returned. They are also perfect for children you may not be as familiar with.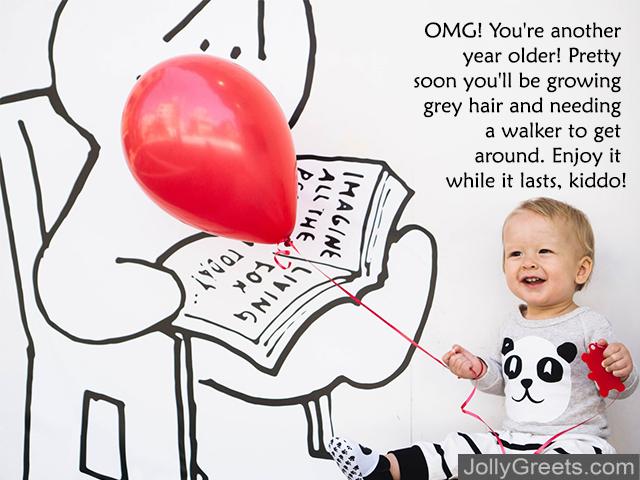 The special birthday boy/girl deserves the best day of all and I'm hoping today is your best day of all! Happy birthday.
Happy birthday to the most awesome kid I know! Keep being wonderful.
A boy/girl like you deserves a birthday that's just as special and wonderful as they are! I hope today is everything you could ever dream of.
A super cool boy/girl like you deserves a super cool birthday, too! I'm here to make sure today is the coolest of all!
What could possibly be better than celebrating someone's birthday? Celebrating YOUR birthday! Happy birthday, kiddo.
There's nowhere else I would rather be today than celebrating your super cool birthday!
Happy birthday to my favorite superhero–you! You're smart, strong, and brave: keep up all of the good work.
Congrats on your big day! I hope you have tons of tasty cakes, cool balloons, and fund gifts. Happy birthday.
You might be small in size, but you make up for it with a big spirit! Happy birthday, kiddo.
Here's wishing for another great year of growth full of fun and laughter. Happy birthday!
Silly Sentiments
If the birthday boy or girl in your life is always making you laugh, one of these birthday wishes is the perfect way to repay them. They are also easy to combine with a more heartfelt message so that you can get the best of both worlds.
Happy birthday to the funniest, zaniest, kookiest kid I have ever known! Here's to another year of laughs and smiles.
I'm sending you a hundred million bazillion kajillion happy birthday wishes!
You might be small in size, but boy can you make a big mess when you put your mind to it! Happy birthday: here's hoping the bigger you get, the smaller messes you make!
Happy birthday to the only kid I trust at my side during a zombie apocalypse.
Another year older… and still as goofy as ever! Here's hoping you never stop making as all laugh. Happy birthday!
Woah, what smells like birthday cake? I can't believe you're already getting so big! Happy birthday.
OMG! You're another year older! Pretty soon you'll be growing grey hair and needing a walker to get around. Enjoy it while it lasts, kiddo!
Ha-pea birthday! Wishing you a bear-y special year! I hope it's a pun-tastic day!
It's your birthday, so time to put on a smile that's as biiig as thiiiis!
If I could have one wish for your birthday, it would be this: that today is just as zany, silly, and crazy fun as you are! Happy birthday!
Admiring Announcements
The following birthday wishes are ideal for a child who you are close to and have watched thrive as they grow older. These wishes are wonderful for relatives, but can also be used for any child who you share a close bond with and want to show your admiration for.
You never cease to amaze me with all of the wonderful things you do. I'm so proud of the kid you are and I can't wait to see the grown-up you become!
Everyone in your life is so blessed to know such an amazing kid. Happy birthday: I can't wait to see you grow!
No one knows what the future holds, but I bet your future is full of success and other great things. Happy birthday.
I am so proud to know such a wonderful kid and I am honored to watch you learn and grow every day. Happy birthday, may you never stop smiling and growing even greater.
Happy birthday to a kid who never ceases to make me smile and who I love with my whole heart!
Whatever dreams you have, I know you can achieve them if you just set your mind to it! Happy birthday and best of luck as you continue learning and growing.
Dream big and reach for the stars, because you're a kid who can truly do it all! Happy birthday.
Happiest of birthday wishes to a kid who always makes me proud and keeps me excited to see what's next.
You have brought so much light, love, and happiness into the lives of everyone who knows you. I am so lucky to get to watch you grow up! Happy birthday.
Happy birthday! I'm so proud of you and glad to know such an amazing kid. May this next year be full of success as you continue to learn and grow!
The birthday wishes above are perfect for any birthday girl or boy you know who needs a message as wonderful as they are. But even if the message isn't 'perfect', the child in your life is sure to appreciate the attention nonetheless. Kids only get a small handful of birthdays before the adult world catches up to them, so make sure they are able to fully celebrate while they are young. Make sure to really celebrate their big day and make them smile as much as you can! Birthdays are a special day and every kid deserves to know their birthday is all about them.