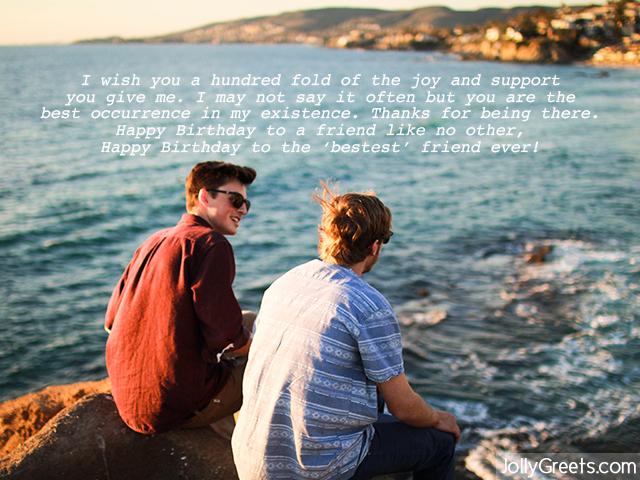 "I have been bad, I have been good; I have been strong and weak as well. I've been at my best and my worst too. What's most amazing is that, you've been there through them all and stayed after. I could not have asked for a better friend. I wish you greater achievements for the rest of your life. Happy Birthday Dear Friend!"
How to Create the Perfect Card - Examples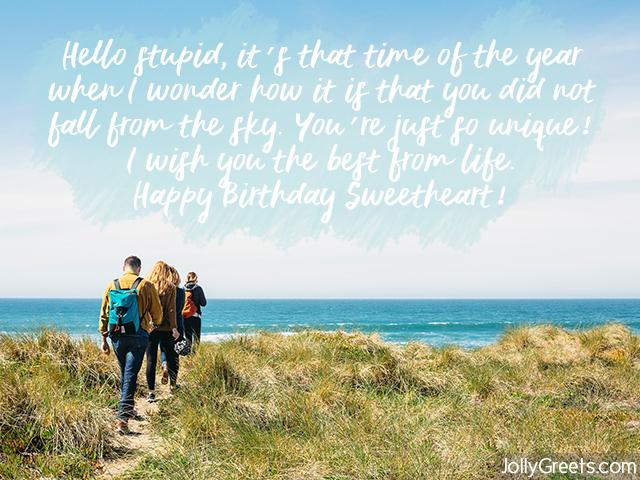 CREATING THE PERFECT BIRTHDAY WISHES FOR YOUR BEST FRIEND
Some people are naturally inexpressive. There's so much they want to say; they probably make plans to say it but just find it difficult if not impossible to execute such plans.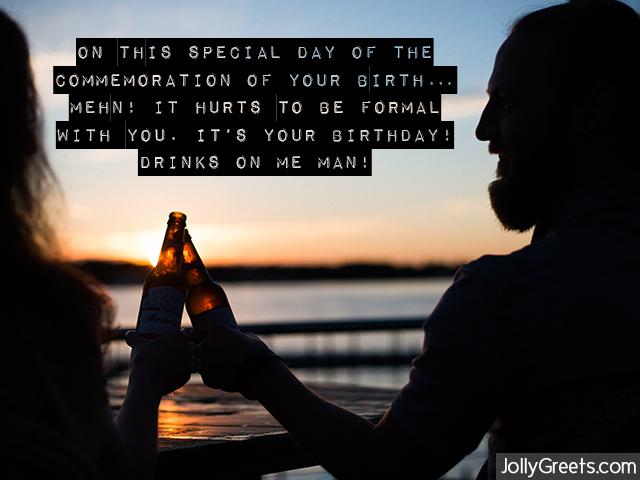 There are various categories of people in our lives. In no particular order; there's that boy or girl down the street, there's the nosy neighbour, there's the co-worker in the office, family members, acquaintances, spouses, friends and of course; Best Friends. Our relationship with our best friend is on a different level. It cannot be compared with any other relationship and neither can the feeling that comes therewith. Best friends have been with us through thick, thin, wide, fat, cute and messy and have remained thereafter. They know us and yet they do not judge us for being who we are, they are our ride or die.
As special as best friends are to us, when their birthdays approach, we sometimes find it difficult to get adequate combination of words to express our wishes. This challenge exists for a variety of reasons. It could be because of their expectations from us or even ur expectations from them which challenges us to set a standard, it could be because we are actually inexpressive, it could be due to our busy schedule, it could be because we do not know in what mood that message would locate the recipient, the reasons are inexhaustible!
Whatever the reason for the difficulty may be, there are certain factors, the consideration of which would go a long way in helping us compose or choose the perfect Birthday wish for our best friend. Consider the following factors in creating the perfect birthday wishes for your Best friend.
FACTORS TO CONSIDER IN CREATING MIND BLOWING BIRTHDAY WISHES FOR YOUR BEST FRIEND
The status of the celebrant.
Their personality.
The kind of words that excite them.
What do you think of them?
Recent events in their lives especially remarkable ones.
Their future goals especially the ones that scare them the most.
Their present undertakings and challenges
Your memories together.
What do they wish for the most?
What would you wish them if you knew nothing about them? (Be sincere)
What would you wish them considering everything you know about them (Be very sincere).
EXAMPLES OF BIRTHDAY WISHES FOR BEST FRIENDS
You are one of the strongest people I know; taking life by the balls despite its stubbornness. On this special day, I wish that God will bless you with your desires and give the strength to fight against the odds as well as the grace to come out victorious. Wish you a very happy birthday!
Today should be a Universal Public holiday! You're so special Dear and your love drives me nuts! I celebrate you this day and I pray that the rest of your life will be better than your expectations. Happy Birthday!
It's a pity that there's none like you. Every good person deserves to be rewarded with a piece of you and yet I have all of you. Whatever did I do to be so blessed? Don't stop being you! Have lots of fun today, Happy Birthday!
Sometimes, I write my name and end it with your surname. You are practically my family yet you mean more than family to me. You're awesome bestie! Happy Birthday Dear! Let us do all the stupid things on your bucket list!
Hello stupid, it's that time of the year when I wonder how it is that you did not fall from the sky. You're just so unique! I wish you the best from life. Happy Birthday Sweetheart!
It is on days like this…scratch that, there's no day like this. Today is not just your birthday, it is the day I wonder how the rest of the world survives without having you as their best friend? I'm more than lucky to have you. Happy birthday pumpkin!
From kindergarten to college, you've been with me every step of the way. You're not just my friend; you've occupied lots of roles in my life. I'm so glad I have you. On this special day, I wish you success in all your endeavors. Happy Birthday!
On this special day of the commemoration of your birth…Mehn! It hurts to be formal with you. It's your BIRTHDAY! Drinks on me Man!
Finally, the countdown is over! The only day in 365 days is here (this is just to make you feel special, I was born too you know). Happy birthday Dear, you are friendship personified and if I had to do life again, I would make it a threesome with you.
I know that life hasn't been particularly rosy for you, but who cares about gardening when you can reach the sky? Today is the first day of the rest of your life. Reach for the sky but go for the stars because it is easier to identify with family, #Winks. I wish you the strength to conquer your fears and achieve your dreams. HAPPY BIRTHDAY BFF!
I wish that today brings lots of love, peace, good health, laughter, and happiness into your life. Happy Birthday to the greatest inspiration of my life, my best friend forever! I promise to be by your side all your days of my life.
People say I'm crazy and impossible to understand but you have constantly proven them wrong, you understand me like nobody else. I am so ooooo happy I have you. Happy Birthday Bestie!
I wish you a hundred fold of the joy and support you give me. I may not say it often but you are the best occurrence in my existence. Thanks for being there. Happy Birthday to a friend like no other, Happy Birthday to the 'bestest' friend ever!
I wish you success and lots of cash, but above all, I wish Love. You deserve all of it. Happy Birthday!
We complete each other's sentences. We read each other's minds. There's hardly a wish I'll make for you today which you do not know already. So…. Happy Birthday to my mind's eye, the other me, my confidante and disci[linarian, my ride or die… my irreplaceable.
I would call you love of my life but that would suggest we are gay partners but man, you are the love of my life. You've seen me as I am and you've continued to stick around. I don't know what I would do without you, but I don't want to find out. I wish lots of cash and true love man. Happy Birthday!
I do not know what games distance and time zones think they are playing, but they chose the wrong duo to play against. I've stayed up this late to be the first in your time zone to tell you how special you are. Hope I made it? You are so special that the word itself is inefficient. I love you Bestie, Happy Birthday!
I know this is coming late, but you know what they say; "…best for the last." Moreover, you know me; I'm late 90% of the time. Happy Birthday Dearie! I'm so glad I have you.
They say you were born prematurely but I know that it was the right time to make us best friends and birthday mates. There could not have been a better time for Mama to push you out. Thanks for the life we've had and the life ahead. Happy Birthday Bestie!
If I could scream till the words dry out, I would just to show how grateful I am to have you. I don't care about the imperfect attribute of humans, you're perfect and if that makes you an alien then you're my alien. I wish you a speedy realization of all your dreams. Happy Birthday big head (you're still perfect).
For want of words and because courtesy demands, ill just say HAPPY BIRTHDAY TO MY BEST FRIEND! You deserve far more than I can afford.
We get to celebrate the gift of each other twice in every 365 to 366 days; on our birthdays. But I find myself happier and more grateful on yours than mine; it's not easy being my friend how much more the best. Thanks for always cleaning up after me. Happy birthday Dear!
I hear that couples start to look like each other after a while. We aren't an item, I wonder how it is that people think we look alike but this gladdens my heart because looking like you is a rare gift and that is why I have been babbling. I cannot find the right words to express my wishes for you. Happy birthday my dear friend, I wish you only the best of the best.
You've not just been my best friend but my sister too, stealing my clothes and even my birthday. I'm so excited because I can call you my twin since we already look alike. I know, I'm not making sense but you're the only one who can stand my nonsense. Happy Birthday Dear! Let us have fun!
Hey, Happy Birthday! You know that I cannot come up with emotional epistles. So this is just to let you know that you're special and I did not forget your day. Life has no choice but to be good to you for the rest of your existence…see? I don't know what to say. Let's have a blast man! It's your birthday, not speech writing day!
We may not be longtime friends, we may not have been through our entire lives together but the little we have experienced and conquered together makes me wonder; where have you been all my life? I'm so happy we have each other. I wish you a blessed and fulfilled life ahead, Happy Birthday!
It is worthy of note that the examples above are not just to give you messages to copy verbatim, they are also to guide you and help you construct words which best suit the circumstances of your friendship and the celebrant's birth. We hope this adds colour and life to your best friendship. Cheers to great Friendships allover the world!