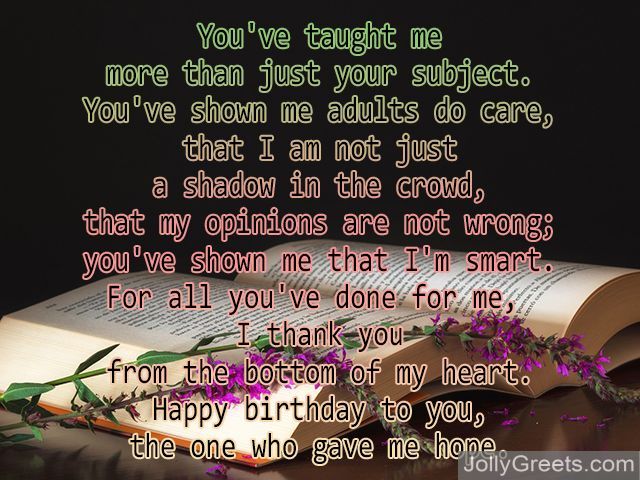 Birthday poems for Teacher: Teachers are some of the most underappreciated people in the world. They spend countless hours shaping our children, grading papers, creating individualized lessons for their students, and trying to keep up with the hectic needs of their own lives. It is so important to take time on this special day of celebration in their lives and express best wishes and gratitude for all that they do. So when your teacher's birthday comes around, don't stop with the gift of an apple on his or her desk. Choose one of these poems to express thanks and wish a happy day of celebration to this mentor, friend, and teacher.
How to Create the Perfect Card - Examples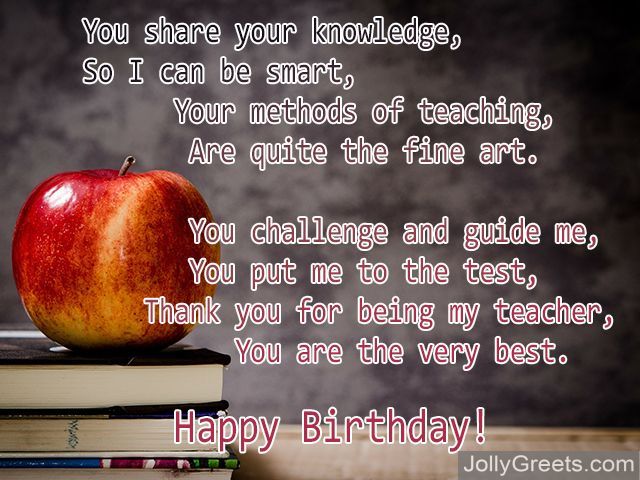 1
I was just a poor student, struggling to make the grade
But you were there for me; you always came to my aid.
So from a student that appreciates all that you do,
Have a happy birthday, from me to you.

2
We see each other every day, but I don't know that much about you,
You're such a part of my life, that much is true
I thought the best I could do.
Would be to wish a happy birthday to you

3
A teacher is important.
The teach they show, they guide your path,
But more importantly, they encourage, challenge, and help you grow
While sometimes it's hard to show that to you, I want you to know, how much I appreciate you

4
I learned from you all my A, B, C's
I learned from you my 1,2,3's
But you haven't seen my respect for thee.
So I hope you see it today.
You are the best teacher and today is your birthday, please enjoy your day.
Cake and balloons make the party go on, and I hope yours goes on so far.
Happy birthday dear teacher.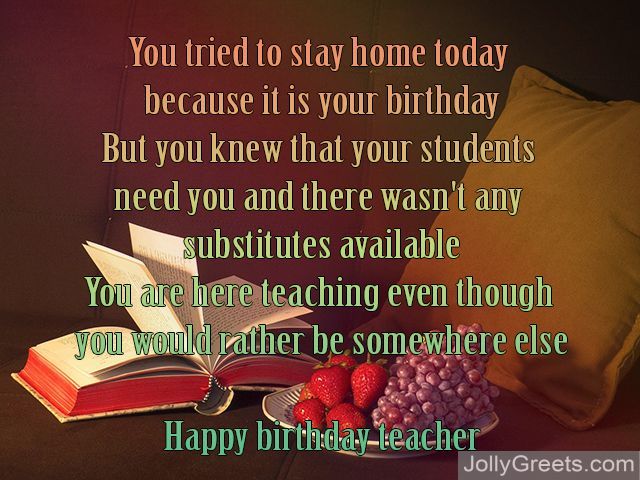 5
You are a great teacher yes this is true.
I've learned all I know from you.
I hope you can see how much I learn from thee,
And know that your teaching doesn't go in vain.
Today is your birthday, with lots of good cheer,
So come to the cafeteria for a cup of root beer.
Today is the day you finally see how much you really mean to us. Happy birthday dear teacher.

6
Today is your birthday, we brought you some cake to make you birthday a special day.
Come let us eat cake and blow up balloons, so to make your day so special.
You taught us so much, we love you a bunch and we thank you for teaching us today. Happy birthday.

7
You are the apple of our eyes
a superhero in disguise
Everyday you give a part of yourself to us
You help and grow and teach us trust
In ourselves and in others
You've taught us so much
I hope today, on this special day
You are shown as much love as you give
Happy Birthday!
8
People like you
Are one in a million
A teacher is a helping hand
And you are more than that
You're a friend and a mentor
And now another year older
Today we celebrate you
We celebrate your kindness your generosity
And your encouraging words
Thank you for everything
I hope you special day is filled with cheer!
9
Your patience and kindness
are unmatched by any other
you are truly one of a kind
I hope your special day
is everything a star like you deserves
restful and peaceful
exciting and fun
I hope it is filled with laughter, joy, and happiness
I can't tell you enough how much I appreciate everything that you do
Happy Birthday, wishing you all the best!
10
In your class, the students celebrate
their birthdays
On a monthly basis
But you only celebrate your
birthday after the school day ends
Instead of the whole class singing
happy birthday, it's your friends at
Dinner
Have a happy birthday teach
11
You tried to stay home today
because it is your birthday
But you knew that your students
need you and there wasn't any
substitutes available
You are here teaching even though
you would rather be somewhere
else
Happy birthday teacher
12
You are an amazing teacher
You teach your students more than
what is on the next test
But you, like your students, are still
learning things
Today is your birthday, spend it like
your students
Have fun and celebrate yourself
today
13
Only God can reward you sir. You
have taught doctors, lawyers,
engineers etc but never quit your
job for another. A happy birthday
to this selfless man.
14
giving up is never an option because
you are much stronger than you
think. People who didn't give up are
not stronger than you are, they are
just persistent
15
You are one in a million, living such
a sacrificial life. Taking all the pains
to make sure your students are the
best. Happy birthday sir
16
A teacher like you,
Is real hard to find,
You challenge and test,
And stimulate our minds.
You always have time,
For a laugh and a song,
And a smile on your face,
The whole day long.
Happy Birthday!
17
Let the sunshine bring warmth,
to your teaching success,
And the rainbow bring color,
to alleviate stress.
And now is the time,
We have to confess,
With a teacher like you,
We have been surely blessed.
Happy Birthday!
18
You share your knowledge,
So I can be smart,
Your methods of teaching,
Are quite the fine art.
You challenge and guide me,
You put me to the test,
Thank you for being my teacher,
You are the very best.
Happy Birthday!
19
Happy Birthday to my teacher
always such a fearless leader
ready to take the leap
to guide us through the rivers deep
to the shore of higher knowledge
that lead us on the path college.
Thank you for the education
now it's time for celebration!

20
You've been for me an example
of where my studies lead;
to earn the eyes of those I respect
with hard work and acuity.
You are a master scholar
to whom I wish to say
it's a time to be more festive
now that it's your birthday!
21
Bring the cake!
Bring the punch!
And bring the music too!
We have come with presents
to celebrate with you!
We know that it's your birthday
and you didn't want a fuss
but we couldn't help but want to honor
the teacher that means so much!
22
I've never had a teacher
who cared as much as you.
The greatest thing you've taught me yet
is that I do like school.
For that lesson, I feel I owe
the sincerest wish of all:
that your birthday is filled with joy
and that you receive such wishes throughout the halls.
23
I wrote a birthday limerick
(don't worry, it's not a gimmick).
I hope you're day's swell
because (in case you can't tell)
you, I someday hope to mimic.
24
You've taught me more than just your subject.
You've shown me adults do care,
that I am not just a shadow in the crowd,
that my opinions are not wrong;
you've shown me that I'm smart.
For all you've done for me,
I thank you
from the bottom of my heart.
Happy birthday to you,
the one who gave me hope.
25
Happy Birthday to a marvelous teacher
You've taught me so much, and I'm so thankful
For what you've done for your students
I thought I'd give you this to show you that I'm grateful
Happy Birthday again, to a teacher with lots of love

26
Because of you
I see the world differently
Because of you, I know so much more
Because of you, I have so much knowledge
And I want to thank you for all you've done for me
And for all of your students
Happy Birthday!

27
Teachers are so important
They help us to read, to write, to be
They teach us everything we need to know
And that's why I'm saying thank you to MY teacher
On a very special day
Have a very happy birthday

28
Happy Birthday to a teacher
Who simply is the best
A grade-A human being
Who passes every test
Of who everyone should be
A prime example we can learn
And I hope you remember this
As you watch those candles burn

29
Happy Birthday to the teacher
I've come to adore
Who's taught me that life
Is more than the score
That you get on a test
But it's about how it's earned
Every new day with you
Is a life lesson learned
So here's to your life
And all that you do
Happy Birthday, Birthday
Birthday to you

30
Happy Birthday to the best
Teacher that I know
Who in each of their lessons
Not only bestows
More than simple things
Like thoughts or information
But commands the respect
And full admiration
Of all of their students
And so we must say
A very Happy Birthday
To you now today

31
Happy birthday to you, my favorite teacher
Thank you for rescuing me from bullies out by the bleachers
And teaching me things like spell and math
And saving me from the principal's wrath
So switch out your apple and let's have some cake
Today is your day, let's celebrate

32
You've taught me math, and letters too
I can't say it enough, but seriously, thank you
You are so graceful in all that you do
And are helpful with questions that to me are new
So let's take a field trip, for your birthday at the zoo!

33
Today is your birthday so instead of an apple
I brought you some cake and a strawberry Snapple
I hope you enjoy it because it is yours to have
Thanks for being my teacher, it makes me glad
Happy Birthday