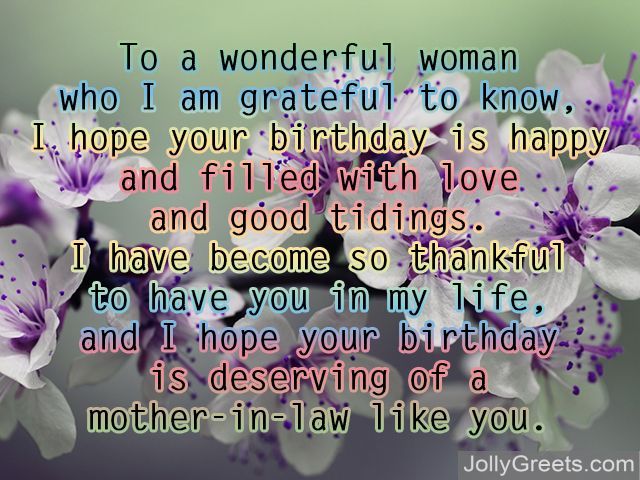 Birthday Poems for Mother in Law: It is said that when you get married, you do not only marry the person –you marry the family. This is a cliche, because of its truth. There is a lasting relationship with the family of your loved one that needs to be nourished just as much, if not more, than any relationship in your life. This is especially true of mothers-in-laws. So when the special occasion of a birthday comes along, wish your in-law a very special day with a gift that will last through the ages: words. A kind word will show your mother in law how much you care. It will as well, show her that you took the time to write, or choose, something for her that took thought and effort rather than a simple gift from the store. So for this birthday, give her a poem from your heart.
How to Create the Perfect Card - Examples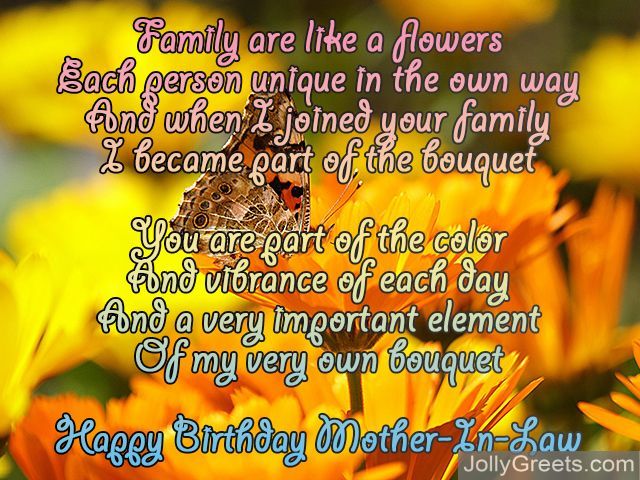 1
I'm so glad to have you as a second mom,
You have a special touch, a special healing balm.
When times get rough,
You're always there to help us toughen up

2
You're our anchor, our beacon in the storm.
You're touch is calming, you're touch is warm.
When times get rough, you're still our mom,
You're still our anchor, our sense of calm.

3
When I got married, I wasn't expecting you
You were something else, something different, it's true.
I'm so glad I've gotten to know you, something new
You make my life exciting, different, it's true.

4
You gave me your daughter
I am grateful to you
for giving me a treasure like she.
Your birthday is today, I said before
I am grateful to you for the time that you give.
Today is your birthday
You're the best mother-in-law
And I am proud to say I'm your son-in-law
Happy birthday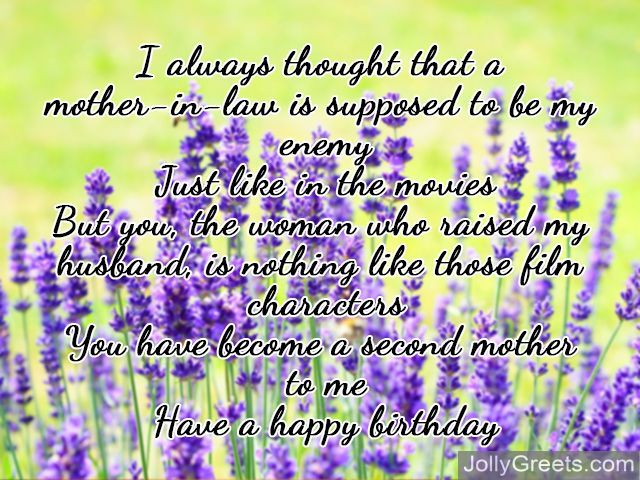 5
No cake could help you make this day,
No words I could say would help me say how I feel towards you right now.
But today is your birthday, it's all about you.
I love you so much dear mother-in-law
I blow up balloons to make it all fun.
Hope you enjoy your day and have a blessed one.

6
Today on your birthday I'm thankful for thee.
And the mother figure that you are to me.
I hope your day is filled with glorious thrills
Of chocolate covered eclairs. Happy birthday mother-in-law.

7
I hope that on your birthday
You are met with kindhearted people who show you love the way you show it to every person you encounter
I wish on your special day that you are celebrated in a manner that is worthy of your generosity and selfless spirit
I wish you laughter, I wish you joy
I wish you peace and contentment
And I wish you many more after this one is gone! Happy birthday.
8
You are the reason I have a family that I love
Not only did you give me my family
But you opened your arms to your own family for me
Thank you for loving me like your own
I wish I could repay you, but this card will have to do
You are one of the strongest, kindest, gentlest, most generous, most genuine, and truly delightful people I have ever, and will ever, meet
Happy Birthday, I hope it is all you dream and more
9
You gave me the love of my life
And for that I could never repay you
I could never say thank you enough for giving me the person who has changed my life and made me better
I know that you made them that way
You raised this person to love without hesitation, to be generous and kind, and to always say what is on their mind
Thank you for giving me all that wonderful
I wish that on this day of celebration, you find as much of the kindness and happiness around you as you have given over the years
Happy birthday, here's to many more!
10
You gave birth t the most wonderful
woman I have ever met
And I never thought I would be
friends with you
You're just as wonderful as your
daughter
And just as sweet too
Have an amazing happy birthday
11
I always thought that a
mother-in-law is supposed to be my
enemy
Just like in the movies
But you, the woman who raised my
husband, is nothing like those film
characters
You have become a second mother
to me
Have a happy birthday
12
We may have not gotten along in
the past
But we are now more friendly
than cold
You are now a big part of my life
Since you are the mother of
my love
I just want to wish you a
happy birthday
13
You are a mother to me not because
because all daughters-in-law say that to their mother-in-law but
because you treat me like your child.
14
My wife is a product of your care and attention. I thank God everyday
for making me a part of your great
family. Happy birthday sweet mama.
15
A happy birthday song is not enough
to say our wish for you and
birthday gifts cannot tell your worth.
Happy birthay the mother of my
lovely wife.
16
You shine as bright as a star
And spread your light, near and far
Mother-in-law I know you're there
You always show me that you care
Knowing you is a delight
Your there for me both day and night
With this I send you lots of love
For you shine as bright as stars above
Happy Birthday
17
You are a beautiful person,
A true light in my life,
You love and always support me,
Through happy times, trouble and strife.
You make my life much richer,
In so many many ways,
And so I'd like to wish you,
On this very special day:
A Very Happy Birthday
18
Family are like a flowers
Each person unique in the own way
And when I joined your family
I became part of the bouquet
You are part of the color
And vibrance of each day
And a very important element
Of my very own bouquet
Happy Birthday Mother-In-Law
19
You are a wonderful woman
and I am blessed to have you in my life
It's like I have a second mother
along with a beautiful wife.
You have blessed us with your support
as long as I have known you
so it is with all my heart
I say Happy Birthday To You!
20
A mother is a sacred keeper
in the wisdom of love.
She endows upon her children
the glory from above.
I've learned so much from knowing you
and being welcomed into your family.
It melts my heart that I can say
it is all I dreamed it would be!
Happy Birthday Mother-in-law!
21
A woman with fantastic taste,
her cooking is divine
she enters the room with so much grace
and smiles all the time.
Her wit is always about her
and laughing is her hobby
she shows her love to all she knows
and she's never snobby.
Happy Birthday Mother-in-law!

22
You've welcomed me into your home,
taken me in as though I were a new child,
showered me with love and acceptance,
and never cast me out, or been cold.
I'm so lucky to have you included in my life;
Happy birthday to the mother-in-law I love.
23
All this talk of monsters
and awkward family meals,
of subtle hints of instense dislike
and jabs that will not heal.
I don't know why no one else
has a mother-in-law like mine
because you are a fantastic woman
who's loving, sweet, and kind.
Happy birthday!
24
To a wonderful woman
who I am grateful to know,
I hope your birthday is happy
and filled with love
and good tidings.
I have become so thankful
to have you in my life,
and I hope your birthday
is deserving of a mother-in-law like you.
25
Dear mother-in-law
I'm glad to have become a part of your family
And so I'm glad to wish you a happy birthday
You've come to mean so much to me
And I'm glad that you know that I love you,
Dear mother in law

26
I want to wish a very happy birthday
To my wonderful mother in law
You've welcomed me so well
Into your family
And I couldn't be happier to be a part of it
Happy birthday to you, and so many more!

27
I want to say Happy Birthday to you
You're a part of my family and I'm very glad
That I can call you mother and talk to you whenever
It's your birthday, and I wish you the very best
To a second mother a cut above the rest

28
Happy Birthday to the greatest
Mother-in-law on this Earth
Who raised the one I love
Whose love led to their birth
But today is not their day
No, this special day's for you
Because without your guidance
I also don't know what I'd do
Some mothers are from birth
Some we gain in different ways
But I consider you my mother
And you deserve respect and praise

29
Happy Birthday, mother-in-law
I hope you take some time for you
To celebrate all the things you've done
And all the things you do
To make your friends and family happy
You're a joy and a delight
So make sure to have a great day
And to celebrate things right

30
Happy Birthday to a woman
Who's so close to my heart
Because my mother-in-law is
Wise, intelligent, and smart
You're truly an inspiration
And lead a life to emulate
And since today is your big day
Let's take some time to celebrate

31
Happy birthday to the sweetest of all
You've built a home that's far more than walls
Your family is great because of what you have taught them
Thank you for allowing me to be a part of it
Happy Birthday

32
Today's your day let's dance and smile
Let's laugh in a way we haven't for a while
With cake and ice cream and presents too
All of this is just for you
Thank you for everything incredible that you do

33
You're impeccable grace never fails to amaze me
For marrying your daughter my friends called me crazy
But having a mother-in law like you makes it all worth it
So enjoy today because you truly deserve it
Happy Birthday