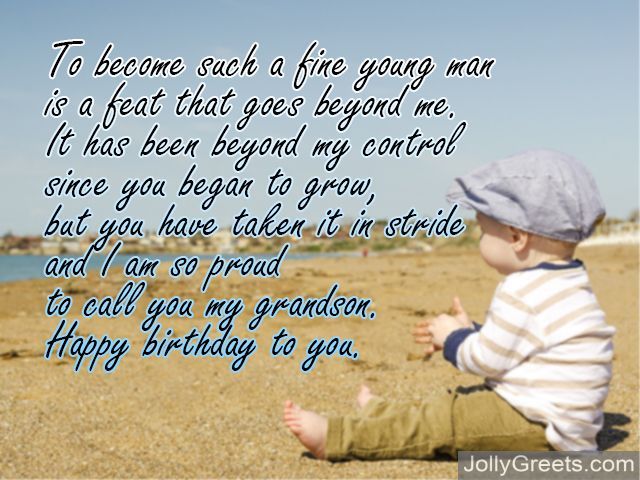 Birthday poems for Grandson: A grandson is something precious. As a grandparent you burst with pride and joy for your grandson. He is a piece of yourself, and an extension of your love and family. So for his birthday, tell him your love him and express to him how proud of him you are. Tell him what you think of him, and how he makes you feel. As more birthdays pass and your precious grandson grows into a man, make sure that he is always aware of your pride and love for him. Choose one of these poems to share with him how you feel.

How to Create the Perfect Card - Examples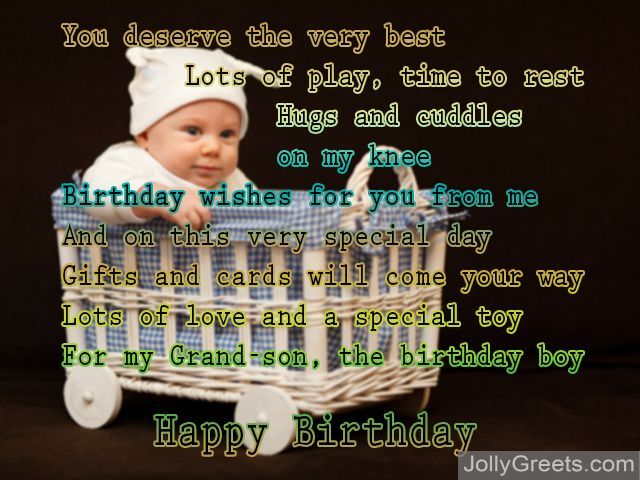 1
While our age may be distant and far
Remember that I am watching you grow, and becoming who you are
I'm privileged to have you as a grandchild,
You make me feel young again, youthful and wild.

2
I might not be able to see you every day.
But know that I am there, in my own special way.
Have a happy birthday, from me to you,
And know that I love you, it's really true

3
I am old, and my life mostly gone,
But you are young, and going to new places
While I sit in my chair,
You explore the world, and climb higher forevermore
While my time is done, and I cannot do more,
I'm telling to take the wheel and live life by the horns.

4
You're my little ham, bringing the funny to any situation.
Today is your birthday that gleam in your eye make the world seem a lot nicer.
With your trains and your planes,
Play on as the world keeps spinning, you are my grandson and today is your birthday.
Have a good day.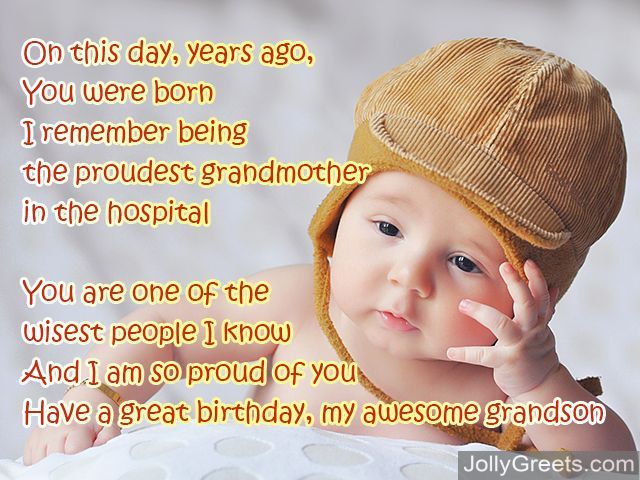 5
Here some cake to help make your day a little sweeter.
Here is some balloons to bring out the party in you.
Here is the puppy you've wanted so much.
Today is your birthday we should go all out, you are my grandson and today is for you. Love Grandma.

6
You're a big boy this year,
I'm so happy I'm here to see you grow and transform today.
Today is your birthday as exciting as can be,
Another year has passed since the day you were born, and I am so torn to see the years fly by so fast.

7
Your once little hands
Your once tiny feet
Your wide eyed innocence
It is no more
I used to think, that as you grew older I would be sad
But I can now say that sadness has never crossed my mind watching you grow
I am bursting with pride watching you become a man right before my eyes
I hope you have a wonderful day, full of laughter and happiness on your special day.
8
When you were young
I had dreams of all that you would become
And now, as you grow, as you become your own man
I know that I was wrong
You have become
All the things I could have imagined and more
You are so impressive, you make all our jaws drop to the floor
Don't ever stop learning, don't ever stop growing, happy birthday dear boy! We love you!
9
Little boy
You're growing so tall each and every day
Long gone are the days
Where I could set you on my lap
And kiss your sweet head
Or tuck you in at night and put you to bed
No, now you are growing
Into a young man
And I wish you all the love and happiness
That this old man can
I love you dear boy, and no matter how old you get
Don't you ever forget, that to me
You will always be the little boy that looked up to me
10
I remember the day your mother
was born clearly
But your birth is more vivid in my
mind
You were my first grandchild and
grandson
I love you dearly
I want to wish you a happy birthday
My sweet grandson
11
On this day, years ago,
You were born
I remember being the proudest
grandmother in the hospital
You are one of the wisest people
I know
And I am so proud of you
Have a great birthday, my
awesome grandson
12
I remember the days
I used to babysit you and spent all
day baking cookies
You were a sweet boy and you
turned into a charming man
I want to wish you a happy birthday
and a great day today
13
My grandson is such a big boy now.
I bless God every day for your life.
You are so much like you father
and I always pray that you become
greater. Happy birthday grandson.
14
The first birthday is such an important
birthday. So this birthday is so
important to us and I wish you a
long life and prosperity my first
grandson.
15
Happy birthday to my own grandson,
I am so proud of all the achievement
you have had. You can only be
appreciated on your special day.
16
Your birthday is a perfect day
To show how much I care
And say how much you're really loved
And how I will always be with you there
I am so very proud of you
And all that you have done
You are so very special
You are my grand-son
Happy Birthday
17
I send this birthday message
With hugs and kisses to
And all the love in the world
Especially for you
Because today's your birthday
And even though you're far away
I want you to know you're thought about
Every single day
Happy Birthday
18
You deserve the very best
Lots of play, time to rest
Hugs and cuddles on my knee
Birthday wishes for you from me
And on this very special day
Gifts and cards will come your way
Lots of love and a special toy
For my Grand-son, the birthday boy
Happy Birthday
19
To my little grandson
I wish for you the day
that's full of cake and ice cream
and lots of friends to play.
Today you're one year older
and my how you have grown.
You can finally reach the cake
and the candles you have blown.
20
Dressed in a bright blue jumper
with cheeks a rosy red
your voice is full of laughter
at the icing on your head.
Your fingers are all sticky
and your chocolate is smeared
so glad our grandson is happy
to celebrate another year.
Happy Birthday Grandson!

21
We watch you as your growing
into a little man
that walks and talks and understands
and the things he can.
As we celebrate your birthday
with candy, cake and cheer
we sing about your favorite things
and presents that are here!
Happy Birthday Grandson!

22
To be a grandfather
to such a wonderful grandson
is a blessing.
To speak with you
and watch you grow
is a joy.
To have you here
within my sight
is a lesson
of how even a full heart
has the capacity
to make room for one more boy.
23
You were so tiny when you were born
and as I look at you now,
I still see the small boy
who laughed and raced around
and hugged me so tightly.
You have come so far
and I am proud
to have you as my grandson.
Happy birthday.
24
To become such a fine young man
is a feat that goes beyond me.
It has been beyond my control
since you began to grow,
but you have taken it in stride
and I am so proud
to call you my grandson.
Happy birthday to you.
25
Happy birthday
My wonderful Grandson
Have a wonderful day
With lots and lots of fun!
You've grown up so wonderfully
And I couldn't be prouder
Of everything you've done
Happy Birthday! We'll all shout louder
So everyone knows that today is the day
To celebrate my grandson, on his birthday

26
I hope, my grandson, that all your wishes come true
Especially today, on your birthday, you know I always knew
That you'd grow up brilliantly, so smart and so brave
And just look at you, soon you'll have to shave!
Time goes so fast, just watching you grow
You'll continue to flourish, oh I just know!
Happy Birthday!

27
Being a grandparent is really the best
To get to watch a child grow
And I just get to be proud
And I just get to know
How wonderful you are
How wonderful you'll be
And let me tell you
Between you and me
You are wonderful, and today
Have a very happy birthday!

28
Happy Birthday, sweet grandson
My pride and my joy
With each year I can tell
What a wonderful boy
That you are becoming
And already are
Cause I know that you're special
And will go very far

29
Grandsons are gifts
That are sent from above
To spoil with kisses
And shower with love
So on this fine birthday
I hope you have a great day
And create many memories
That will be here to stay

30
Another year passed
Another year older
As my precious grandson
Grows both bigger and bolder
Happy Birthday to you
Happy Birthday my dear
I hope you have yet another
Wonderful year

31
Happy birthday my dearest grandson
Today is your day
Go out and have fun!
If you're hoping for money
In this card there is some
Now enjoy yourself with all of your friends
This is just one of many until the end!

32
Make sure to make a wish as you blow out your candles
I hope that this card ends up on the mantle
So here is to you on your special day
Enjoy it all in every way
Happy Birthday is all I can say!

33
Happy birthday to my handsome grandson
I hope that you day is full of cake and fun
And presents and gifts and balloons and laughter
And that you're still alive and while when it is after
Here's to you and another year
I hope that it is filled with joy and cheer