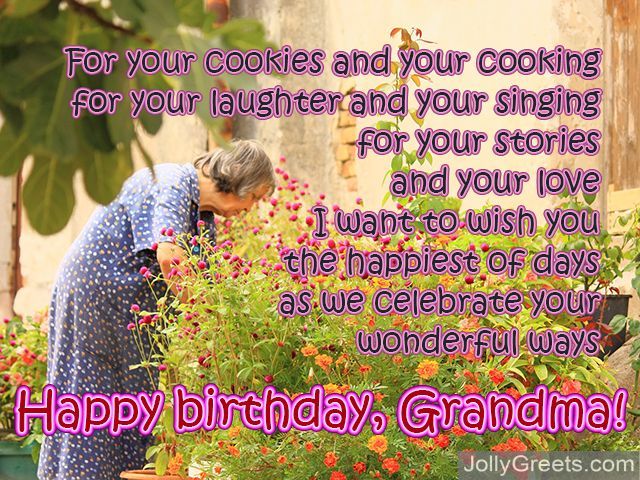 Grandma's always hold a special place in our hearts and play an important role in our lives. From freshly baked cookies to quality life advice, our grandmas give us more than we realize. Take this opportunity to show your grandma just how much she truly means to you. Make this birthday special by choosing one of these unique, touching, heartfelt poems to wish her well on her special day. These poems range from humorous to sentimental, capturing every message that you could want to send to your grandma on her birthday.
1
Happy birthday dear grandmother,
You truly make us better
You love us, watch us, and spoil us—it's true
We think you're the greatest and coolest, too.
We wish we could do all that you do for us,
So we got you a card, and hope that, maybe one day, we can be like you.

2
You've always been there for me,
You're a bright beacon of light, for all of us to see
I love you so much—I hope I can be that bright,
To be like you, and bring out our light.

3
Another year goes by,
People go away and say bye
But you're always there.
We can always be a pair
So have a good birthday, from you to me,
Be the great person, for all the world to see!

4
Happy birthday to a lady who is worth more than gold,
You haven't been told how much we hold you dear to our hearts.
Today we will start loving you more because you are just so grand,
We have a plan to let you know how we love you so,
And today we start anew with all the good things to do.
Happy Birthday Grandma.

5
On a day as grand as this, there is none as grand as thee;
On a day such as your birthday, you must celebrate it so as to capture how grand you are.
We love you dear grandmother, we love you more than the grass is green,
And we love you more than the stars in the sky.
Happy Birthday Grandma

6
From words of wisdom, to laughter of youth: From smiles of joy, to tears of pain.
You are the one who keeps us sane, and today on your birthday we want to know
All that you do is why we love you.
You are appreciated and loved in all of your glory.
Happy birthday Grandma, we love you so much.

7
Age is just a number
You still smile like a baby
Wonder like a child
Are crazy like a teenager
And dance like you're in your twenties
Don't ever stop being you
The years come and they go
But you have, and always will be
My favorite contradiction
My favorite ball of fire
Happy Birthday Grandma, I love you!
8
You're not old,
You're vintage
This just means you're getting better
It just means you're gaining value
Aging like a fine wine
Getting wiser and more complete
It means that you've seen everything
And done it all
It also means trouble if you fall
But don't fret, don't you worry
We'll still get to celebrating in a hurry, but,..
It also means we can't use an exact number of candles on your cake!
We love you grandma, happy birthday!
9
All of this,
All of them, they started with you
You are the reason we sit here today
To laugh and love and learn and play
If not for you, I would have no birthday
I wouldn't exist
You started all this
And I couldn't be more grateful to you
For giving me this family, this love, and this life
Today we celebrate you, and all that you are
I love you grandma!
10
Many years ago a wonderful woman
was born
A woman I used to bake cookies
with
And even now, we still have a great
time together
Despite our age difference
I want you to have a happy birthday
Gran
11
To my sweet grandma, who taught
me everything
Although you are not as young as
you once were
You are still able to outshine me
despite the fact that I'm younger
You are the sun in our lives and we
love you
12
Happy birthday to the wisest and
sweetest person I know
This day should be the best and
you do the things you like
Just seize the day and follow
where the wind takes you
Have a special birthday today
grandma
13
Grandma, when I see you I thank
God always for your health and for your strength. May you never go weak.
14
You cook for me not minding your
age, you do not mind doing things
for me despite me being stronger.
15
You have shared your experience
with me several things and they
have helped me make great decisions.
16
Grandma you are so special,
There's no one quite like you,
You always know just what to say,
And always what to do.
And so today's your birthday,
And I am very blessed,
To have you for my Grandma,
You are the very best!
Happy Birthday Grandma
17
Fairy buns and cherry scones,
River walks and skipping stones,
Through the forest, for a walk,
Sit for ages, just to talk.
Learned to knit and sew with thread,
Story time, tucked up in bed,
These memories forever mine
I love you Grandma, for all time.
Have A Happy Birthday!
18
I love to visit Grandma
She likes to play and sing
She takes me to the park
To push me on the swing
She always has a smile
And a pocket full of sweets
She makes the most amazing cakes
And other delicious treats!
Happy Birthday Grandma
19
From you I have learned
All the secrets of life
how to bake cookies
and be a good wife.
To me you are a miracle
of wisdom and charm,
the strength of a woman
growing up on the farm.
You teach me the values
that you hold so dear
that life is wroth living
and there is nothing to fear!
Happy Birthday Grandma!
20
You are the time keeper
to all I've not known,
teaching me lessons
since I have grown.
I wish to be like you
as I grow older
to keep a warm heart
and never let it get colder.
I'm so happy to have you
so close and so wise
and for many more birthdays
to bring tears to our eyes.
Happy Birthday Grandma!
21
Our bond is unbreakable,
oh Grandmother dear,
and we grow even closer
with each passing year.
Our life is full of memories;
those of brunches and of songs,
telling our tales
and laughing along.
You grow so refined,
full of wisdom and laughter,
elegant beauty
and a sweet ever after!
Happy Birthday Grandma!
22
Grandma,
for once, sit down and rest
in your favorite armchair
and let the rest of us
cater to you.
Let us cook dinner
and bake cookies and cake
and spoil you with gifts.
And meanwhile,
tell us stories that we haven't heard
or have forgotten
about the time before us
of memories you never get to share.
On your birthday, Grandma,
let us show our love for you.
23
God gave us a saint
when you created you
out of love and kindness
and the scent of gardens.
You have the soul of an angel
and the laughter of a bell.
God bless you on your birthday.
24
For your cookies and your cooking
for your laughter and your singing
for your stories and your love
I want to wish you the happiest of days
as we celebrate your wonderful ways.
Happy birthday, Grandma!
25
You've always been there for me
Since I was born
There to pick me up
Whenever I was worn
There's a special kind of love
Between grandmother and grandchild
That we've always shared
Through the tough times and the times we've both smiled
Happy Birthday!

26
A woman so wonderful
With sophisticated grace
With a great sense of humor
And a beautiful face
A woman like wine
Getting better with age
Whose love is important
With the wisdom of a sage
Is obviously my grandma
And today of all days
Is to tell her she's special
Happy Birthday!

27
My grandma is the best
And you'll never convince me otherwise
She's wise and she's wonderful
And she definitely takes the prize
Of best grandmother in the world
I just have to say
That no one will ever beat her
Especially on her birthday!

28
Grandmas are repositories
Of knowledge
Of life
Sharing stories
Of substance
Of lessons
Of strife
With each year
And each birthday
They get better with age
Starring actors in society's
Play on the stage

29
Happy Birthday, dear Grandma
Happy Birthday to you
Whose heart and whose mind
Are fair and are true
Whose care and affection
Are unparalleled
And whose capacity for love
Cannot be held
Happy Birthday, dear Grandma
Happy Birthday to you
Celebrate the amazing
One that is you

30
Another year gone by
Another birthday and cake
Another day of surprises
With joy left in its wake
Happy Birthday, sweet Grandma
Happy Birthday today
May this upcoming year
Be full of laughter and play

31
Dearest grandma
Today's your day
Enjoy it wisely
And I want to say
Thank you for all that you have done for me
I hope your day is filled with glee
You've aged gracefully,
And have still much more to see

32
Oh my dearest,
My lovely grandmother
Thank you for everything I need
And everything other
You've given me a lot,
But most importantly is the spot
In your heart that you've kept me
For all of these years
And the many more to come

33
You're wisdom is only surpassed by your timeless beauty
Of all the gyms, you're the ruby
Shining strong, and never failing
A warm light you can count on
Through joy as well as ailing
Happy Birthday Grandma
I hope this day is as special as you are