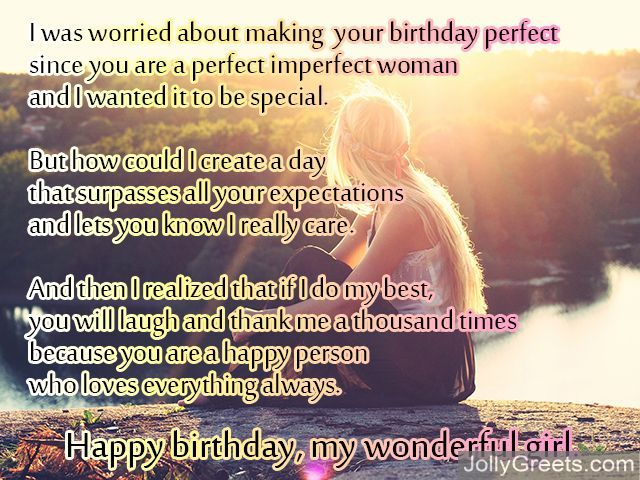 Birthday poems for girlfriend: Birthdays are an important time to celebrate life and let the birthday girl know that you're thinking of her and you're glad she's around. But a girlfriend deserves more than just a store bought chocolate or flowers. Give your special woman the gift of words. Choose one of these poems to tell our girlfriend happy birthday, celebrate her life, and let her know how much she means to you.
How to Create the Perfect Card - Examples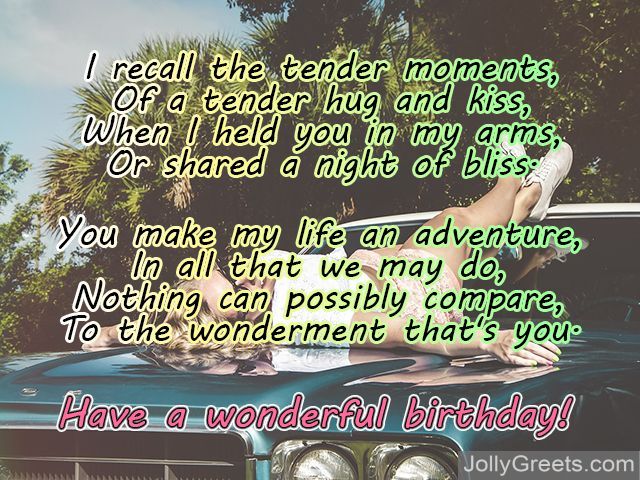 1
You're the prettiest girl around, your happiness always leave me dumbfound
I love being around you, you're the best thing I've found.
Today's your special day, I love you so much
My life is always brighter, brighter with your touch

2
Today's your special day,
I want to make it yours, say
You surprise me in ways unknown, don't you see?
I wanted to surprise you, a gift for you from me.
Have a happy birthday!

3
When I feel down, you're always there,
To lift me up, to throw me in the air.
It's your special day,
And I can't help but to say,
I love you so much, don't you see?
Have a happy birthday, for you from me.

4
On a day such as this there is only one thing I could say
that wouldn't even come close to saying how I feel about you. I love you.
You outshine the sun, you flatter the moon,
You break all the star's little hearts as they shoot across the sky for you.
Today is your birthday it is all just for you and I hope all your dreams will come true.
Happy birthday babe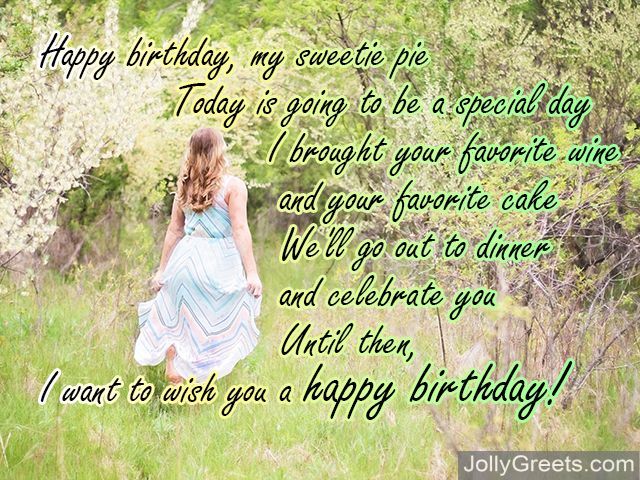 5
There are a million different ways to say happy birthday, but I can only say one.
For the other 9,999 ways will take up too many pages. So I wrote this little poem,
I spelled it all just for you: Roses are red, violets are blue, I bought them both for you just because.
Happy birthday honey.

6
Today is your birthday, it is finally here, and I love you so much I could practically cheer.
Your face is so beautiful it lights up the room, instead of balloons, why not a ring?
Happy birthday oh baby, won't you marry me?

7
My darling, my love
My gift from up above
Today is your day!
And I couldn't be more thankful for you
Your beauty and wit
Are clearly unmatched
I can't imagine a life without you in it
I hope that today you smile more than yesterday
I want you to know I am so glad you are here
I feel so lucky that I get to call you mine
I'm wishing you the happiest of days today and many more to come.
8
Today is to celebrate you and all that you are
Your smile is contagious,
your laugh infectious,
your kindness unmatched,
your beauty intoxicating
And your taste impeccable.
I can't believe I'm lucky enough to be with you
You are everything I could have wished for and more. I'm grateful for everything you are and do, happy birthday my darling! Here's to you!
9
You're beautiful
You're fun
You're witty
You're generous and kind
You're hilarious, and did I say pretty?
You're genuine and warm
You're everything good wrapped in one
I can't believe you're with me, I can't believe I won
The relationship lottery
I really am lucky
Happy Birthday to you, you're everything that's lovely.
10
Today is your special day and I
hope it is as great as your heart
Although you have grown older
Your spirit is still the same as the
girl I felt in love with years ago
Happy birthday my sweet girl
11
Happy birthday, my sweetie pie
Today is going to be a special day
I brought your favorite wine and
your favorite cake
We'll go out to dinner and celebrate
you
Until then, I want to wish you a
happy birthday
12
On this day, you entered the world
And years later, I entered your life
I want your day to be the best
And I hope everything goes your
way today
I love you and I can't to celebrate
with you
Happy birthday
13
it is my baby's day. The only angel
of my dreams, my future wife and
the future mother of my unborn
children. Have all the fun you can
have today.
14
Baby, I want to use this special day
to say how special you are to me.
I have never regretted having you as
my babe rather I look forward to
when we will always be together.
Happy birthday my damsel
15
I have had many failed relationship
but with you, I don't see failure
because we both make it happen.
I love you so much and I will
give you the happiest birthday ever.
16
My hands caress the sweetest face,
My heart beats fast, begins to race,
My lips bestow a tender kiss,
My arms embrace my true life's bliss.
And on this day that's yours alone,
My love for you I will make known,
Your hearts desire, mine to create,
Let's have some fun and celebrate.
Happy Birthday!
17
You are the perfect one for me,
The sweetest love that there can be,
You hold my hand, you help me grow,
You are the one for me I know.
Everything we do, we're hand in hand,
As we prepare all we have planned,
In all I do and all I say,
This comes with love on your birthday.
Have a wonderful day!
18
I recall the tender moments,
Of a tender hug and kiss,
When I held you in my arms,
Or shared a night of bliss.
You make my life an adventure,
In all that we may do,
Nothing can possibly compare,
To the wonderment that's you.
Have a wonderful birthday!
19
To you, my love I would give the world
on a silver platter.
To you, my love, I would swim the sea
just to hear your laughter.
For you, my sweet, I would pull the moon
down from its cosmic lap.
For you, my sweet, I'll give my heart
to never ask it back.
Happy Birthday!

20
To me you are the everything
my body needs to thrive.
You are the air my lungs will breathe,
the song that's on my mind.
To me you are the universe
in which our tale doth play,
and the tender heart from which I sing
to wish you Happy Birthday.
21
I wish to sit you down, my dear
and wash your pretty feet,
pick you balmy flowers
and feed you chocolate sweets.
You are my precious loved one
to whom I wish to show
just how you should be treated
and how my love will grow.
Happy Birthday!

22
With all the joy and love
that matches your ways,
I want your birthday to be perfect
just as you are every day.
Love of my life,
the light of the world,
enjoy your special day.
I love you, my girl.
23
To the girl I am so happy to call my own,
to the woman I dedicate my days to,
to the one I love with all my heart,
I wish a happy birthday to you.
You deserve a day that is as sweet as you
and as whimsical as it can be
since you have the biggest heart I know
especially since you tolerate me.
Happy birthday!

24
I was worried about making
your birthday perfect
since you are a perfect imperfect woman
and I wanted it to be special.
But how could I create a day
that surpasses all your expectations
and lets you know I really care.
And then I realized that if I do my best,
you will laugh and thank me a thousand times
because you are a happy person
who loves everything
always.
Happy birthday, my wonderful girl.
25
My wonderful girlfriend
Was born on this day
I'll shout to everyone
Hey it's her birthday!
Everyone should know
How much I love you
That today is amazing
Just because of you!
Happy birthday my love
And don't forget
Just how much it is that I love you

26
Today is a day to celebrate
The day my life was changed
Because today is the day
My lovely girlfriend was born
I didn't know it then
Hey I was barely alive
But you changed my life forever
So happy Birthday

27
Happy Birthday to a wonderful woman
One who's so special to me
Who's turned my life around
Just look and you'll see
Right there and the mirror
And you'll know
That your true beauty
Look there, it is so!
Happy Birthday my love

28
Happy Birthday to the girl
Who's always on my side
The sunrise to my sunset
The Bonnie to my Clyde
The girl who's my compass
The east to my west
Who always keeps me working
To just give her the best

29
Happy Birthday my sweetheart
Happy Birthday my love
I know heaven exists
Because you fell from above
So many years prior
On this special day
A gift from the angels
To take my breath away

30
More than just a woman
More than just my girl
You're the center of my universe
The focus of my world
And today is extra special
A day that's just for you
Happy Birthday to my light
That turns gray skies to blue

31
To my dear
My one true love
My angle sent to me from above
My love for you runs strong like a river
Burning so bright it can make me shiver
I didn't know I could ever feel this way
I love you forever, more every day

32
You are the one
Who's shown me the light
The way to love
And how to live right
You've changed the way that I see the world
My love, my love
My beautiful girl
Together we stand
Forever, hand in hand

33
I remember when we first met
The nerves the excitement and the anxious sweat
From then I knew that I wanted to be with you
To make you mine and be yours to keep
My love for you runs infinitely deep