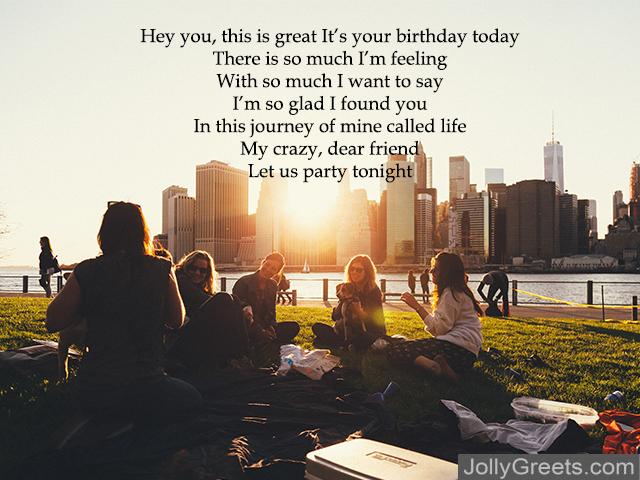 When it comes to your friend's birthday, you don't want to skimp out on the words that you use to tell them you appreciate them. Check out these posts and you will find that there are various ways to tell your friend that you are happy they are around on their birthday. Don't wait to discover the many ways that you can express your happiness concerning their presence in your life. Another birthday means that they have been able to be around in your life for another year. Never take that for granted, as not all people are as lucky. Find something here that is going to pull at their heart strings and is going to want them asking for more beautiful words that are full of expression. Keep your eyes open and your heart full as you skim through the pages to find what you are looking for. When your heart is full your mind will be in the proper place to find a poem that matches the very messgage that your friend is wanting to recieve for their birthday. With this combination of mindset and heart-set, you will discover that the words that you give to your friend will bring even more meaning than you previously thought they would.
How to Create the Perfect Card - Examples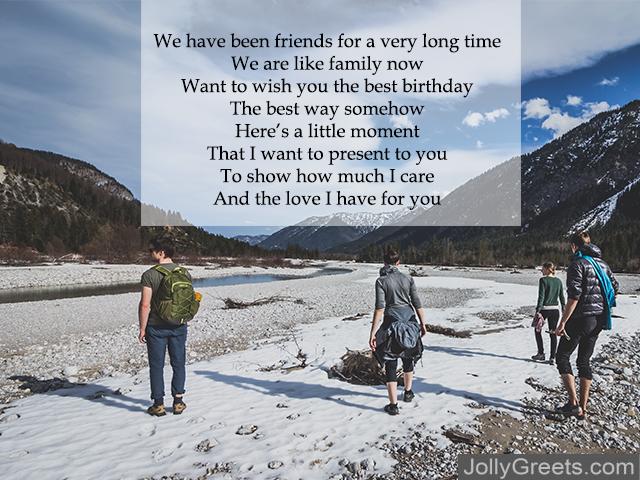 1
It's your birthday, whoohoo hooray
I've been waiting for this, such happiness I feel
Experiencing a memory with you like this
I need to say thank you, to your mom
For her giving you to me
Happy birthday to you my friend
Let the party began

2
Hey you, this is great It's your birthday today
There is so much I'm feeling
With so much I want to say
I'm so glad I found you
In this journey of mine called life
My crazy, dear friend
Let us party tonight

3
We have been friends for a very long time
We are like family now
Want to wish you the best birthday
The best way somehow
Here's a little moment
That I want to present to you
To show how much I care
And the love I have for you

4
You have always been my guiding light
A true friend even though sometimes we fight
You have been with me through the bad times
You have celebrated with me in the good ones
You are not just my best friend
You are my family
Happy birthday buddy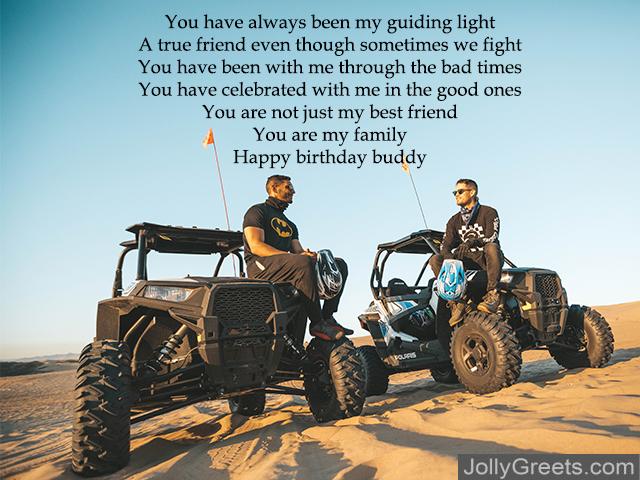 5
On this merry day
We mark a special day
On this very day
A true friend was born on a rainy day
So let's join in song and dance
And give this special person a chance
To celebrate his lovely birthday

6
If life was a song then you would be the lyrics
For what is a man without his friends
You bring me joy and give my life meaning
You make me laugh when I'm feeling sad
You've been there for me since day one
So let me take this moment to honor your friendship
Happy birthday to you

7
Happy birthday to my friend
We share so much together
The memories I have of you
Will stay with me forever
I hope that as the years pass
Our bond remains as strong
Friendship that lasts a lifetime
We will always get along

8
Let's celebrate your birthday
A mark in history and time
Memories never forgotten
You're always on my mind
A friend like you is priceless
You are the best there is
I wish for you a happy birthday
And all the love I can give

9
Birthday time is here again
Let's celebrate the whole weekend
Live it up like you deserve
Let the drinks flow no reserve
My friend you mean the whole world to me
So have wonderful and happy birthday

10
Happy birthday mon ami,
Another year for us to continue more than being friends
Another year to set and accomplish greater goals
Cheers to a new year
Happy birthday my friend.
11
Within you, I've found the perfect friend,
Someone I know will be there till the end,
And they're not just thoughts I hope will fulfill
But thoughts that will stand forever still.
Still as the wind on a hot summer's day,
Still as your friendship I'll never betray,
Still as the characters in a photograph,
Still as your breathless, silent laugh.
Within you, I've found the perfect friend,
A mind that I can comprehend,
A person I see is so much like me,
A mutual relationship so carefree.

12
So many people live around you,
But not all get close to your heart.
Some become so dear
That with their thoughts, its beating starts.
You are the one to whom
I'll give my care to the most.
Your absence makes me feel in life,
As if everything is completely lost.
Your birthday was in my mind,
Wishes though I couldn't convey.
There were so many hurdles
Standing tall in the way.
I have prayed for your good life
And mental peace with good health.
The rest of things are just temporary,
Only these will be your real wealth.

13
Another trip around the sun.
Another school year done.
Another New Year's resolution made;
Another flower bud bloomed.
Another anniversary down,
Another drive around this town,
Another season comes to an end.
Another prayer is said.
Another day has come and gone,
Another light is switched on.
Another birthday has passed.
Another year is added.

14
Friendships come and friendships go,
But ours has passed the test.
Time may pass but I always know,
I can put you up against the best.
You're always there for me,
This I know.
So, surprise!
I bought us tickets to see your favorite show.

15
Birthday cake and flowers,
Decorating your cube,
Lots of colorful balloons,
And streamers too.
Not having to lift a finger,
And getting free dessert,
Lots of Facebook notifications,
And text message wishes.
A phone call from your mother,
A present from your boss,
Some cards in the mail,
And a whole lot of love.

16
Happy Birthday!
Everyone is here to celebrate your day.
Here to thank you for existing and being apart of this world,
here to thank you for all the joys that you bring.
Your birthday is a great time for you, family, and friends.
17
A very happy birthday
from me to you.
From all of your friends
And your family too.
We got you presents,
We got you a cake,
Just sit down, enjoy,
And take a break.
From all those you knew,
Happy birthday to you.
18
It is your birthday
A fun time for us,
Both you and me.
A time to remember
The day you were born.
A great time
To celebrate you without scorn.
I enjoy this time being with you,
I appreciate all that you do.
19
Happy Birthday, my friend
You serve me well.
And so I hope your birthday is swell.
You are there for me, when I need
You the most.
Of you, today, I will surely boast.
I am wishing you the happiest of days.
You and I will be best friends, always.
20
Today is your special day,
Don't let it pass you by
Without giving thought
To your reason why
You are still here on this earth
For a purpose greater than yourself
Make this day count towards your future.
Ensure that you are all that you can be.
21
Today we celebrate
A very special day
At the moment of your birth
The essence of joy walked in
Continue on your path
I am excited to see where you go
You are walking on good ground
Everywhere you go.
Happy Birthday, friend.
22
I wish I were a baker so I could bake you a cake,
a painter to make you a card. Or a gardener to
grace your table with bountiful blooms.
Instead friend I send birthday wishes.
That is something I can do.
23
Cheers to you- its what we do!
On this day which some may dread I find it best
to let it rest- and bask in being you.
Happy Birthday to a friend who I could not do without.
May your years ahead bring joy.
24
Friend,
We gather today to celebrate you.
How honored I have been to know you as you age.
Each year of friendship I hold dear.
That your birthday is a treasure
which brings you unfathomable joy.
Happy Birthday to you!
25
Friend you're with me through thick and thin; With you by my side, I can always win; You've got my back, and I've got yours; Together, we can open doors; We can face most anything; Thank you, friend, for all that you bring! Happy Birthday!
26
On your birthday, friend, you must know; I'll treasure you always; I'll be with you wherever you go; Through all our nights and days; You cheer me up when I'll feeling down; And tell me I'll be fine; So let me take you on the town; so we can wine and dine; I hope this special day will bring; Your every heart's desire; Now it's time for us to sing; And drink beside the fire!
27
Friend, another year is gone; How fast the time flies by; It seems like only yesterday; We caught each other's eye; In those years hence, you've listened well; To all my tales of woe; You've shared my utmost happiness; And basked within my glow; I'll never meet a friend like you; Regardless how I try; I'm glad that you are in my life; Forever, you and I!
28
On your special day
I am grateful for our friendship
And all that you do
To show that you are a true friend
You go above and beyond for others
With a bright smile on your face
Today, please take some time to celebrate yourself
Happy Birthday

29
Whenever I need someone to talk to
You are the first person I call
Because I know that you will answer
Always there to catch my fall
My very best friend
I know that you will
Be here till the end
Never have you let me down
You told you hate to see me frown
Your friendship is a gift to me
Your wisdom and love set me free
Wishing you a happy birthday

30
Today is a day
To celebrate you
The anniversary of your birth
There's only one thing to do
Pop open a bottle
Of your favorite champagne
We will cheers to your growing age
As you get older
It is beauty and wisdom that you gain
You age greatly like a fine wine
Oh how I love
This best friend of mine
Happy Birthday

31
a friend like you
is hard to find
a day like today
is only true
the older you get
the more i love you
from here or there
i'll shout ten thousand miles
happy birthday my friend
let's yell and go wild
32
a laugh here
a smile there
a high five
a jump in the air
candy and streamers
cards galore
a pizza a bbq
a dance a party
for two
birthday cake
and sodas
movies all night
a happy birthday to you
33
a friend like family
a love i can't express
the bad days behind you
look to the best
all sunny no clouds
because your the best
a friend, a bestie , a pal
my partner in hijinx
my friend for so long
i love you today tomorrow
it's true
happy birthday my friend
i love you
34
One more Year
I'm wishing you one more year
Of chuckling, bliss and fun,
Astonishments, love and bliss,
Also, when your birthday's finished,
I trust you feel somewhere down in your heart,
As your birthday celebrations travel every which way,
How especially you intend to me,
Beyond what you can know

35
Once a year I find the opportunity
To wish you birthday cheer.
It satisfies me no closure to state,
I wish you another incredible year.
So cheerful birthday to you (name),
Also, may your great occasions duplicate,
Till they're taking off the chart!

36
Bright Joy
On your birthday,
I'm contemplating how much light and shimmer
you uninhibitedly administer wherever you go,
how your bright grin illuminates any social event.
Each birthday denotes one more year
of you emanating positive, cheerful vitality,
infectious joy
that contaminates all who interact with you.
May your next birthday discover you the equivalent –
gleaming from inside,
radiating splendid bliss on everybody you meet.
I feel honored to know you