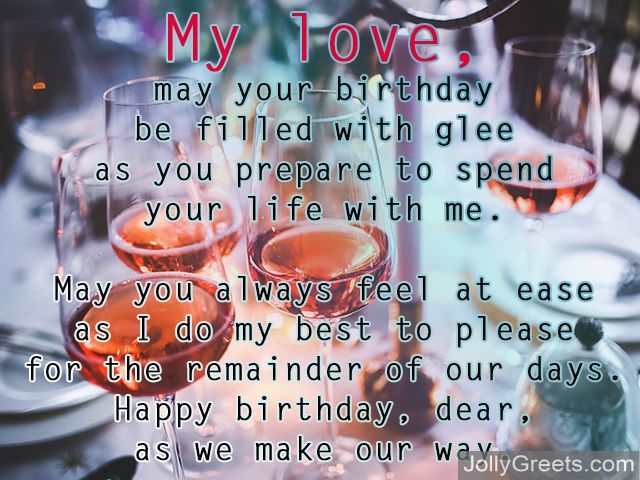 Birtday poems for fiance: When the time comes to wish the one you love most a happy birthday, it is sometimes difficult to decide what gift would be best. It is a difficult task to encapsulate all the love you feel, and let this person know how much happiness they bring into your life. I know that it might be easy to send flowers or candy, however these gifts have been done before, are boring, and do not remain. Flowers wither and die, and candies are eaten and forgotten. Words however, will always remain. So don't opt for the "easy out" gift. Write your future wife something that she will cherish for the rest of her life. Think of all your favorite memories, think of all the things that will make her smile and put them to paper. She will love and appreciate the time and effort you put into a thoughtful, loving, and oh so special gift. Read from these poems and choose something that tugs at your heartstrings. Choose something that shows you fiance how much you care, and how deep your love for her runs. You are going to spend the rest of your life with this woman, so take time to show her that you still care as much as the first day you met her. There are a lifetime of birthdays left to celebrate, but every single birthday, every occasion, is special for someone that you are going to share your entire life with. Give her a gift that will last as long as your love.
How to Create the Perfect Card - Examples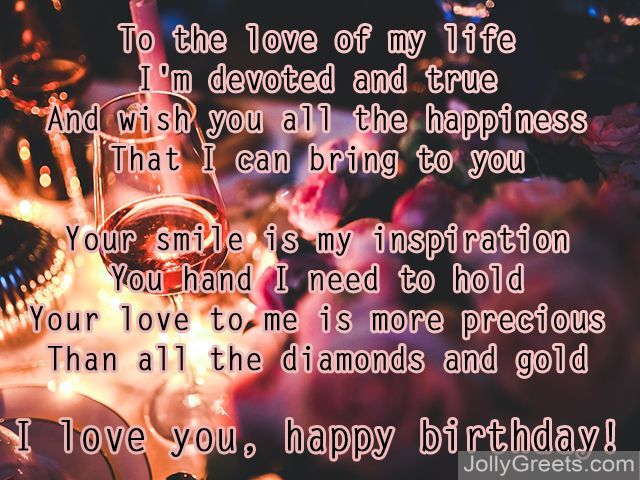 1
Hey baby you're my everything,
I want to spend every minute with you
We might tie the knot soon,
But I just want you to know how crazy I am about you.

2
It's your special day, it's crazy.
I hope I can make our wedding day just as good,
When I think of you, I get all giddy
So have a wonderful birthday, and I'll see you soon

3
Where did all the time go? It went by so fast,
I want to stay with you, make every minute last,
Soon we'll be together, never to be apart,
We'll grow old together, until we're both old farts

4
To the one who I love
this day is for you.
You are so special to me and
I hope that you know I love you so,
Today on your birthday I greet you with a kiss.
To help you know that I love you so. Happy birthday my dear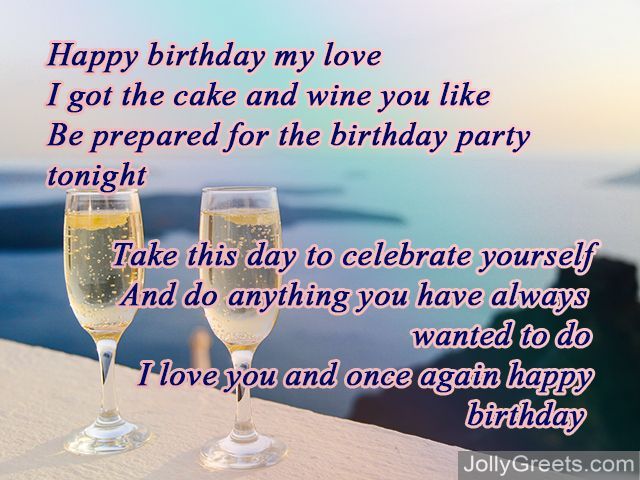 5
I baked you some cake, to help your day be happy and fun as could be.
Your birthday is here, oh it's finally here and I want this day to be fun.
To start it all off I want to what you think about this question.
Will you marry me?

6
The world was changed today, because it met you.
I hope you know how special you are and how happy I am that your mine.
Please have a great day, know that I love you so very much.
Happy birthday.

7
This year for your birthday
I will give you my heart
I will give you my soul
My mind and body
I want to give my all to you
You are my everything, my all
And on this, your special day, I want to take the time to say
That I love you more than I thought I could love anything
You are so special to me, and I appreciate everything that you are, and I can't wait to grow old with you.
8
Another year older
Another year wiser
Another year more beautiful
Today I get to celebrate my favorite person in the world
You are my best friend, my lover, my favorite way to spend a Sunday afternoon
I love you so much, and I feel like the luckiest person in the world
I get to share every holiday, every birthday, every part of my life with you
Happy birthday my love, my heart.
9
My love, today is your day
We celebrate you now,
It's a day to celebrate your smile
And your laugh
Your passion and warmth
Your winning charm
Your quick wit
Your gentle encouragement
Your curious mind
I am so lucky, I get to call you mine
I cannot wait to spend every birthday from here on out with you
I love you my dear, here's to you!
10
I feel honored to celebrated this
joyous day with you
As we prepare to spend the rest of
our lives together
I want to spend every birthday with
you
I hope you like my gift
Happy birthday, my sweet love
11
Happy birthday my love
I got the cake and wine you like
Be prepared for the birthday party
tonight
Take this day to celebrate yourself
And do anything you have always
wanted to do
I love you and once again happy
birthday
12
It's your special day
Today you turn another year older
And I hope to be there as you
grow older
May your day be as precious as you
Tonight we are going to have a big
celebration
Happy birthday dear
13
I look up to every birthday of yours
like it is mine because you are a
part of me and I will celebrate when
you celebrate and cry when you cry.
14
I am ready to spend every of your
birthday with you. Not only your
birthdays but every day of the year
and to make every day special.
Happy birthday my love
15
More than you care for me on my
birthdays, I want to care for you.
Stay calm, be ready for a long ride
to paradise on your birthday, my
sweet fiance
16
To the man who wants to share my life
To the man who wants me to be his wife
This message comes with a birthday kiss
And all the wishes that you can wish
For I will make your dreams come true
For that is my only gift to you
To be forever by your side
Your love forever and your bride
Happy Birthday to my Fiance
17
Our love is forever
Our love is true
I know you love me
And I love you
A love like ours is hard to find
You're sweet, caring and very kind
Which is why this message comes your way
To wish you a happy and loving birthday
Happy Birthday to the Man I will Marry
18
To the love of my life
I'm devoted and true
And wish you all the happiness
That I can bring to you
Your smile is my inspiration
You hand I need to hold
Your love to me is more precious
Than all the diamonds and gold
I love you, happy birthday!
19
Happy Birthday to my love,
my sweet, my fiance.
I wish all the joy to you
on your special day!
Your face, it is so pleasant
when your hands are full
of all the gifts I have for you,
your eyes are all aglow.
20
You are my most precious gift.
You are the summer flower.
You are the song that robins sing.
You are the evening shower.
You are the sweet smell of bread.
You are the autumn breeze.
You are the music in my head
and you've brought me to my knees!
Happy Birthday!

21
My love it is your birthday
and we should celebrate
the day that you were a gift
that I someday would meet.
Today is full of gratitude
that in all the world
that I would be blessed in finding you
and that you would be my girl!
Happy Birthday!

22
Your last birthday
(before you become mine –
and I, yours –
for the rest of our days)
ought to be a merry celebration.
So come and open gifts
and let us revel for a while
as we celebrate the wondeful gift
that is you.
23
As we prepare to wed
let me kiss your head
and repeat words always said
as birthday tidings are read.
Happy birthday, babe;
let us to bed to celebrate.
24
My love,
may your birthday be filled with glee
as you prepare to spend your life with me.
May you always feel at ease
as I do my best to please
for the remainder of our days.
Happy birthday, dear, as we make our way.
25
Oh my dear love
What a day it is today
I'm thankful for today, more than any other
Because today is the day
You came into the world
And without you, I wouldn't be me
And I love you, darling, so very very much

26
Today I want to celebrate
One of my favorite days
It's a reminder that my soulmate
Is here and I have him
You're here with me, and I couldn't be happier
To have you in my life,
Happy Birthday my love!

27
I can't believe that today
Is my fiance's birthday
I love you more than anyone
I think it's time for some fun
We'll spend the day together
Just like forever
But today is all about you
We'll do whatever you want to do
Happy Birthday my love

28
Happy Birthday, my fiance
Happy Birthday, my dear
It's amazing to think
You've grown another year
So let's celebrate you
And all life's crazy ride
I can't wait for more birthdays
Where I'll be by your side

29
Happy Birthday to you, love
To the fiance I adore
You're so wonderful to me
I couldn't ask for any more
So, since today's your special day
I hope you know my love is true
Let's celebrate today together
And let's honor all that's you

30
Happy Birthday, sweet fiance
It's been another year
So let's fill your special day
Full of partying and cheer
Let's light the candles on that cake
And without further ado
We'll celebrate a life
That is honest and is true

31
Today is your birthday and soon we'll be married
I know that sometimes that thought can be scary
But as we celebrate the day of your birth
Just know that my love for you is an undying thirst
Happy Birthday

32
Today is the day that my world changed forever
God created you and made my life better
So let's take this time to celebrate
By popping bottles and eating cake
And know that now there is now break
Here's to many more upon our wake

33
Today's the day most special of all
The day you were born and left the world enthralled
You're warmth and smile can change the world
I am so lucky to call you my girl
Happy birthday, now let's dance and twirl