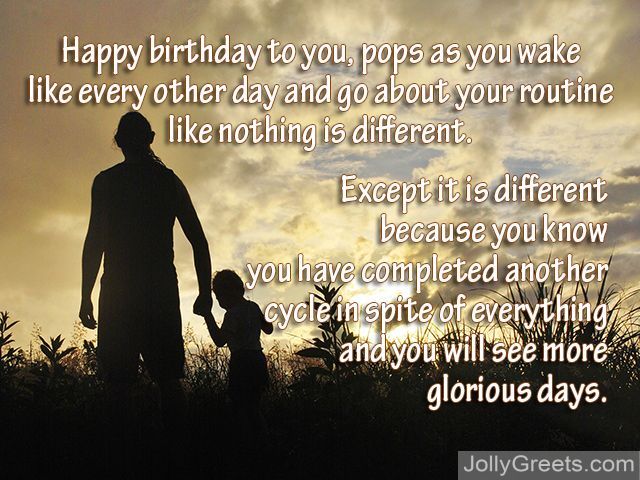 Your father is one of the most important people in your life. From teaching you how to drive a car, to how to treat a significant other, our fathers truly are our greatest teachers in life. Take this time to celebrate your dad's special day with one of these original, heartfelt poems. Nothing is more important than letting your dad just how much you really care about him, and there is no better time than on his birthday. Wish your dad well and let him know how much he matters to you by sending him one of these original
How to Create the Perfect Card - Examples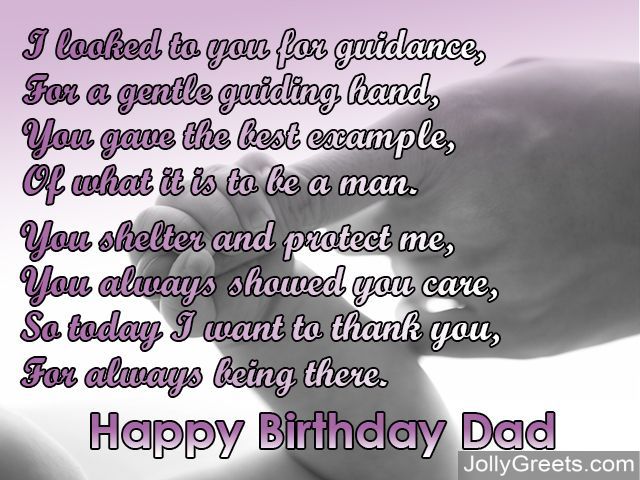 1
Happy birthday, to the best man around,
Happy birthday, to the best man to be found
He's strong smart, and good-looking, too
We love him to death, our big daddy—wouldn't you?

2
Happy birthday, from me to you,
You're the best dad around, we all know it's true.
When we feel upset, angry or sad,
He's always right there, that's our dad
Happy birthday, from me to you,
You're the best dad around, we all know it's true.

3
Daddy I love you,
I want you to know,
Daddy I love you, it really is so
Sometimes I pot, and sometimes I shout,
But you always are there for me, there's never a doubt
So have a nice birthday, from me to you,
Daddy love you, it really is true.

4
May your cake be perfect,
May your day be happy.
You are appreciated more than you know, and today on your birthday we hope that you know
How much we love you.
Happy birthday dear dad.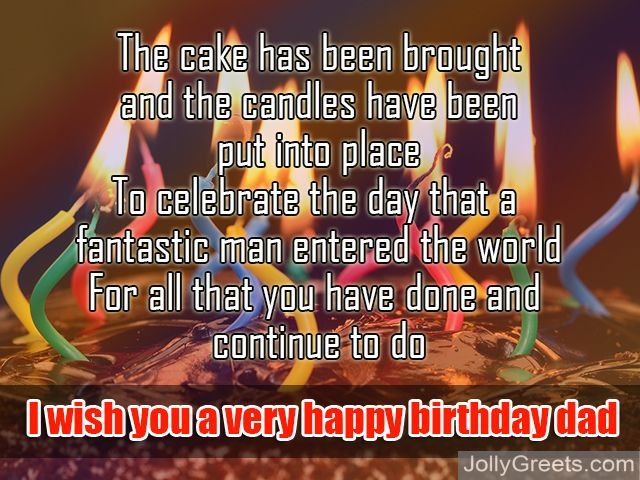 5
To the man who often gets forsaken,
To the man who is weary and heavy laden;
Today on you birthday we want you to know that we love you more than you know
Thank you for the work you do and the places you go,
To make life more enjoyable.
Happy birthday Dad.

6
Cake helps make the day so special, you and your kindness deserve a million cakes in between.
But we will just start here, because today on your birthday it's all just for you.
We hope to make it special enough just for you,
Just because we want you to know how much we really love you so.
Happy Birthday Dad.

7
I know they say that after 21
Birthdays are all down hill
They say, birthdays are just "another day"
And that Celebrating your birthday is "for kids"
Well not today, Dad
Not for you
For Today we celebrate all that is you!
Today you can relax, go ahead and hit snooze
Because today is not for working hard,
It's for saying I love you!
Another year older, and another year better
I hope you enjoy your day, as much as I know you've enjoyed this letter!
Happy Birthday Dad!
8
Dad all year long
You give and give
You work harder and love more
Than anyone could ever ask for
But today is your day
So kick up your tired feet
Take control of the remote
Sit back and relax
Today is for you
It can't be said enough, but we love you Dad!
The happiest of birthdays we're wishing for you!
9
Feliz Cumpleanos!
Joyeux Amniversaire!
Parabens!
Alles Gute zum Gerburtstag!
I can tell you a million different ways, but all I really want to say is,
Happy Happy Birthday Dad!
You gave me life, a home, and love to spare
I hope your day is free of worries or cares
Here's to another year,
With more smiles and laughter
And hopefully fewer tears
Today is for you dad, and for all of us to cheer!
10
On this day, many years ago
A wonderful man was born
This man, my hero
Who did everything he can to make
me the person that I am
Happy birthday dad,
I hope this day is as wonderful as
you are
11
The cake has been brought and the
candles have been put into place
To celebrate the day that a
fantastic man entered the world
For all that you have done and
continue to do
I wish you a very happy birthday
dad
12
Have a happy birthday dad,
As a thank you for making my
childhood birthday's the best
For renting out a bounce house
and hiring a magician
While I may have not rented a
bounce house or hired a magician,
I want your day to be memorable
as you dad.
13
My first love. It is your dad and I can
only wish you the dearest thing to
you heart. Long life to spend more
happy years to mum.
14
you gave me all I ever needed to be
successful in life, you ever provided
more than I could have asked for.
Thank you for everything dad
15
You are a great person to be emulated daddy. All husbands should leave from you, all lovers should pick up your loving skills
16
This day is very special
As I have the chance to say
Just how much you mean to me
In every single way
Dad it is your birthday
Now's my chance to let you know
How much you have inspired me
And helped me learn and grow
Happy Birthday Dad
17
When I was a baby:
You held my hand to help me cross the road
When I was a teen:
You made it clear that I could share life's load
When I was a bride:
I took your arm, you walked me down the aisle
And now it is your birthday:
I just want to make you smile.
I love you Dad – Happy Birthday
18
I looked to you for guidance,
For a gentle guiding hand,
You gave the best example,
Of what it is to be a man.
You shelter and protect me,
You always showed you care,
So today I want to thank you,
For always being there.
Happy Birthday Dad
19
Happy Birthday Father!
This is your day
to let all of your worries
just melt away!
Happy Birthday Father!
This is the time
to relax in a chair
and just unwind!
Happy Birthday Father!
Let us surround you
in chorus and cheer
to tell you we love you!

20
Today is your birthday,
and we want you to know
about all of the love
that you always would show.
You taught us the lessons
of life that are meaningful,
the right things to do
and to see ourselves as beautiful!
Happy Birthday Father!
21
Another year is here to greet you
with smiles and open hearts
of the glorious life that you live
of which we are all a part!
With great love and respect
Of the man that you are
we want to wish you Happy Birthday
from all of our hearts!

22
You're another year older
and though I would normally say
that you are not "hip"
nor are you "rad"
and that you're far too old
to talk about women,
I'll make an exception for today –
so go and be the hip ladies' man
you've always claimed to be.
Happy birthday, pops
23
To the man I have come to know
and the man I always knew;
to the one who taught me how to live
and to always speak the truth.
To the father who always loves
and the dad who always jokes,
Have a wonderful, special day,
one that's filled with hope.
24
Happy birthday to you, pops
as you wake
like every other day
and go about your routine
like nothing is different.
Except it is different
because you know
you have completed another cycle
in spite of everything
and you will see
more glorious days.
25
Happy Birthday Daddy
What can you say to someone who has always cared for you
Who has gone to every soccer game and always cleaned up after you?
The only words that even come close are I love you and today
I want to wish you a very happy Birthday

26
Dear Dad
We probably drive you crazy
We may have made you go grey
But in the end you know
We love you and it makes it all okay
We are so grateful for all you've done
And hope you know, especially today
How much we love you
Happy Birthday

27
Daddy
You have always been the best
No matter what anyone says
Today's your special day
So my present for you today is
This reminder of how much
I appreciate you
And all of the work you've done
And letting you know I love you
Happy Birthday

28
To the father who raised me
And showed me the way
Between right and wrong
Here's to your special day
All my life you've guided me
All my life you've been there
So I say "Happy Birthday"
With the greatest of care

29
Happy Birthday to you, Dad
The best man that I know
Whose wisdom follows me
Wherever I go
One thing that you taught me
Is to celebrate right
So have that piece of cake
And make tonight your night

30
It's your birthday
There's so much to do
So much to celebrate
That great Dad that's you
The great life you've led
The great life you now lead
The great things that you do
Through both action and deed
Here's to another great year
And more years to come
But if life were a contest
Then you've already won

31
Happy birthday to my biggest role model
You've taught me everything
From how to be patient
And when to go full throttle
I don't know where I would be without you
So enjoy your day, and live as you do

32
Happy birthday to the best dad ever
You're hilariously funny
And brilliantly clever
My biggest role model
In all of my endeavors
I'm so glad to have someone like you
That I can look up to
And count on, no matter what I do

33
From tossing the baseball in the lawn
And to cover a yawn
How to drive a car
And how to turn on
You've taught me everything I know today
So truly "Thank you"
Is all I can say
Happy Birthday Dad