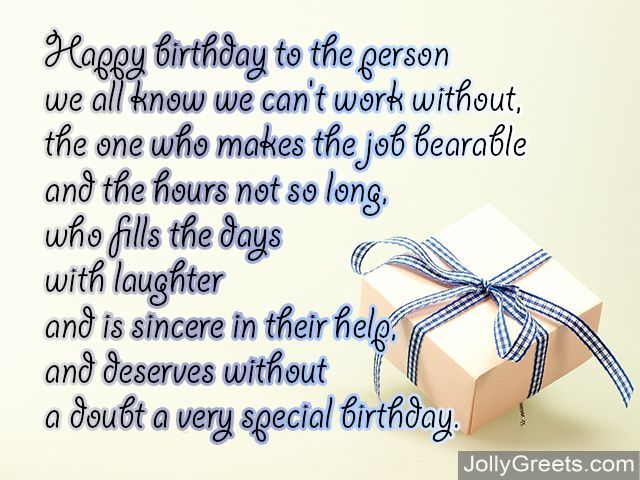 Birthday Poems for Colleagues: Birthdays are such a special time. It is a time to spend with friends and family and celebrate life, and wish well for the next year coming. Much of that time in the next year will probably be spent at work, so when your work colleague has a birthday, let them know that time will be well spent and you're happy that you get to have them in your life. Give the gift of one of these great birthday poems, especially for colleagues. These people spend so much time with you, let them know you care and give them a great, thoughtful, gift.

How to Create the Perfect Card - Examples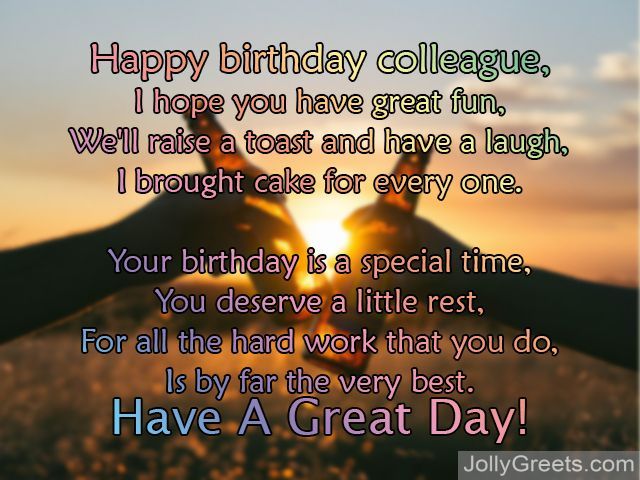 1
You've always inspired me, you help me see
When I'm not feeling good, you've always help me
Today is your special day, it's true.
So for your help, I wanted to say, have a happy birthday, from me to you

2
Your wisdom is astounding, and I've always enjoyed your time
You're my best friend here, my true partner in crime
It's your special day, you know it's true,
So I wanted to wish you a happy birthday, from me to you!

3
It's another day, another year
You've grown so much, a good reason to cheer
I can't wait, to start another year with you,
You're a great colleague, and friend, too
Happy Birthday!

4
Today is your birthday, we bring you a gift to let you know how much we appreciate you.
You are loved so much by all those right here, we hope enjoy as you celebrate with those who are near.
Enjoy your good birthday our colleague and friend, we will see you tomorrow in the meeting at noon.
Happy birthday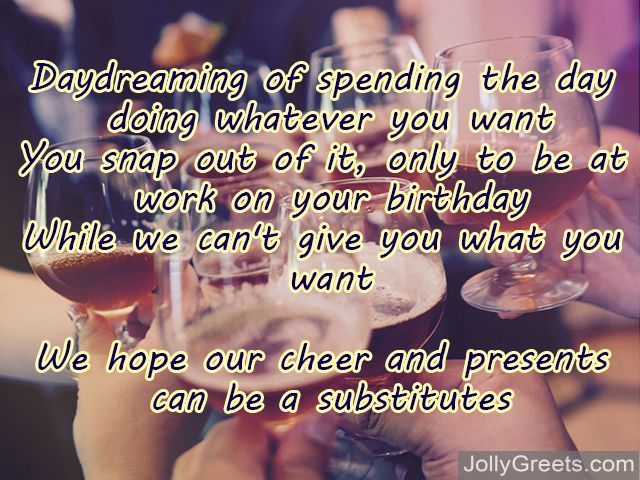 5
To the person in the cube next to me, I hope this will be your best birthday ever.
According to me you will have a good birthday you soon shall see.
But first I want you to know that all glory and glow you are a great person as great as could be.
I am thankful for you dear colleague I hope you can see. Happy birthday dear colleague, happy birthday
From me.

6
You are my dear colleague, I've told you before. But today is your birthday so I will tell you some more;
You are a good person, as good as could be and I couldn't ask for anyone as perfect as you.
If I put you on pedestal I'm sorry I did, but it is all I could afford for your birthday today. Happy Birthday

7
Happy happy Birthday
To one of the best around
You make us all better
With your hard work and daily smile
Your generosity and kindness
Keep us all from getting down
We appreciate your work
And hope you stick around
For the many more years
We will get to share
Now grab a slice of cake and pull up a chair!
Your day is for resting and celebrating too
We're so happy to have someone like you!
8
Another year gone,
another year passed
You've made our time in the office, really a blast
You're kind and hard working
You make the hours go fast
I hope the joy on this day is overflowing and plentiful
You deserve the best
Your work is fantastic,
you're one of a kind
A really great find
We're really so happy, this is where you spend your time!
Wishing you the happiest of moments on your special day.
9
Words cannot say how much we appreciate what you do
But since today is your birthday, we thought this card might do
Just a little something to show you we care
You're another year older, and still no white hair!
You're looking great, and your memory is intact
You should definitely stick around for another year, that's a fact!
Don't ever leave us, friend
We love you to the end
We're wishing you all the joy in the world on your special day!
10
There's a cake for you in the break
room
Along with some refreshments and
our cheer
We hope your day is the best you
have all year
Everything should bring a smile to
your face today
Have a happy birthday
11
Daydreaming of spending the day
doing whatever you want
You snap out of it, only to be at
work on your birthday
While we can't give you what you
want
We hope our cheer and presents
can be a substitutes
12
It is obvious that you would rather
spend this glorious day outside
and not stuck in an office
It's your birthday today
And although you have to work,
You can still have an awesome day
I hope your birthday is the best one
ever
13
Happy Birthday my dear colleague,
working with you has been so
stress free and not filled with
drama. I bless God for your life dear
14
I enjoy your company at work
greatly and I want to use this special
to appreciate how you have made
work enjoyable for me. Happy
birthday dear
15
it is your day and you deserve only
the best. The biggest cake, the
largest gift, the biggest cash and
the maddese fun you can ever have.
A happy birthday to you
16
I hope your birthday brings you joy,
Whatever you may do,
And fills your day with happiness,
And lots of fun times too.
I hope you have a special day,
That make you really smile,
You deserve the best of days,
So celebrate in style.
Happy Birthday!
17
Close your eyes,
Make your wishes clear,
What would you like,
To accomplish this year?
A new promotion?
Or a chance to shine?
A brand new project?
Or contract to sign
Hope your wish comes true
18
Happy birthday colleague,
I hope you have great fun,
We'll raise a toast and have a laugh,
I brought cake for every one.
Your birthday is a special time,
You deserve a little rest,
For all the hard work that you do,
Is by far the very best.
Have A Great Day!
19
Today at this festivity
we honor your nativity
and everything since your infancy
that lead to your felicity.
Your constant state of energy
has been for us a pleasantry
so we would like to offer brilliantly
a cake for you antiquity.
20
I would like to offer celebration
to a comrade of great taste
for his date of birth is here
for which I must make haste.
With cakes and ribbons,
balloons and
we sing your name
in jubilation!
21
Your birthday is an time
for me to let you know
just how much your have meant to me
as our friendship grows.
Your loyalty and your honesty
your humor and your faith
make up all the pleasantries
that make our friendship great!
Happy Birthday!!

22
You make each day so much better
as I come in this place again.
You beam and laugh and suddenly
this isn't such a bad place to work.
You're the heart and soul
and the light and laughter of this place.
Don't ever stop.
Happy birthday!
23
You always take the time
to recognize others
for birthdays, anniversaries,
and accomplishments.
So now it's our turn
to celebrate you
and remember how lucky we are
to have you here with us
to work and accomplish.
I'm glad I have this chance to know you.
Happy birthday!
24
Happy birthday to the person
we all know we can't work without,
the one who makes the job bearable
and the hours not so long,
who fills the days with laughter
and is sincere in their help,
and deserves without a doubt
a very special birthday.
25
Colleagues are friends
They understand each other
Dealing with the same things
Our boss and the hours that sometimes drag on long
So since we understand each other
I want you to know
That I wish you
A very happy birthday
And a great year!

26
Time seems to fly as we all get older
And your birthdays come again
You aren't just someone I work with
No, you've become a good friend
Happy birthday to you on your special day
Have a great birthday, lots of fun!

27
In the time that you've been here
You've become more than a colleague
You've become my friend
And that's why I wish you a great year
Now there's three hundred and sixty five days
Until your next birthday, so use them well!
Happy Birthday

28
Today while we are working
Let's take more than just a break
But some time to celebrate your birth
With some ice cream and some cake
For today's the day that you were born
And the promise of something new
So let's take a moment to celebrate
The person that is you

29
Happy Birthday to a colleague
Who's so honest and so true
To a person who's always there
And knows just what to do
Happy Birthday to a colleague
Who's so poised and so prepared
Who's never late for an appointment
And with whom no one can be compared
Happy Birthday to a colleague
Who's the best that I can find
Who's rarer than any diamond
Who's genuinely one-of-a-kind

30
Working hard or hardly working?
Well, no matter what we do
Today's a day that's special
'Cause we're celebrating you
Beyond an breakroom cake
Beyond an office party
Today's a day to remember
So let's make it one that's hearty

31
Happy birthday, let's have some fun
Today's your day
No work needs to be done
Let's pop champagne from behind our desks
And leave the work load for the rest
The boss won't even care
And hell, it's your birthday
He wouldn't dare

32
Happy birthday, my esteemed colleague
We work hard and we work long
But today's your day so get going to get gone!
Enjoy yourself tonight and I hope you know
That when you're hungover tomorrow,
I'll help with the work load

33
Today's your day let's make it the best
Forget the work and all the stress
We can leave that for the rest
So let's pop some bottles
And have some fun
It's your birthday
No work is going to get done