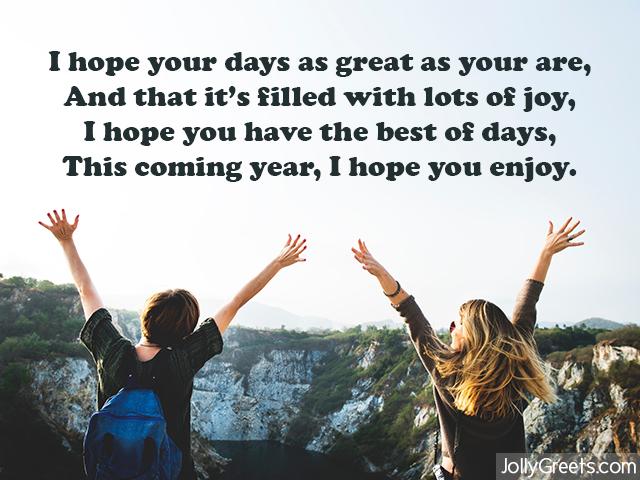 Creating a poem to make your best friends birthday special!
When your best friends birthday is coming up, it can be really daunting as to what to do to make it special for them.
A poem is a great, unique way, to give them something they'll really appreciate and cherish for years to come.
You want them to know what you're saying is coming from your heart and that you really appreciate your friendship. Having a poem that has something personal between the two of you written inside, is what will really make it special.
Don't worry, though, if you need a bit of inspiration here are some ideas to get you started…
Funny Poems
Someone give this man a medal,
Someone give this man a prize,
He's a damn good mate,
A real good chap,
And there's no one I'd rather have,
Right by my side.
I'll never forget that crazy night we had together,
When you fell in that lake and lost your sweater,
I know we said we'd never repeat how I warmed you up,
But I'll always be here, if you ever need backup.
Some people say that I am dim,
That my mind doesn't work too great,
But really if you want to see someone who's dim,
There's no one dimmer, than you, my best mate,
I'm sorry to be the one to say this,
I'm sorry I'm the one to break the news,
But you seem to be falling into an abyss,
Screw it though, let's drink some booze.
If there's one thing in the world,
That nothing can ever mend,
Than that thing is you my buddy,
But at least you're a good friend.
You may be silly,
You may be daft,
But at least your funny,
You do make me laugh.
You may not have the greatest looks,
You may not have the best dress sense,
But we couldn't both look as good as me,
Two of me and the looks would be too intense.
You're a really good friend,
You're a really good pal,
Happy birthday buddy,
Let's party right now.
Out of all 7 billion people on the earth,
Most of all I'm glad you're mum gave birth,
Because sprouted out was you dear friend,
A friend I always can depend.
Happy birthday quotes
I hope your days as great as your are,
And that it's filled with lots of joy,
I hope you have the best of days,
This coming year, I hope you enjoy.
Words can't explain begin to explain,
How much our friendship means,
When we're adventuring together,
My face always beams,
We're a great team,
A dynamic duo,
There's no better team,
That I know.
Out of everyone in the world,
My favourite would have to be you,
I know you don't need to be told,
How much it is,
I think of you.
Another year of great times behind us,
What fun and games we both did have,
This year I think the great times will last,
That's something that I am very glad.
Our friendship really means such an awful lot to me,
I hope your next year is filled with joy and glee,
You deserve the best life, and to always be feeling good,
Happy birthday buddy, have a great day like you know you should.
What another great year it has been,
What a number of great times we've had,
We make such a good damn team,
You are such a top fun lad.
Here's to another great year ahead,
This years been filled with so much fun,
You really do deserve some cred,
Let's hope this next year,
Is another fun one.
Trekking up mountains, or travelling around the world,
We're the best adventuring partners,
That anyone could possible behold,
We've had so much fun together,
And seen so many things,
How exciting another year ahead of us,
Who knows what it will bring.
Birthday wishes
I wish you the best on this special day of yours,
We've been through lots of good times,
And also lots of wars,
We've made some memories,
And had some fun,
Here's to another year,
Another great one.
All the best wishes are being sent over your way,
I wish you a happy birthday,
and that you have the greatest day,
You're my best friend buddy,
And I know you'll always stay that way,
You really are better than OK.
I wish you have the very best of days,
I wish that you have a really great birthday,
Our friendship means so much to me,
You're a great friend, your top quality.
I wish you a happy birthday,
I wish you a great time,
I wish you a happy birthday,
I wish it to be just fine.
Birthday wishes for best friend – male
My brother from another mother,
You really are the top dog,
Keep on rocking ya stuff ma brother,
You really are a god.
When someone asks if I have a big brother,
I tell them that I do,
My big brother, the one I love, really that is you!
You're the best friend anyone could ask for,
You always look after me,
You're really sweet that's for sure,
You are top quality.
You're a really good friend, a really good man,
I hope the next year goes right to your plan,
I'm sure it'll be fun and filled with lots of great times,
I couldn't ask for a better partner in crime.
Birthday wishes for best friend – female
I never thought I would find such a good friend,
And it really doesn't matter if one year is crappy,
Because I know we'll be  together until the end,
You make me smile and make me so happy,
Even when we're old and gray,
I know we'll still be so chatty,
So happy birthday dearest,
Don't turn too batty!
There's no other girl in the world like you,
I'm so happy to have you as a member of my crew,
You're such a lovely girl,
And such a great friend,
You're as rare as a pearl,
Someone I know I can depend.