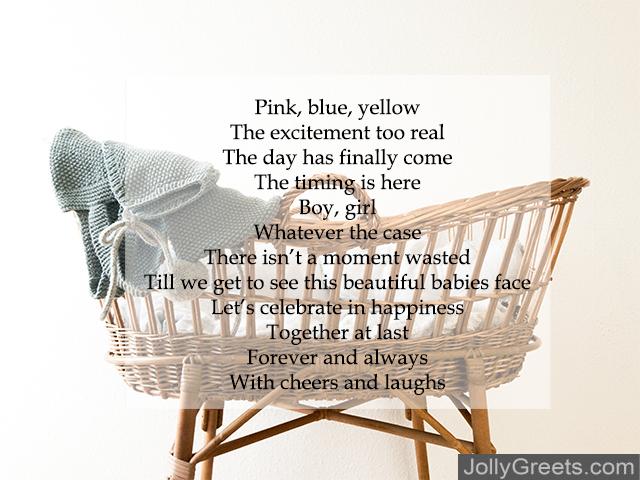 Do you have a baby shower to go to, and you need to find just the right words to say? Thankfully, after you have stumbled across this site, you don't need to look any further. These posts will give you perfectly fashioned words to say that will express the meaningful thoughts that are already present within your heart. You can take these poems and express them vocally if you wish. The hosts of the baby shower will be impressed. You can also use the words that you find on this page and neatly place them on a sweet, heart-felt card. These ideas will take some stress out of the day, as planning to attend a baby shower can already be stressful enough. Think about whether you want to take these ideas and leave them as is, or if you want to use them and expand upon what they say. Whether you want to use the words presented as your own or whether you allow them to be a source of inspiration, they are here to help you when the thoughts and feelings are present but the words are absent. You won't have to go searching too far in order to find the words that are wonderfully suited for the mom-to-be.
How to Create the Perfect Card - Examples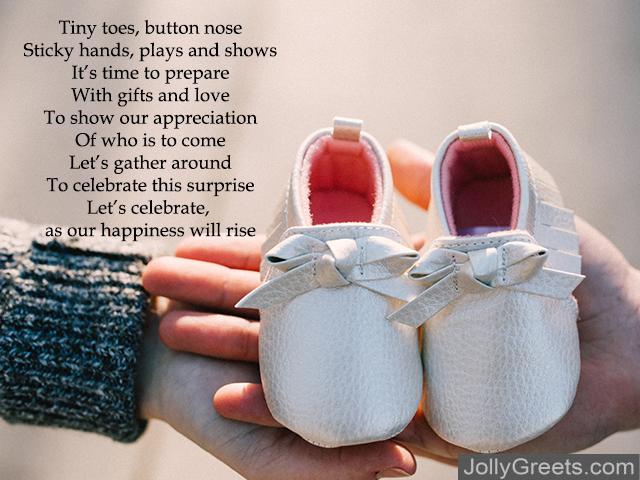 1
Pink, blue, yellow
The excitement too real
The day has finally come
The timing is here
Boy, girl
Whatever the case
There isn't a moment wasted
Till we get to see this beautiful babies face
Let's celebrate in happiness
Together at last
Forever and always
With cheers and laughs

2
Tiny toes, button nose
Sticky hands, plays and shows
It's time to prepare
With gifts and love
To show our appreciation
Of who is to come
Let's gather around
To celebrate this surprise
Let's celebrate, as our happiness will rise

3
Let us celebrate the mother
Let us celebrate the father
Here and after
Let us blow up balloons
And sing songs of joy
Shower them with gifts, surprises and toys
Till the moment the baby arrives
To the moment of now
Let's celebrate, let's celebrate
The best way we know how

4
Ten fingers and ten toes that's all we know,
A baby is on the way is all we can say,
We welcome you to this special occasion
As we celebrate this baby shower
As we anticipate the arrival of our bundle of joy.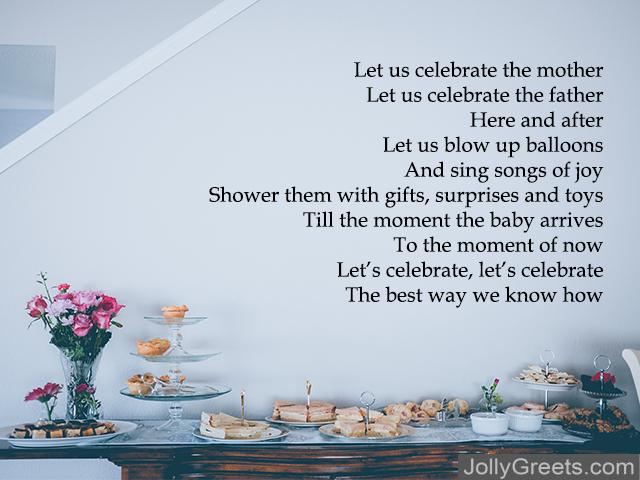 5
Twinkle Twinkle little ones,
Tiny feet and tiny hands,
On this lovely day and time
We welcome you to our baby shower
A baby is on the way,
That's what the doctors say
Let us welcome a new life into this world.

6
Pregnancy blues and labor pains,
Boy or Girl, we just don't know
Sleepless nights of a baby crying,
Some want diapers and others prefer napkins
On the day of the baby shower
Bring those toys and maybe some flower.
Then we Feast on cakes while we play games.

7
Soon you will be a mother
You have so much to give
Your baby will arrive
A new life you will live
It's time to put your feet up
The birth is getting near
We are all here to help you
Happy baby shower my dear

8
Soon your baby will be here
Let's toast the birth before it's here
Raise your glass to a new mother
Pray the birth goes without bother
Soon your baby will be here
Life won't be the same my dear
It will be fulfilling and joyful too
So here's to a future for the two of you

9
An exciting time of expectation
Making plans and preparation
Swelling tummy pride to match
Waiting for your chick to hatch
Pamper yourself rest up well
What's to come who can tell
A life of love and caring for
Your little angel to adore

10
A little girl or a little boy,
you're sure to bring a lot of joy!
I didn't give you the gift of life, but in my heart I know,
the love I feel is deep and real, as if it had been so.
11
We can't wait to meet you
So we're gathered here today
To shower you with presents
That you're going to need someday.
Until the day that you arrive,
And we allget to see you,
We'll give your mom the support she needs
And eagerly wait to greet you.
12
Oh my beloved baby,
One who is drawn out of my loins,
This world I am bringing you into may be tough, cruel, and tiring,
Stand still my child because there is always light at the end of the tunnel.
There's nothing like a baby
To prove the reality of love.
Just hold one in your arms and know
It's a gift from heaven above.
13
When I first found out I was going to be a mom,
I didn't know what to think.
So many emotions ran inside of me,
But I couldn't not wait to meet you!
I'm so thankful I'm surrounded by so many loving people.
Your support means the world!
I can't believe we only have four more weeks
Until we get to meet you!

14
You are unborn,
But it doesn't matter,
For you are still my baby.
In my womb,
You shall remain,
Until it is your time.
Today we gather,
From far and near,
To celebrate your life to come.
We are so happy,
And we want you to know,
We love you dearly.

15
On this day we gather,
To celebrate what is to come.
We are so happy for your parents,
You really lucked out with them.
They will love you unconditionally,
And teach you everything they know.
We can't wait to meet you soon,
Your family will always be here for you.

16
Baby showers seem a bit Pointless right?
Wrong!
They are an expecting parent's Light!
The upcoming arrival of a baby,
Doesn't bring upon questions of
Maybe.
Maybe a girl?
Maybe a boy?
The only thing baby showers Bring about is joy.
17
Balloons and flowers,
Are always at baby showers.
You'll find diapers and toys,
And plenty of noise.
Bags and clothes in twos,
And lots of baby shoes.
A room full of joy,
Whether it's a girl or a boy.
Guests all around,
Their gifts cover the ground.
It's a celebration day,
A baby is on the way.
18
Cheers all around, the baby
shower is in town!
Lots of celebrating life, no signs of lingering gripe.
Fun times when cheering
for baby showers, make sure there is plenty of power.
The party is going to go on throughout the night!
It'll definitely be a beautiful sight.
19
Congratulations, mom to be
You will be an absolutely wonderful one
Without a doubt, that is easy to see.
Considering all of your
Caring and nurtuting ways
Your baby will be beyond blessed
For all the rest of their days.
20
There is excitement within my heart
For the beautiful journey
You are about to start
You may not have it all figured out
But you will do well, I have no doubt
A mom you soon will be
You're more prepared than what you feel
There will be some pain, but you, by far,
Have gotten the better end of the deal.
21
You are going to be a mom
To a wonderful little baby
I believe in you, to do well.
The precautions you need to take
Are within you.
Only listen to your heart.
Your journey has taken you here
To ride another journey yet
Congratulations mom-to-be!

22
The nursery has been painted in calming hues,
a balm of care passes everyone lips when they see
your belly swell.
Sit and take time to dwell with those who
know you well.
Today take time to celebrate the growing family you are
going to be.
23
Today we shower you with care and wisdom.
Wise women we have raised children to succeed.
Sit and listen as we plant this seed for you.
Your child will more beautiful then you imagined,
your heart will hurt more than you thought with love.
A child is a gift sent from above.
24
Rock a bye baby in your sweet arms we pray they will never come to harm. Today at your shower we celebrate the life you have carried carefully these months. May your home always be bright and full of love.
25
Congratulations on your bundle of joy!; Whether it be a girl or be a boy; Sweet and lovely, or feisty and strong; You won't have to wait for very long; From sister, brother, uncle, aunt; We hope it's the best child a parent could want!
26
A child is a blessing from Heaven above; To be held very close, and showered with love; Wrapped in blankets or snug in a crib; Swaddled in diapers, or wearing a bib; Whether a boy or whether a girl; We can't wait for that child to arrive in the world!
27
Your unborn child will continue to grow; Until your belly starts to show; A bun in the oven, a gift from above; Every day, you will give it more love; And when your shirt becomes far too tight; It will be time for your child to see light!
28
Friends and family gathered
Balloons, cake and banners
Especially made for you
All to celebrate in your joyful news
Of your precious baby
Words cannot express
How excited I am for you
And your exciting journey into parenthood
I hope you enjoy this special day
Celebrating at your Baby Shower!

29
The day has finally come
Where you can relax and have some fun
All the preparing has been done
So lets play some games
To celebrate your little one!
A baby shower made just for you
Your baby is so blessed
To have a loving parent like you
Congratulations

30
Today we celebrate
The future of your little one
Soon we will meet your baby
They day is about to come
Today we will relax
We will have so much fun
Playing games and laughing
Eating a little bit of cake
Celebrating you
What great memories to make
All of the precious gifts
As you open them all
Its my spirits that you lift
Knowing that you have people in your life that care
Makes me so happy for you
It is almost too much to bare
Have an wonderful Baby Shower!

31
make a cake
maybe two
hang up ribbons
green, yellow, and blue
a table cloth
forks and spoons
little baby bottles
and plastic blocks
a pin here
a couple chairs
welcome to the
baby shower to
32
some yellow here
a little green over there
a cake made of diapers
ribbons some here
some there
a circle of friends
presents galore
a boy a girl
cut the cake
the colors there
a shiny new pacifier
a teddy bear ot two
33
pink mittens
diapers and wipes galore
stories about babies
food and cake
i'll have some more
friends and family
here come more
bathtubs and shoes
bibs and spoons
that there is a swaddle
a baby shower full
of blankets and dresses
i always welcome more
34
Lovely Baby
There's a lovely infant,
directly in transit.
We're merrily energized,
to snuggle and play.
Valuable sweet child,
will convey delight to the earth.
We should assemble a few presents,
preceding birth.
A shower is arranged,
what's more, we've set a date.
You're clearly welcomed,
we realize it'll be extraordinary.
Unadulterated pregnancy talk,
our discussions will sing.
For our dear visitor of respect,
joy we'll bring.
There's a delightful infant,
directly in transit.
Our affection and backing,
we'll join and display.

35
This Favor
I trust you find,
this support very sweet.
It's only a bit,
vital treat.
May it remind you,
of the fun that we had.
It turned out extraordinary,
I'm very happy.
This support speaks to,
that my infant is close.
My heart and my spirit,
are loaded up with unadulterated cheer.
Simply need to bless your heart,
your blessing was genuine kind.
You presented to me your grin,
it's engraved in my mind.

36
My Heart
For your help and kind blessing,
I express gratefulness from my heart.
It was an awesome gathering,
directly from the begin.
I couldn't see much,
be that as it may, through mom I could feel.
The affection that you brought,
was valuable and genuine.
I'm quietly pausing,
what's more, soon I'll be expected.
I hear life is extremely delightful,
what's more, I'm certain that it's valid
My thanks and sweet love,
inside the support I've set.
On the off chance that you look genuine carefully,
to my heart it's been followed.