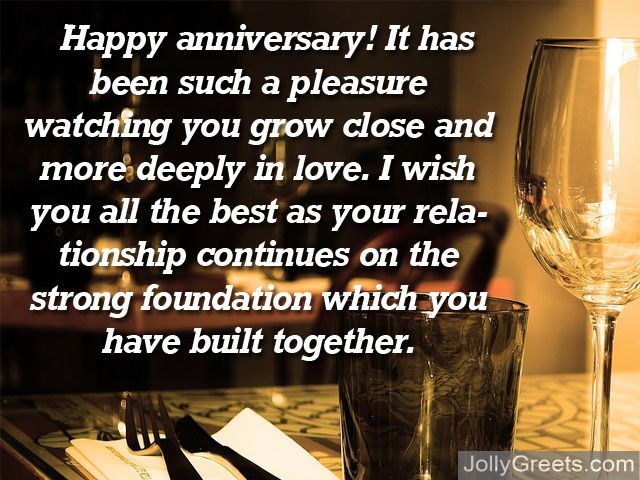 Some couples are at the core of a big family. Some couples have just each other. Some couples have been together longer than you have and been alive, and some are just starting. Whatever the case may be, every couple deserves to be celebrated for the hard work and care that goes into creating a lasting relationship. Messages of love and support from each other and those around them are a wonderful encouragement and a happy reminder of what they have built together.
How to Create the Perfect Card - Examples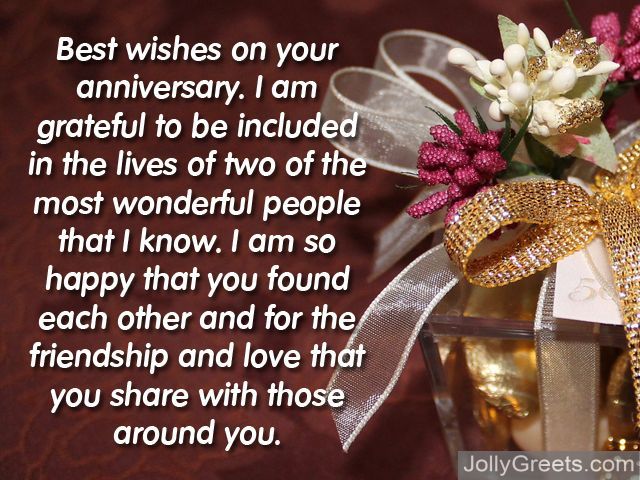 Unsure of what to write for a couple that has an anniversary coming up? These messages should get you started for a variety of scenarios.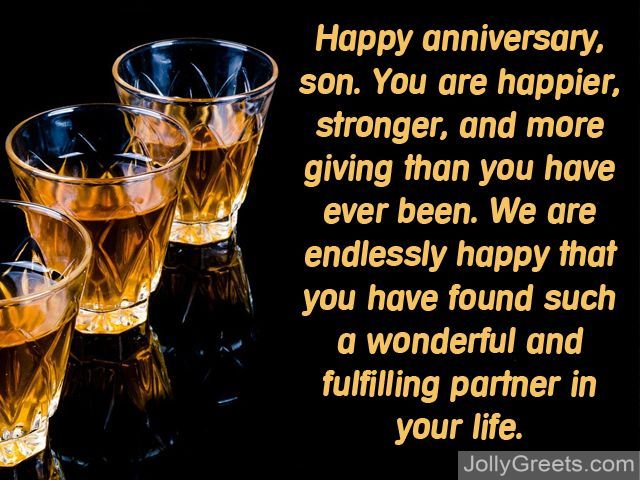 Messages for a Husband
(For him lighthearted/humorous) Can you believe we made it this far? I count myself lucky for every day that I have known you, and it's a good thing numbers are infinite, because I plan to keep counting for quite a while. Happy anniversary.
(For him romantic) Happy anniversary, sweetheart. I love the man you were when I met you, the man you are today, and the man you will become as we continue our lives together. You always have and always will make me fall for you.
(For him inspirational) To my dear husband. Thank you so much for everything you do for this family. Everything I have and all that I am is in part because of the strength, joy, and love that we have shared.
On our anniversary, I can't help but look back on the last X years and remember all the laughs, all the tears, all the fighting, and all the making up. I wouldn't change a thing, and there's no one I would rather have by my side. You are a wonderful husband.
To my husband on our anniversary. You deserve nothing but the best. And that's what you have given me. We make each other better, and together we are more than either of us could ever be on our own. I love you.
Messages for a Wife
(For her lighthearted/humorous) Sweetheart, I've decided that something must be wrong with you. After all, you still choose to be with me at this point?! Your loss is my gain. Happy anniversary from the luckiest guy around.
If I sometimes look like I am not paying attention, it is only because I am convinced that I'm still dreaming. You are the most beautiful, loving woman I have ever known, and I am lucky today and every day to have you in my life.
(For her romantic) To my wife on our anniversary. I am still as drawn to you as I was the day we met. It is worthless to try and describe your beauty, your grace, or the love you have shown me. But I plan to spend the rest of my life trying.
(For her inspirational) Happy anniversary to my wife. You give me more than you could ever know. One look, one second with you is all it takes to have the best day of my life. At this point, I've had several, and I don't plan on stopping any time soon.
Together we have faced obstacles, realized dreams, and fought for the best. We have built such a wonderful life together, and I cannot imagine how happy and in love I could ever be with anyone else but you.
Not Married…Yet
Although the messages above are easily adaptable for couples that aren't married, it's also nice to your exact relationship.
(For a boyfriend) Happy anniversary! I have had such a good time getting to know you. You are such a unique, strong, sweet, and gentle man. I am lucky to have you in my life.
To my boyfriend. You make me so happy. I love our adventures. Everything seems more fun when I do it with you.
(For a girlfriend) Happy anniversary. You are such a wonderful girlfriend: caring, supportive, smart, funny, and beautiful. I knew you were amazing when we started dating, but I had no idea how much!
To my girlfriend. You make me feel more like myself than when I am alone. I am better and happier for having met you, and I love you so much.
(Long distance) Even the smallest distance would feel like an eternity if I weren't with you. Thank you for your hard work and care in making our relationship work around the obstacles of distance and time. You are my joy, and I love you so much. Thinking of you always.
(For a fiancé) To my fiancé on our anniversary. I can hardly wait. To marry. To build a family. To spend the rest of my life with you. But if anyone is worth the wait, it's you.
Happy anniversary to my fiancé. We have come so far and given so much to each other. You are so kind and loving, and I am so lucky to have you. It's hard to imagine how our bond will strengthen as we move forward, but I am excited and grateful to know that it will.
Messages for Couples
Even those outside of a relationship can join in sharing the joy of a happy couple whether they know both of the partners or just one. They are sure to appreciate the love and support of those around them that have helped contribute to their life together.
(From kid to parents) Happy anniversary, mom and dad! You have always served as a wonderful example of what can happen when two people love each other. I am proud to call you my parents and to share in the love and the family that you have built.
To my parents on their anniversary. As your child, I know firsthand how kind and loving you each can be. I can think of no better match for either of you than someone that loves as deeply and strongly as the other one.
(For a daughter-in-law) Happy anniversary! We are so happy to have you in our family. You are a wonderful wife, but even more than that a wonderful person with so much to share. Thank you for choosing to share it with us.
(For a daughter) Happy anniversary to our daughter. You have grown to be such a wonderful woman, and we are so lucky to see you make a life with someone that makes you so happy.
(For a son-in-law) What a wonderful husband you have proven to be. You live every making your wife the happiest woman she can be. I am so happy that she has a spouse giving her all the love and care that I always hoped she would receive.
(For a son) Happy anniversary, son. You are happier, stronger, and more giving than you have ever been. We are endlessly happy that you have found such a wonderful and fulfilling partner in your life.
(For friends) Happy anniversary! It has been such a pleasure watching you grow close and more deeply in love. I wish you all the best as your relationship continues on the strong foundation which you have built together.
Best wishes on your anniversary. I am grateful to be included in the lives of two of the most wonderful people that I know. I am so happy that you found each other and for the friendship and love that you share with those around you.
(For a long lasting couple) The strength and endurance of your love is a testament to the power of love itself. The affection and care with which you treat one another is a wonderful example to anyone who hopes to have even a fraction of what you have together. Happy anniversary!
It is amazing to see a couple as in love as you both are at any stage in life let alone after all the years, transitions, and life moments that you have shared together. Happy anniversary! I hope you feel the love of all those who have been privileged enough to share in your journey with you.