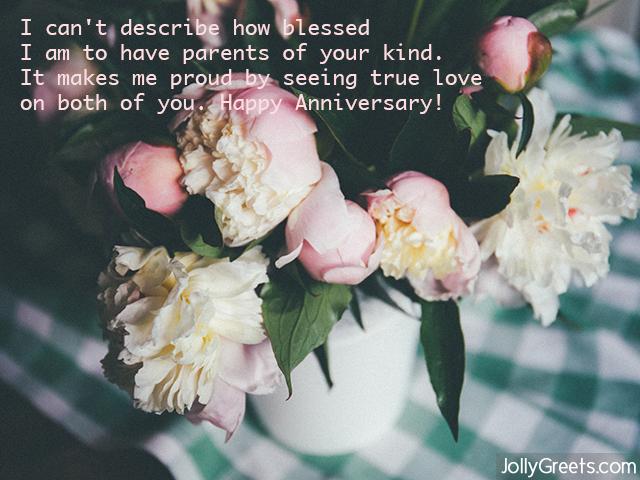 Sending anniversary wishes to your parents expresses your true love for them. Words from your heart create a bond that enhances joy as well as trust.
How to Create the Perfect Card - Examples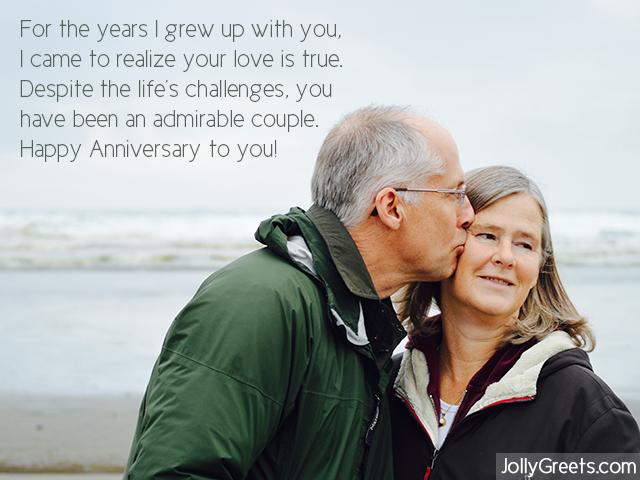 More so, injecting some humor into your Mom & Dad is the best way to amuse their love renewal occasion.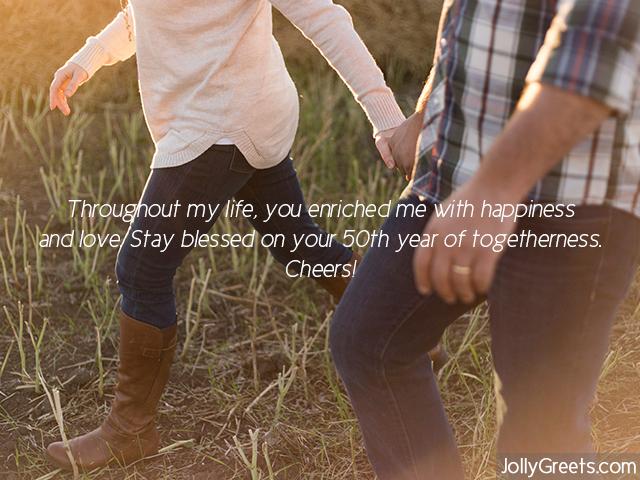 Here is a collection of appealing wishes for you:
(From Children)
Mom and Dad, I have struggled so much to find the best gift for you…
So, here is my bunch of wishes,
Thank you for keeping the family lively!
Happy Anniversary!
Love makes a relation
Relation makes a family
It's because of you that there exists love in our family
Happy Anniversary Mommy & Daddy!
Mom and Dad, I'm hoping your love is as strong as the one you shared years back.
May you have much love and joy to celebrate more years.
Happy Anniversary to you!
I can't describe how blessed I am to have parents of your kind. It makes me proud by seeing true love on both of you. Happy Anniversary!
Mom and Dad, your anniversary day is a thanksgiving day for us, thank you for raising us with great love and care. Happy Anniversary to you!
Mommy and Daddy, the strong bond you share results with a stable family we have today. I wish you more memorable years of fun, love, and joy. Happy Anniversary!
The greatest gift of childhood I had was you. May your anniversary bring more love and unity in the family. I love you, Mom and Dad!
Mommy and Daddy, If not for the parents like you, I wouldn't have been whom I am today. Enjoy your anniversary. Congratulations!
Sticking to each other for decades,
Giving us a chance to face life,
Raising us with great love,
Indeed, you are great parents.
Happy Anniversary!
(From Daughter)
Mommy and Daddy, I'm proud you raised me in a decent way. Congratulations for your endless love on each other. Happy Anniversary!
I'm glad to call you Dad and Mom. I'm hoping to have the same love as yours in my marriage. I love you, my dear parents. Happy Anniversary to you!
Mom and Dad, you made me who I am today. May you continue to lift each other with the same love you raised me with. Receive warm anniversary wishes my dear parents. Thank you!
It's a special moment for Dad & Mom. The successful years of your love and joy are because of Lord's blessings. Congratulations!
Life has many obstacles and challenges but you have managed to conquer them. I hope for eternal love as yours. You are great Mom and Dad. Happy Anniversary!
When I get married, I want my husband and me to practice eternal love like yours. You are great parents. Cheers!
Mom, Dad, you're the most blessed couple in the world. You have held the family through thick and thin by lifting one another. I'm proud of you as your daughter. Thank you!
For the years I grew up with you, I came to realize your love is true. Despite the life's challenges, you have been an admirable couple. Happy Anniversary to you!
Happy memories of marriage life and bright hopes in future to my dear Mom and Dad. Enjoy your day!
(50th Anniversary)
My dear parents, you're my greatest treasure. I'm glad for providing me with everything I desired. Happy 50th Anniversary!
You both are gifts from God,
Sweetest parents ever,
I love you, Mom and Dad.
Happy 50th Anniversary to you!
50 years of companionship is not easy, but not even for a while, you let each other down. Mom, Dad, you're great. Congratulations!
50 years ago, two God's favored loveliest people were bound together. A day by day, a year after the other, the bond became stronger. That's why we're celebrating a golden couple today. Those were my parents and today I wish them a Happy Anniversary!
Mom, Dad, the enjoyable moments you share together, make a very sweet family. I'm happy for your 50 years of companionship. Happy Anniversary!
Mommy and Daddy, you're the founders of my lovely family. You are the role ideal for me and I'm proud to be your daughter. Happy 50th Anniversary!
Dad & Mom, it hasn't been easy to complete 50 years of togetherness, but great love and care for each other. Happy Anniversary to my precious parents!
You are an admirable couple. Much of success in your relation inspires many. Congratulations on your 50th Anniversary Mom and Dad!
Your 50th Anniversary reminds me of the best childhood memories. My life's blessings were all because of you. Happy Anniversary my dear parents!
Throughout my life, you enriched me with happiness and love. Stay blessed on your 50th year of togetherness. Cheers!
You always gave me a hand of love,
You provided all I needed,
You both are a living example of precious gifts from God.
Long live and a Happy 50th Anniversary Mom and Dad!
(For Parents in law)
On this special day of love, I would like to congratulate you. You have always been together in joy and tear. I wish you many more years of relation.
Happy Anniversary Mom and Dad in law!
To Mom and Dad in law,
Even for a while, you never let each other alone
And this is a real example of love from you
Happy Anniversary!
When it's time for joy, you both open your hearts and enjoy
When it's time for tear, you both unite to make it right
Happy Anniversary Mommy and Daddy in law!
Mom & Dad, you're the best couple
You personify love
I'm glad to be your son in law
Happy Anniversary!
You are the most blessed couple on the land. I'm hoping the love you shared years back is becoming stronger.  On this special day, look ahead to the best of the days to come and not of the past. Best wishes from your Daughter in law!
Mom and Dad in law, it's amazing, even after many years, to see you in deep love with one another. May you have more love, peace, and joy to celebrate many more Anniversaries…!
Mommy and Daddy, its only love that can make life beautiful. You make beautiful memories and much more are to come. Receive best Anniversary wishes from your son in law!