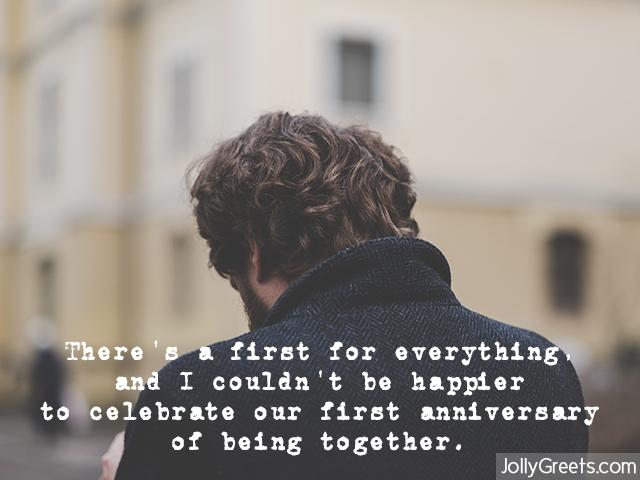 Your anniversary is the perfect day to express your love and appreciation for your boyfriend. On this special day, you get to celebrate your relationship and the happiness it brings you both. Let your boyfriend know just how much he means to you with one of the messages listed below.
How to Create the Perfect Card - Examples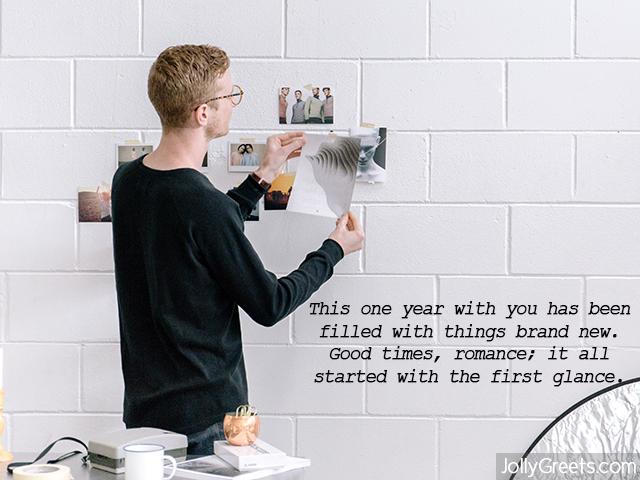 First Anniversary Wishes for Boyfriend
 The first-year anniversary is always the sweetest. Tell your boyfriend know how much you've appreciated the past year of being together with one of these anniversary wishes.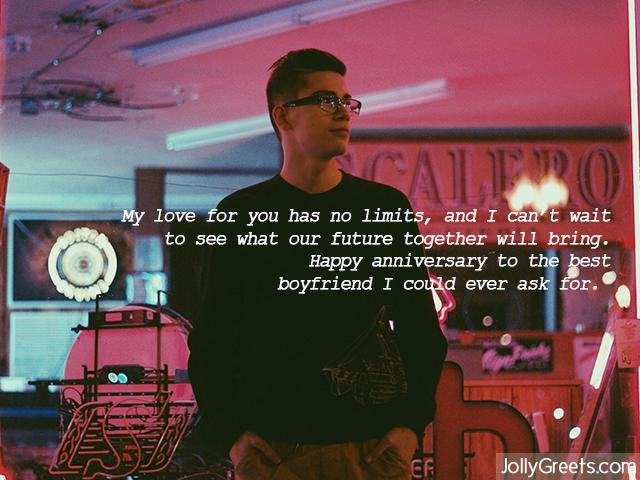 This past year has been the happiest of my life, and it's all thanks to you. Today, let's celebrate 12 months of love, joy, and being together.
365 days of being together, and I still can't get enough of you. I'm so excited to see what this coming year will bring for us. Happy anniversary, my wonderful boyfriend!
A year has passed since we got together, and I still get butterflies in my stomach every time I see you. Let's have the happiest of anniversaries, I love you!
There's a first for everything, and I couldn't be happier to celebrate our first anniversary of being together.
It's been a whole year of love, affection, joy, and passion. I'm so happy to be celebrating our first anniversary and can't wait for all of the amazing things that are ahead of us.
12 months have come and gone, my feelings for you growing stronger by the day. Happy anniversary to the most loving, caring, and compassionate boyfriend I could ever imagine.
This one year with you has been filled with things brand new. Good times, romance; it all started with the first glance.
One year ago today, I knew our love would stay. Now, here with you, my wish has come true.
Anniversary Wishes for Boyfriend by Year
You and your boyfriend have been together for awhile, and you should be proud of that! Commemorate your time together with one of these messages, which are especially intended for certain lengths of time.
(3 years) 3 years, 36 months, 156 weeks, 1095 days. Every moment we've been together has been a blessing, and I can't wait to see what the future has in store for us.
(2 years) I am lucky to have had you in my life for two entire years. Now, I couldn't picture my life without you, and I'm incredibly glad that I don't have to. Happy anniversary, I love you.
(5 years) It's been half of a decade since we became boyfriend and girlfriend. Those five years have been filled with love, comfort, and happiness. Happy anniversary, my love.
 Romantic Anniversary Wishes for Boyfriend
 Nothing says happy anniversary like a romantic message for your boyfriend, like one of the charming ones below:
 When I'm with you, it's as if time stands still. But today is our anniversary, so let's celebrate all of the moments we've had together.
No matter what happens, I'll be loving you for the rest of my life. Happy anniversary!
My love for you has no limits, and I can't wait to see what our future together will bring. Happy anniversary to the best boyfriend I could ever ask for.
Caring, supportive, smart, loving, handsome…There aren't enough adjectives in the world to describe how wonderful you are. I'm so lucky to have you as my boyfriend.
To the people all around us, today is just another day. But for you and me, today marks the start of the beautiful adventure we're having together. Happy anniversary!
Now that you're with me, I can't imagine my life without you. Today, on our anniversary, let's celebrate the love we have for each other and everything that's ahead of us.
Today is special for me, because it's the day you became one of the best parts of my life. To my wonderful, loving boyfriend: Happy anniversary.
Roses are red, violets are blue, my love for you is just like new. Happy anniversary!
When I look at you, I know our love is true. Like the stars shine in the night, our future together is so bright.
 Belated Anniversary Wishes for Boyfriend
 Everyone's forgetful at times, but you can still wish your boyfriend a happy belated anniversary! Make up for your lateness with one of these sweet messages:
I may have missed our anniversary, but my love for you will endure even the most trying obstacles. Happy anniversary, my wonderful boyfriend.
Our love is strong, like we've known each other for so long. Please forgive me, dear, my heart is always near.
Together, we are great. I won't escape the fact that I missed our anniversary, but I know our love will survive and thrive.
I missed our anniversary, but our love will go down in history. You're as handsome as the night, it was you from the first sight.
I know I'm past the mark, but our future is far from dark. I love you more than words, happy anniversary.
 Anniversary Wishes for Long Distance Boyfriend
 It's so secret that long distance relationships are difficult, but if you're celebrating an anniversary, then you're doing something right! Celebrate your anniversary with your long distance boyfriend with one of these messages:
We're miles and miles apart, but all I can think about is you. Happy anniversary to the best boyfriend ever, I can't wait to see you again.
There's no distance far enough to lessen my love for you. Happy anniversary, darling, we'll be together soon.
Our anniversary is today, and I wish I were there with you. I love you so much, my amazing boyfriend.
You mean the world to me, and no distance will ever change that. It's our anniversary–let's celebrate the love we have for each other, today and every day.
Our love knows no bounds, not even the distance between us. Happy anniversary to my loving boyfriend, my better half, my best friend.
So far away from you, I'm feeling ever so blue. Hugs and kisses to you my dear, our hearts are always near.
With one of the fantastic messages listed above, your anniversary will be one for the books!