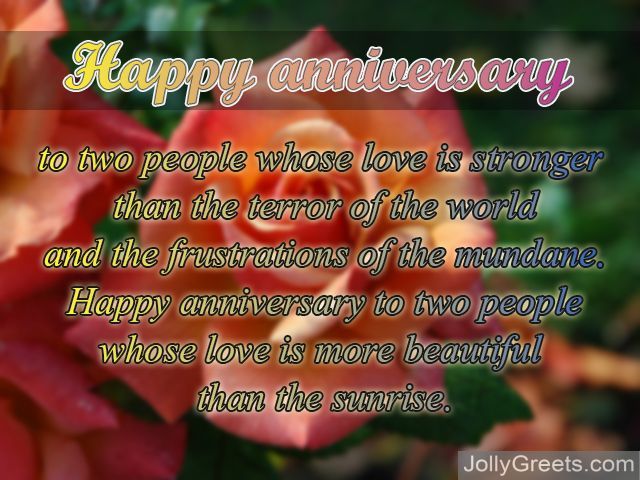 Your parents anniversary is one of the most special days of your life. Celebrate the anniversary of the love that created you by giving your parents a heartfelt poem. Poems from this post capture just how special this day is, and express in a meaningful way how happy you are for the sustainability of their love. Sending your parents a poem from this post on their special day is the most surefire way to let them know that you are happy for them on this grand occasion.
How to Create the Perfect Card - Examples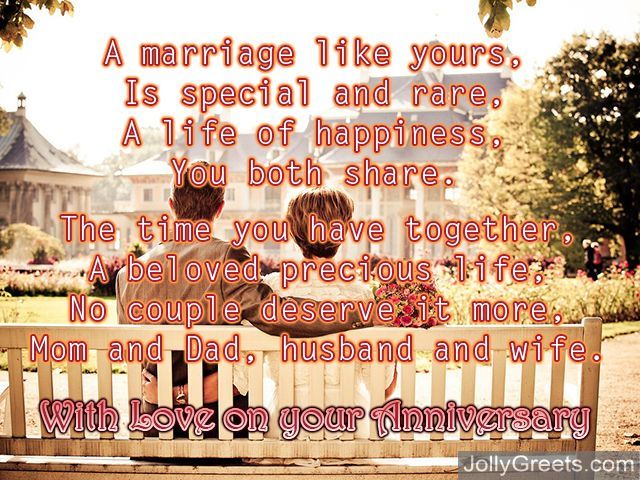 1
Mom and Dad,
It's your special day
Mom and Dad,
It's your day to play
Mom and Dad,
It's your anniversary, so have a good time
Quick, leave, before I run out of rhymes!

2

Where did the time go, has it already been a year?
Oh my, it goes by fast, oh dear
Here's to another year,
I hope you guys never disappear
Happy anniversary Mom and Dad,
Here's to your love, and hoping that you're never sad

3
Marriage is hard, marriage can be tough
You guys are great, you guys are tough
You've made it year, and I think it's great,
You're so cute together, I think it's just great
Happy anniversary, from me to you,
You two are great together, it's true.

4
In a place with no happily ever after's,
In a place where love is treated so vaguely it is so beautiful to see
Two people with as much love as thee.
Today on your anniversary, I'm happy for you;
May you always remember that someone loves you no matter how tough it gets.
Happy Anniversary Mom and Dad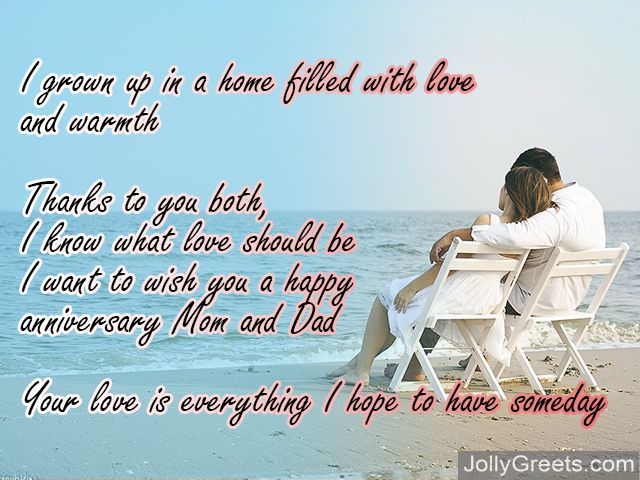 5
Your love for each other is like two doves together,
Flying in alone amidst all the storms.
Today is the day for you doves to land,
Standing together to remember your journey from where you first began.
I love you both. Happy anniversary.

6
A wedding is ceremony, a promise to be together forever till death do you part.
Today is the day you celebrate this,
We want you to know what blessing it is to see you two together amidst all the wounds.
We love you so much and we want you to have a very happy anniversary full of blessed good cheer.

7
Your love gives me hope
For all the rest of us
Your love taught me
How to share, how to laugh
How to show someone you care
Your love is the example I hope
To set one day
You always got through the hard times
Together, as a team
I'm so lucky to have you both in my life
Happy Anniversary Mom and Dad!
8
I never knew two people
Could love each other
As deeply and as truly as
The two of you love.
You are the ultimate example
Of what love should look like
You're passionate and playful
You're friends until the end
You fight for each other
You overcome every obstacle
Placed in front of you
With love and understanding
I love your love, and both of you
More than words can say
Happy Anniversary Mom and Dad
I wish you a hundred years more on this day!
9
Today we celebrate
The love of two of the greatest people on the planet
Together your love and life made one
Has given me life and love and a home full of memories I won't soon forget
Thank you two for showing me
How much love can be spent
How many laughs can be shared
And how many trials and tribulations
Can be overcome throughout the years
I love you both,
Happy Anniversary and here's to many more!
10
Growing up you showed us
What love should look like
All these years later
Both of you still have that sparkle
in your eyes
When you look at each other
Happy anniversary Mom and Dad
May your love be as lasting as the
stars in the sky
11
I grown up in a home filled with love
and warmth
Thanks to you both, I know what
love should be
I want to wish you a happy
anniversary Mom and Dad
Your love is everything I hope to
have someday
12
Although you had a rocky road at
times
Your actions displayed the answer
To the age old question on what
love is
You both love each other even
though time has passed
And you both have changed over
the years
All I have left to say is Happy
anniversary Mom and Dad
13
Your love inspires me, it tells me
what true love means and i look up
to you guys for a perfect example
of love and you are always one.

14
When I look at both of you, I see
your love for each other in your
eyes and everyday, it keeps
growing.Happy anniversary.
15
You both make a great team together, I have never seen you two
disagree in front of we, your children.
You are simply the best.
16
Who knew that when you met,
You'd be where you are now,
And on that fateful day,
You stood and took a vow.
To love honor and cherish,
To ride the storms of life,
To stay faithful and devoted,
When you became husband and wife.
Happy Anniversary Mom and Dad
17
You taught me right from wrong,
You taught me honor and pride,
I could not ask for better parents,
Who have always been right by my side.
Today's your anniversary,
Celebrate your love together,
My wish for you is all the joy,
That you can share, forever!
Hope You Have A Lovely Day
18
A marriage like yours,
Is special and rare,
A life of happiness,
You both share.
The time you have together,
A beloved precious life,
No couple deserve it more,
Mom and Dad, husband and wife.
With Love on your Anniversary
19
I wish I could have known you
back when you first met,
mother with her glitter
father with his hat.
To see the love that sprouted
our of the soil so dark
so find the brilliant sunlight
shining from your hearts!
Happy Anniversary Mom and Dad!
20
Your love is one of wonder
and one I hope to find
I watch as you get closer
with nothing left to hide.
Your hearts are full of compassion
your laughter fills the room
your hands are still together
and your flowers are still in bloom.
Your eyes are full of serenity
with the knowledge that you have
a love that is amazing!
I love you Mom and Dad!
Happy Anniversary!

21
Happy Anniversary!
To the love you've made so beautifully!
And it is some great certainty
it will go on quite fruitfully!
We see that you are mutually
bonded and so suitably
you do it just so easily
that it must be a victory!
Happy Anniversary Mom and Dad!

22
Each day I see your love growing
and I take such comfort knowing
that love can last as long as yours,
that to find someone to adore
is not a doomed quest
but merely puts to test
your patience and resolve
to adapt as love evolves.
Happy anniversary!
23
I've never known two people
as close as the two of you.
You love and laugh and learn,
and though you fight and argue too,
it doesn't matter at the end of the day
because you are strong and caring
and the bond you share is beyond love
and I love you both for your love and daring.
Happy anniversary!
24
Happy anniversary
to two people whose love
is stronger
than the terror of the world
and the frustrations of the mundane.
Happy anniversary
to two people whose love
is more beautiful
than the sunrise.
25
Happy Anniversary
To my favorite Mom and Dad
It's an easy thing to say for me
But I do wonder
Does it feel like it's been forever?
Or just like yesterday?
In the end you did it together
And you made it here
Happy Anniversary!

26
You've been married so long it seems
For me it's been forever
But what does it feel like for you?
Has it been such a long endeavor?
Or does it feel like yesterday
You just said your vows
And then in the blink of an eyes
You were in the now?
We love you both lots
And want you to wish you both
Happy Anniversary!

27
Happy Anniversary to my wonderful parents
You've been married so long now
It seems like forever ago
That you both said your vows
But here you are now
Both still so in love
What was it then
That you were thinking of?
Did you think you'd have kids
And be so happy still?
And when looking at each other
Still feel a familiar thrill?

28
We often are told
That we learn by example
And if that's really the case
Then I've had a prime sample
Of the true meaning of love
You don't see on the screen
Absent of the costumes or drama
Staged from scene to scene
But a trust and compassion
Built on love far more than cursory
That has you led to yet another anniversary

29
Mom and Dad,
Over the years
You've taught me many things
But the greatest gift you've given me
Is the gift of love
The unconditional love you've held for me
That you learned from one another
And that I've learned from you
Is something I will always cherish
As you'll always cherish each other

30
Some people have their favorite celebrity couples
But you're the ones I idolize
Because you're the couple that raised me
The couple that showed me how love is more
Than just stolen kisses and sweet nothings
But it's commitment
It's work
It's trust
It's respect
It's home
It's love
It's you

31
Happy anniversary to the two most important people I know
The people that I have given me life
And helped me grow
I can't thank you enough for all you've done for me
So I hope you take this day to celebrate with glee

32
Today's the day your love was made official
Through smoke and fire you've yet to blow the whistle
Your love has been a model for all
I remember the time when I first saw
The two of you kiss after a long fight
And then I knew that you'd always be alright

33
Here's to the marriage that's stood the test of time
Through tears of joy and pain alike
You've always been there at each other's side
I've learned so much from watching your love
It's not all sunsets and flying white doves
But being there for each other is what is above