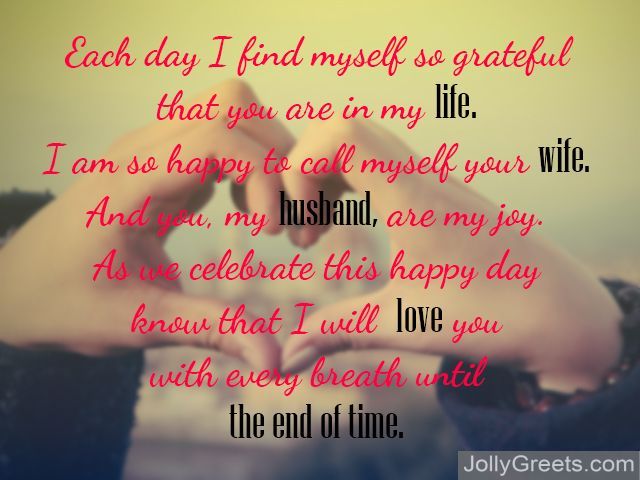 Nothing is more important in your life than your beloved spouse. The day that you got married marked the first day of the rest of your life; therefore, it is essential to celebrate such an occasion in the proper manner. Send your loved one a poem from this batch on your anniversary to show just how much they truly mean to you. An original, heartfelt poem is the perfect message to show just how much you value your husbands relationship and role in your life. Celebrate your anniversary the right way this year, and send the message that you have been waiting too long to say.
How to Create the Perfect Card - Examples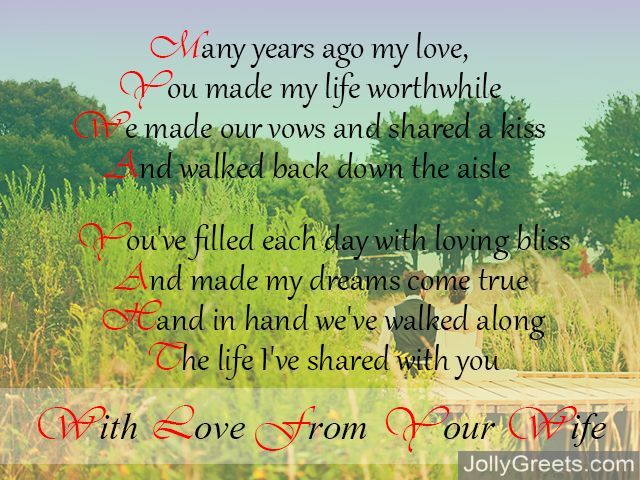 1
Congrats, we made it! Another year.
Sounds like a cause for celebration, I hear
All the hardships and trouble,
None were enough to burst our bubble
Through better and worse, we've made it through,
Because I, for one, truly love you

2
It's our special day
I think it's cause to celebrate, say?
Though it may come only once a year,
Our anniversary is something to cheer
Thank you for being there every step of the way,
You really do make my day

3
Hurray! It's our anniversary day!
We've seen it all, everything that comes our way
We fight our way, together it's true
We make it last, me and you.
But as long as I am with you,
I know I'll never, ever feel blue.

4
When I look at you I cannot believe the time that has passed, since the day that we said "I do."
Every day I awake next to you I don't regret a single word that I spoke for you that day;
For you it is worth it, all that and more.
I love you my husband, and that is so true.
Happy Anniversary my darling.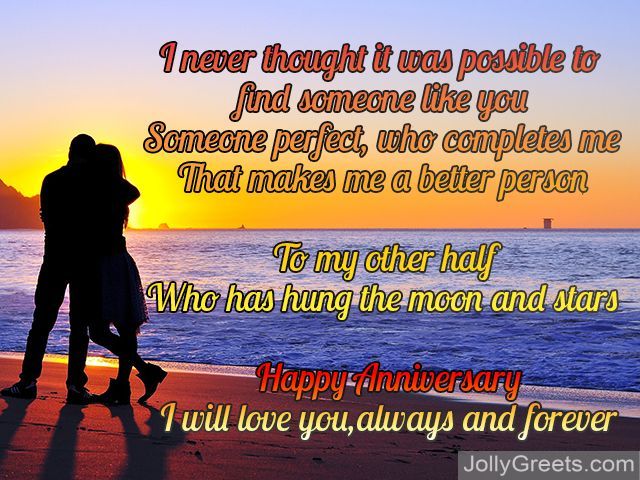 5
When I think of my vows that I said long ago,
I think of all we had been through together.
You and me with all the joy and the love that we share;
It is amazing how we both still care. Today on our anniversary I love you so,
And I know that you love me too. Happy Anniversary my darling.

6
In a world full of pain, it's so grand to see two people still in madly love.
Today on our anniversary, I'm grateful for our love and I'm grateful that I still have you;
with you by my side we are unstoppable, and with me at your side we can take on the world.
I love you dear husband till the end of line. Happy Anniversary.

7
I love your crazy and your attitude
I love you even when I'm not in the mood
I love you at breakfast
I love you when the sky isn't blue
I love you when I don't love myself
When you won't give me the remote, I love you then too
I love you when you're hell on wheels
I love you through laughter
I love you when I can do nothing else
I love you through pain
I love you through sorrow
I can't wait to love you through every tomorrow
8
Since the day I met you
I knew I wanted to spend the rest of my life with you
This one year is but a drop in the bucket
Of our eternity together
I can't wait
For porch nights when we're old and grey
Sleepy Sunday mornings
And afternoons sitting in the sun
A year in this crazy life with you is all I could ever hope for
Here's to us, and to an eternity more
9
May our years be filled with
too many sleepy Sunday mornings,
as many forehead kisses as your heart desires
I hope we are slow to anger
And quick to smile
There is no place in the world I would rather be than in your arms, with my head on your chest
I love us more and more each passing day
I am the luckiest person in the world, because you love me. Happy Anniversary!
10
Years ago, you took out to dinner
It was our first date
At the end of that night,
I know that I was going to love you
Our relationship moves through
peaks and valleys
But the feeling I had after that first
date has never changed
With that I want to wish you a
happy anniversary, my lovely
husband
11
I never thought it was possible to
find someone like you
Someone perfect, who completes
me
That makes me a better person
To my other half
Who has hung the moon and stars
Happy Anniversary
I will love you,always and forever
12
We have had some great times
We have had some bad times
But out love grows stronger each
day
No matter how stereotypical this
sounds
We are one in the same in our
love
Happy anniversary my husband
I love you dearly

13
You are my first love, my angel, the
love of my life, my all-in-all, the
most handsome man I have seen in
all my life. I love every single
moment I spend with you because
they are always filled with laughter.
More years together baby.
14
I have seen several men, I have seen
figures in suits and trousers, I have
seen intelligent beings and I have
seen different husbands but you
are exceptional. You are a unique
man, a successful tycoon, the most
handsome man in the universe and
the most loving husband in the
world. Happy anniversary to us!!!!
15
When I see you joy floods my soul,
when I hear your name wonderful
memories flow in, when you smile
my heart melts. You have such a
great effect on me that no one has.
I cherish every moment I spend
with you. More anniversaries with
you, love.
16
Each day we are together,
I grow to love you more,
It's hard for me to remember,
How I lived my life before.
And on our anniversary,
I need your sweet caress,
Your tender voice, your gentle kiss,
You are my happiness.
Happy Anniversary My Love
17
Our marriage, it means more to me,
With every passing day,
I reaffirm my vows to you,
And cherish you in every way.
And on our anniversary,
I declare my love for you,
With ever lasting passion,
And dedication true.
With Love On Our Anniversary
18
Many years ago my love,
You made my life worthwhile
We made our vows and shared a kiss
And walked back down the aisle
You've filled each day with loving bliss
And made my dreams come true
Hand in hand we've walked along
The life I've shared with you
With Love From Your Wife
19
My love, my sweet, my ecstasy,
of all the things you have brought to me,
there has been no sweeter part
then the passage to your heart.
In all this time, I have grown to see,
that you were always a part of me,
I look to the future with a passionate eye,
at all the love and memories,
yet to go by.
20
Dearest husband, hold me close
as I relive the years
that you and I have built this life
with minutes of laughter and tears.
You are more than just my husband,
you are my sweetest friend,
and I love how we get closer,
the more time that we spend.

21
I still can't believe I found you, husband,
a man that is so true,
that he would risk his life
to bring his love to you.
It is with gracious honor
that I can happily say
that I am a blessed woman
to have been married on this day.
22
I have been at your side
for hundreds of days,
given you thousands of kisses
and millions of smiles.
I have wrapped you in my arms
and felt safe in your embrace.
I have memorized the curve of your face
and the lilt of your voice.
I have never felt more at peace
and I have loved you more each day.
23
Do you remember when you smiled
as I walked down the aisle?
Do you remember taking my hand
and listened to my vows demand
that you be mine forevermore
and you beamed with such allure.
Do you remember me saying "I do"?
Because I'm happy that you did too.
24
Each day I find myself so grateful
that you are in my life.
I am so happy to call myself your wife.
And you, my husband, are my joy.
As we celebrate this happy day
know that I will love you
with every breath
until the end of time.
25
I remember when we first met
How my heart beat fast
And I haven't forgotten
The day you asked
To spend the rest of
Your life with me
I love you, dear Husband, with all of my soul
Happy Anniversary

26
I can't believe how fast
Time goes
But even after so long
You'll always be the one I chose
I love you, my darling
And I hope you never forget it
Especially on this day
And I will never regret it
Happy Anniversary

27
My love
As the years pass us by
My love only grows stronger
And I never thought it possible
But I always want to hold you longer
And today I want to show you
How much I love you
My heart bursts with love
You're the only one I'm thinking of
Happy Anniversary

28
It may have been years
Since we stood side by side
In a gathering of love
You my groom, I your bride
But time has not tarnished
The love that we vowed
Because you being my husband
Makes me so proud

29
The ring on my finger
Is more than just gold
A gilded idol
That can be easily sold
It is the circle of your embrace
That holds me so tight
The sweet nothings you whisper
In my ear late at night
It is our circle of love
That will never end
The closeness of my
Husband, companion, and friend

30
The day that we married
I thought I couldn't love you more
As you looked back at me
So handsome, so sure
But time is quite curious
And the years have now shown
That my love's truly changed
It has deepened and grown

31
On this day you changed my life
Oh how lucky I am
To be called your wife
So on this day we celebrate
The years that have passed
And the years to come
On this, the day that love became our fate

32
To my man
My dearest love
What do you give a man who has given you everything?
You've given me love, children, and life
On this day, when I became your wife
So here's to us and what we've done
And to all the fun that's more to come

33
Today marks the day that changed my life
The day I said "I do"
And became your wife
We've been through it all
Side by side
Through laughter and tears
On this exciting ride
My joys and fears I cannot hide
You're my world