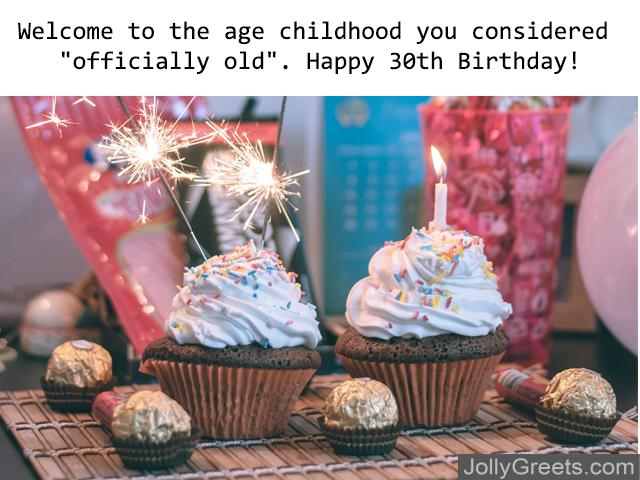 30 Going on…
30th birthdays are a big occasion in most of our lives. Turning 30 signifies a significant shift from "young adult" to "adult" and is usually the point when people really know what they want out of their life and are actively working to achieve it. Many people are married by 30 and working on families, settling into a home of their own, and pursuing a lifetime career. A 30th birthday is a big deal and it should be celebrated as such! If you know someone who is turning 30, surely you want to create the perfect birthday message for them. We've gathered many of our favorites in several different 'tones' so that you can pick the perfect birthday wish for that special person turning 30!
How to Create the Perfect Card - Examples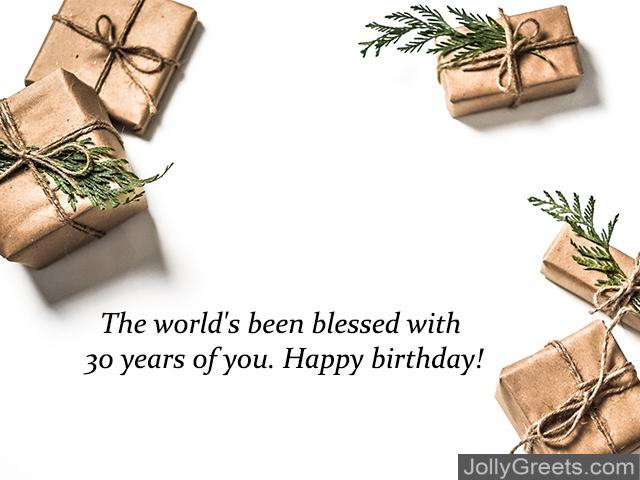 Silly Birthday Wishes
These birthday wishes are perfect if the recipient has a good sense of humor or would appreciate a laugh on their birthday. They work well for friends or family who thrive on a good sense of humor. If you're looking to make someone smile or giggle this 30th birthday, choose one of these!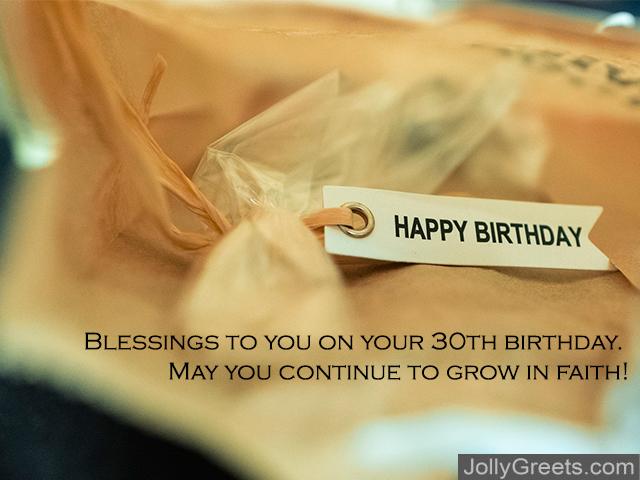 Short:
Welcome to the age childhood you considered "officially old". Happy 30th Birthday!
Congrats on the "Dirty 30"! Happy Birthday!
Happy 30th birthday to someone who couldn't Google everything!
Now that you're 30, you're old enough to look back and realize how dumb younger you was. Happy Birthday!
Happy Anniversary to your 29th Birthday!
30 years old: you've seen and done it all now! Happy Birthday.
Level 30… may as well be game over! Happy birthday!
Just remember what Jennifer Garner taught us: thirty, flirty, and thriving! Happy 30th birthday.
"After 30, a body has a mind of its own." – Bette Midler. Happy 30th birthday!
Happy 30th birthday! Remember: the secret to staying young is to lie about your age.
Heartfelt Birthday Wishes
You can't really go wrong with a heartfelt birthday wish and 30th birthdays are no exception. These messages are great for friends, family, or anyone who has made an impact on your life. If you are looking to cause a chorus of "awwh"s or receive a hug from the birthday celebrator, go with one of these!
Short:
The world's been blessed with 30 years of you. Happy birthday!
Happy birthday to my favorite new 30 year old! Hope it's a great one.
It's time to welcome your thirties! I know you'll continue doing great things, birthday boy/girl.
Happy 30th birthday! You have a whole life ahead of you to continue doing great things.
Happy birthday and welcome to the best years of your life: 30 is just the beginning!
Happy 30th birthday to the most amazing person I know! Here's hoping to celebrate the next 30 with you, too.
Don't worry about what's gone by; look forward to what's ahead! Happy 30th birthday.
30 is just perfect because you don't have to worry about growing up and you aren't going downhill. Happy birthday!
Congratulations on all the knowledge you've gained these past 30 years, time to put it to the test! Happy birthday.
Happy birthday! 30 is the time to really start living, so get to it!
Religious Birthday Wishes
If the person celebrating their 30th birthday lives a faith-driven life, they're sure to appreciate a birthday wish that falls into that category. These wishes are best for church friends or other faithful people in your life. They could also be combined with several of the other categories on this list with ease!
Blessings to you on your 30th birthday. May you continue to grow in faith!
Happy birthday! We have been blessed with 30 wonderful years with you!
You were known and loved by your Creator even before birth. Happy 30th birthday!
May God pour out blessings of love, knowledge, and faith on your 30th birthday!
The best gift you could receive on your 30th birthday is the knowledge God is smiling down upon you. happy birthday.
30 is the perfect age to be made perfect by God's grace. Happy birthday!
Today, I'm thanking the creator 30 times for making such a wonderful person! Happy birthday!
On this day, we celebrate 30 blessed years since God brought you to this earth. Happy birthday!
May you feel the embrace of the Lord today and every day. Happy 30th birthday!
I pray you've witnessed God's love these past 30 years and continue to do so. Happy birthday!
Formal Birthday Wishes
Sometimes we exchange birthday cards with people in our life who we may not know as well or may know in a more professional manner; a formal birthday wish is best in these situations. These messages are great for coworkers or acquaintances, but can also be the 'go-to' tone if you are unsure about a silly or heartfelt message. If you want a straightforward message, select one of these!
Short:
Happy 30th birthday! I hope this day treats you wonderfully.
They say that 30 is the new 20. Happy birthday!
May the memories of your 30th birthday be full of joy and celebration!
Happy 3rd decade of life–in other words, happy 30th birthday!
Happy birthday! May your thirties exceed any and all expectations!
May today be filled with smiles and laughter as you celebrate 30 great years!
Happy birthday! 30 is a milestone and you should be proud for all you've accomplished now and will accomplish in the future!
30 cheers for the birthday boy/girl! Happy birthday.
May your 30th birthday mark the beginning of a long list of great achievements!
Happy 30th birthday to a wonderful person. I hope this day treats you well!
Hopefully one of these 30th birthday wishes is just right for that special person in your life. Don't forget that you can customize these even further to really personalize the message! While all of these birthday wishes are a great start, we're sure you could make them even better with a personal twist. 30 is a big milestone for many people but it can also create a lot of worry about the future: make sure that the person celebrating their big 30 knows how great they are! 30th birthdays only come around once, so it's best to celebrate them to the fullest.