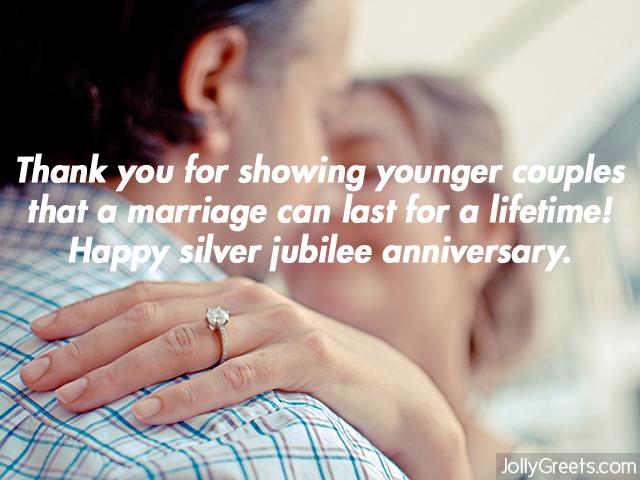 A Silver Wedding Jubilee/Anniversary is indeed worth celebrating by friends, family, colleagues, well-wishers and the celebrants themselves. With many marriages breaking up just after few years, it is indeed a landmark and a remarkable achievement to be married for 25 solid years!
How to Create the Perfect Card - Examples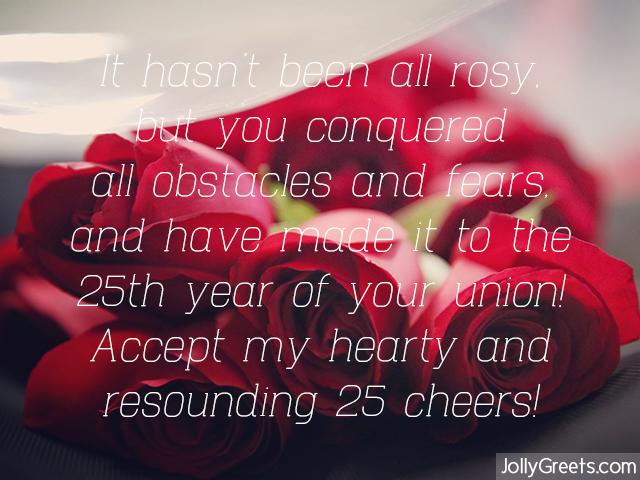 Luckily, we have crafted remarkable wishes and messages just for you. So, you don't have to scratch your head or think hard just to come up with special and heart-felt silver jubilee anniversary messages and wishes for couples.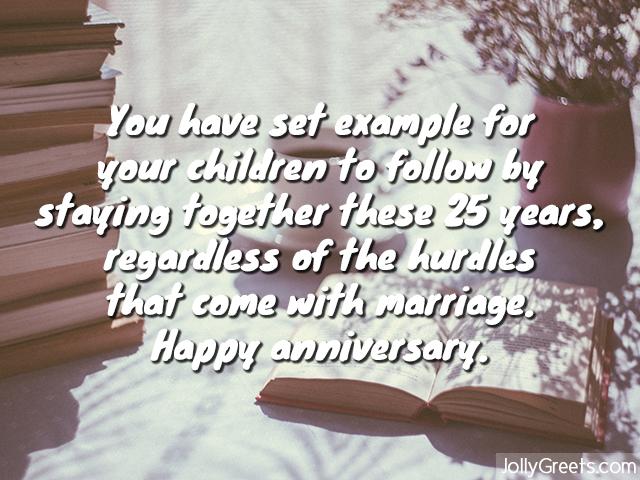 Whether the celebrants are your family, friends, colleagues or well-wisher, you will definitely find suitable anniversary wishes for them. And of course, we have also collated romantic and straight-from-the-heart wishes and messages that the celebrants can exchange between themselves.
(For Friends)
I wish you all the best as you mark this remarkable landmark in your union.
Wow, you two have been in this journey together for 25 solid years! I rejoice with you and wish you many more happy anniversaries.
It hasn't been all rosy, but you conquered all obstacles and fears, and have made it to the 25th year of your union! Accept my hearty and resounding 25 cheers!
Love is enduring, love is patient, love does not count the ills done to it…I've watched you both apply these principles in your marriage over the years, which is why you are marking your silver wedding jubilee Happy silver wedding anniversary to the sweetest couple!
Thank you for showing younger couples that a marriage can last for a lifetime! Happy silver jubilee anniversary.
(For Family)
How time flies so quickly! I watched you both exchange wedding vows and rings, and sealed it up with a loving kiss. It all seems like yesterday, but no, it's already 25 years! Thank you for making our family proud. Happy silver jubilee!
As you mark your 25th year in marriage today, I pray that you will remain inseparable and mark many more years together. Cheers!!!
You have set a pace that the younger ones in the family can't help but keep up with. With gladness in our hearts and lots of love, we say BIG CONGRATS as you mark your 25th wedding anniversary today!
When one member of the family is celebrating, the rest of us are celebrating too. That's why we're wishing you both a joyous and fun-filled Silver Jubilee anniversary
(For Parents)
Our children, our pride, our joy…you've shown the younger generation that husbands and wives are meant to be together for a life time! We are indeed proud of you as you mark your silver jubilee anniversary today.
The joy of parents is to see their children succeed in every sphere of life. Thank you for making us proud. Happy 25th Anniversary!
You have set example for your children to follow by staying together these 25 years, regardless of the hurdles that come with marriage. Happy anniversary.
(For Husband)
My love, my joy, my better half…you've put in more effort to make our union stronger these 25 years. I couldn't have asked for more. I vow to live the rest of my life with you. Happy silver anniversary to us!
Tell it to the mountains, echo it to the seas, shout it to the valleys…our marriage is 25 years old today! Happy silver anniversary to us, my darling!
Can two work together except they agree? Thanks so much my beautiful wife for agreeing with me all the way, even when it wasn't quite convenient for you. Happy 25th anniversary to us!
What would I have done these 25 years without you, my love and my heart-beat? My life changed completely for good the day you said yes to me. I will always love you until I breathe my last. Let's enjoy this special day to the fullest!
It takes two to tangle. Thanks my adorable wife for tangling with me these whole years! 25 hearty cheers to us as we mark this special day.
(For Wife)
My love, my husband…I have always had the assurance that with you marriage will be a continuous pleasure and not a never-ending pressure. I have confirmed it these 25 solid years we've been together. Thanks so much for loving me dearly! Happy Silver Jubilee to us!
My honey, the apple of my eye…I'm so sure that married life wouldn't have been better with any other man than you. Happy Silver Jubilee wedding anniversary to us!
Thank you for accepting me just the way I am these two and half decades of our marriage. I will choose you again and again, and will spend the rest of my years with you. Let's enjoy this day to the fullest my dear.
Tips for Making Your Wishes Stand out from the Pack
Whether it is birthday wishes, anniversary wishes, and wishes for other special celebrations, you should aim at making your message and wishes stand out. A remarkable and unique wish will remain indelible in the heart of the celebrants. So, how do you make your wishes and special messages stand out from the pack?
You should consider the occasion in question. For instance, the wishes and messages you should send to a birthday celebrant should have a different tone from the one you want to send to a wedding anniversary celebrant.
Take your time to craft the message. Don't be in a hurry to send your anniversary wishes or other wishes, especially when the celebrants are special to you. Take your time to brainstorm on special wordings that would indeed touch the soft spot of the recipient.
Put in creativity into it. You should go for really special messages that are not the regular type you see everywhere. Get creative in crafting your good wishes, so that they can have a lasting impact on the celebrant's life.
Finally, don't forget that our site is a great place to find really unique and heart-melting 25th wedding anniversary wishes, as well as wishes for other special celebrations.