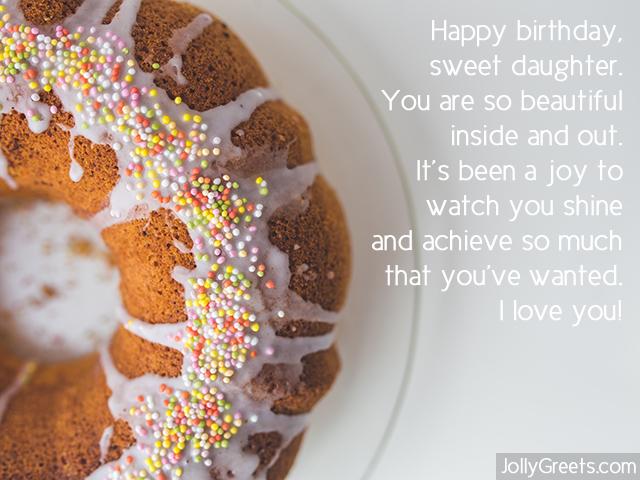 A 13th birthday is a big deal. Your daughter is finally a teenager and has to deal with all that comes along with that. Thinking up what to write in a birthday card can be hard, and that's why we put together these tips and ideas. Feel free to tweak or change any of these messages to make them more personal or specific to your daughter.
How to Create the Perfect Card - Examples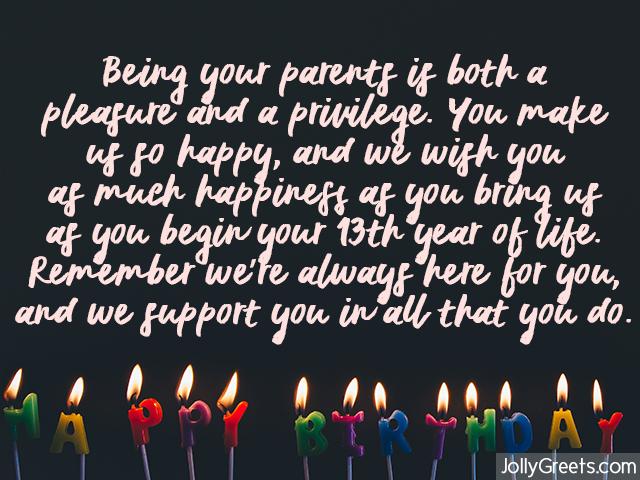 Parent-specific
Every kid has a different dynamic with his mom and dad. Below are message ideas for both.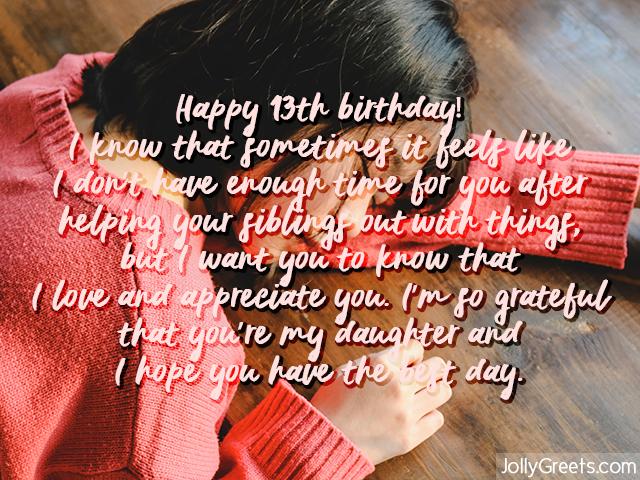 From mother to daughter:
Happy birthday sweet daughter! You are so beautiful inside and out. It's been a joy to watch you shine and achieve so much that you've wanted. I love you!
Happy birthday to the most amazing daughter and friend! You inspire me every day. Keep on blossoming and doing big things. 13 can be a tough year (high school is just around the corner!) but I believe in you. You've always handled situations well and been able to deal with conflict, and I admire you so much for that.
Happy birthday daughter! As I'm writing this I remember all the beautiful times we've had together. Thanks for those memories, and here's to many more.
I love you so much, daughter. I hope that all the joy and happiness you bring to the world is returned to you. Remember to only keep friends around if they're worth it, and don't let anyone step on you. Happy birthday!\
 From father to daughter:
Happy birthday, lovely daughter. I hope today is filled with lots of cake and presents, and all your favorite things. Have fun (and try not to stay up too late.)
13 years ago, I received the best gift I could ever ask for. That gift was you. I love you so much, and I'm so proud of all that you do. Happy birthday!
I want to wish a happy birthday to the most smart, beautiful, and outgoing girl I know. I love you so much, and I'm so impressed with your character and how you've grown over the years.
I've been struggling to find the right words to say here, and I think I know why. It's because no matter how hard I try, I could never fully describe how proud I am of you and how happy you make me. You fill my life with love and purpose, and I can't thank you enough for that. Happy birthday!
 From both parents
Happy 13th birthday! We couldn't ask for a better daughter than you. You do so much for us, even when you don't mean to. Just being around you is a joy. We wish the best for you as you turn 13.
13, wow! It seems like just yesterday we were rocking you to sleep and dropping you off at kindergarten. We're so impressed with the young lady you've become. Happy birthday sweetheart!
Being your parents is both a pleasure and a privilege. You make us so happy, and we wish you as much happiness as you bring us as you begin your 13th year of life. Remember we're always here for you, and we support you in all that you do. Happy birthday!
Religious
If religion is an important part of your daughter's life, these messages could be the perfect match for your birthday card.
Happy 13th birthday! May God look after you as you grow and find your path. Thank you for being the kind, imaginative, crazy kid that you are.
Happy birthday! Every day I get to spend with you is a blessing. Being your mother has been such a special experience, and I wouldn't want it any other way. I love you!
When God gave me a child, I wasn't sure if I was strong or kind enough to deserve it. But raising you has been such an amazing experience, and I know He brought you into my life for a reason. You inspire me every single day, and I love you so much for that. Happy 13th birthday!
Silly
If you're looking for more of a silly message than a heartfelt one, these are the ideas for you.
Happy birthday, kid. Don't forget about me now that you're a big-shot 13 year old.
In relation to the family
If your family dynamic has a big effect on your daughter's life, mentioning it in your card could make the message more meaningful.
 Youngest in the family:
Happy 13th birthday! I know that sometimes it feels like I don't have enough time for after helping your siblings out with things, but I want you to know that I love and appreciate you. I'm so grateful that you're my daughter and I hope you have the best day.\
 Eldest of the family:
Daughter, you make me so proud. I know that sometimes it's stressful being the oldest and having to take on some more responsibilities than your siblings, and you continue to be so kind and loving anyway. Happy 13th birthday! I'll try not to let the little ones interfere too much.
Only daughter:
Happy birthday to my amazing daughter. As a parent with only one child, I couldn't be happier that that child is you. My life is so much better with you in it, and I wish you the best in your 13th year.
For a daughter who is far away
Maybe your daughter doesn't live with you or is away at school or camp. If this is the case, writing her a birthday card is a great opportunity to let her know how much you care and that you're thinking about her.
Happy birthday to the sweetest daughter I could ask for. I'm sorry I couldn't be there but I hope you have an amazing day and I wish you luck as you begin your teenage years. I love you!
Happy birthday sweetie! Even though you're far away, I love you so much and I'm so proud of you. Keep doing great things and have fun today. Come visit soon! I love you.