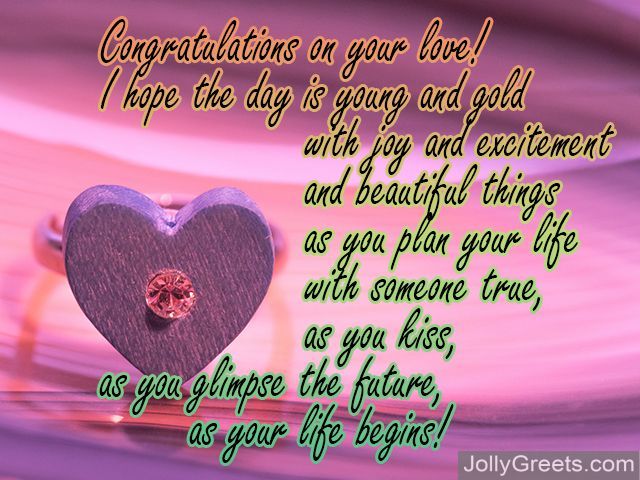 Congratulations for engagement: When someone you know is about to embark on a new journey in their lives, and enter into a new life together it is important to let them know that you are happy for them and excited to share in the happiness of their engagement. So choose one of these poems to congratulate the new couple and wish them the best of luck in their new chapter of life. Or create one of your own; include wishes for peace, love, happiness, and patience in the tough times. All these well wishes will be much appreciate to the newly engaged couple.
How to Create the Perfect Card - Examples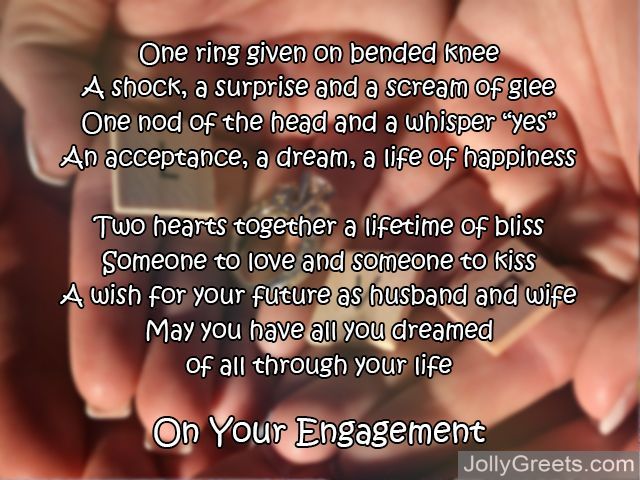 1
I can't believe it, I'm so happy for you,
I'm so excited for you to get married, it's true
Flowers, cake, and dresses too,
I can't believe it, I'm so happy for you!
Happy engagement!

2
I'm so happy, you found Mr. or Mrs. Right
I can't wait for the wedding, and all the crystal lights!
You two are special, and really cute together, too
I just want you to know, how happy I am for you!

3
I can't believe it, you're going to tie the knot
After all your fishing, the right person you've caught
Congrats on your luck, and have a happy wedding, too,
I just want you to know how happy I am for you

4
Today is the day, it is finally here.
It's the dream of every girl, for them to know that their sweetheart loves them a lot.
You diamond sparkles, the world is delighted with the love story was written.
We want you to know how happy we are that this moment has happened to you.
Congratulations on your engagement.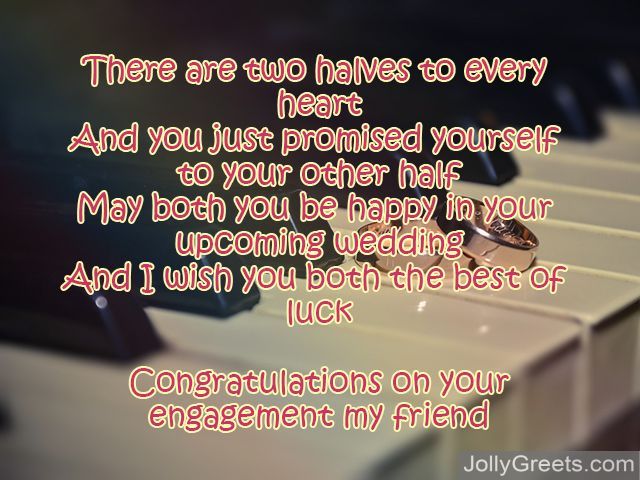 5
Spring has sprung,
The bells have rung another wedding song.
With so much love and joy to give, we see you as the bride in here.
We hope you know how happy we are that another love story blooms in the air.
Congratulations on your engagement.

6
Dreams come true,
We love you dear and we want you to celebrate this occasion here.
This time in your life is a joyous one and we want to celebrate with you.
Congratulations on your engagement.

7
Congratulations you two!
Your love is amazing to watch,
it's rich and it's pure,
it's wonderful to see
That two people can devote so much of themselves to one another
Your selfless, giving spirit and love is inspiring and stunning
I'm so glad you found each other
I wish you nothing but love and happiness on your journey to forever
8
From now until forever
For the rest of all time
Til death do you part
Along with Father Time,
Your love shall grow and prosper
Together you will become one
Your love is was inspiring, and through this journey on which you are about to embark
I wish you peace when it seems impossible
I wish you laughter when you can't even imagine a smile
I wish you happiness and joy
I wish all the love in the world.
9
A marriage is something
Sacred and pure
It shouldn't be something you're forced to endure
And I know that the two of you will walk hand in hand
Through this crazy ride of life
And you will continue to stand
With each other, by the others side
In love, with affection, and always so kind
You will give and provide for one another always
I can't wait to watch you grow old together
10
We are all searching for our other
half
The person who compliments us
so perfectly
While the rest of us are searching,
You have found this one
Now you are planning to spend
the rest of your lives together
Congratulations on your
engagement

11
There are two halves to every
heart
And you just promised yourself
to your other half
May both you be happy in your
upcoming wedding
And I wish you both the best of
luck
Congratulations on your
engagement my friend
12
During the night you found the one
The one person who made your
heartbeat rapidly
And made it felt like all the air
left the atmosphere
Now you are promise to be
eternally together
So congratulations on your
engagement
13
I can remember the day he asked
you out, you were so skeptical if
things will eventual get to this
junction. Here, we are today. Thank
God for the engagement.
14
Today is your happy day. You should
be happy and feel nothing more.
You deserve this great ceremony as
you have waited for so long for
the best. Happy engagement.
15
Congratulations on your happy
moment today. You have such
a beautiful partner and you both
will make a good couple. Happy
engagement dear.
16
Love is a mystery
More precious than gold
It acts like a miracle
Its secrets untold
It brings joy and comfort
A sense of deep peace
May your love be ever lasting
And never shall cease
On Your Engagement

17
Starting your life together
Is both challenging and fun
Your dreams and aspirations
Merge from two into one
And you may encounter struggles
But that's just a part of life
At least you'll have each other
When you become husband and wife
Congratulations On Your Engagement
18
One ring given on bended knee
A shock, a surprise and a scream of glee
One nod of the head and a whisper "yes"
An acceptance, a dream, a life of happiness
Two hearts together a lifetime of bliss
Someone to love and someone to kiss
A wish for your future as husband and wife
May you have all you dreamed of all through your life
On Your Engagement
19
Congrats on your commitment
to love throughout the years
and keep your vows in union
with all that you hold dear.
You've announced your engagement
and we are all excited
to watch you both make the promise
and become united.
20
Love is such a blessing
you were lucky to have found
and now you plan your future
to wrap your arms around.
The wedding will be perfect
with your families there
wishing you all the joy
together you will share.
21
The ring is a symbol
of the committed heart
that speaks of desire
to never be apart.
May you find yourselves a future
that's full of health and happiness.
Your sacred union is a vow
to share each others bliss.

22
We teased you about marriage for ages
and joked about your wedding
but we had truly hoped you would wed
someone who loved you deeply,
and we think you found The One.
Congratulations on your engagement!
23
It is a time for love!
And that love is shared
not just by the pair of you,
but by friends and family too!
I am so happy to hear you're engaged
to someone who loves and adores you!
Congratulations to you and yours!
24
Congratulations on your love!
I hope the day is young and gold
with joy and excitement
and beautiful things
as you plan your life
with someone true,
as you kiss,
as you glimpse the future,
as your life begins!
25
Congratulations to you both
On a happy engagement
I'm sure you can't wait
To find a new arrangement
Where you'll be Mr. and Mrs.
Saying your vows
Take some time to treasure this
To be happy right now
Congratulations again
We wish you the best
Today and tomorrow
And all of the rest

26
I want to wish you both
Congratulations
Good luck to you
Have a little patience
Take your time and be happy
Right now as you are
And in the days to come
We all know you'll go far
Be happily married soon
And love each other to the moon

27
Let everyone wish
Congratulations today
This is a very big step
That you're taking this day
We all wish you well
And can't wait to see
How happy you are
And how happy you'll be
Congratulations to you both
And good luck as well
I'm sure you'll be ecstatic,
And I'm sure you'll be swell

28
We've known this was coming
We've known it for years
Now the start of forever
Is finally here
News of your engagement
Fills us with such bliss
And to think this all started
With just one single kiss

29
A round of applause
For the spouses-to-be
Two people whose love
Is as vast as the sea
A celebration is due
To honor your love
A match made in heaven
By the angels above

30
A happy engagement to
Two of my best friends
On whose care for each other
I've come to depend
For a prime example
Of true love and support
And whose marriage I know
Will not come up short

31
Congratulations to you on tying the knot
To loving what you have
And forgetting what you do not
I wish you the best in the years to come
So remember to enjoy it,
And still to have sex some!

32
Congratulations on your new shiny rings
And not just that, but also many other things
On the laughter and smiles that marriage can bring
And the cries of joy that wedding bells sing
Now onward shine bright, let your happiness bling!

33
Happy engagement
You are tying the not
Who would have guessed,
Who would have thought?
You two are perfect,
So need worry not
I hope at the grooms table
You have saved me a spot
You two are my favorite
I like you a lot